A Collection of 35 Creative Mountain Logo Designs for Inspiration
A logo is one aspect in the success of your business. Since your logo is a symbol that represents your business brand.
So choose which symbol that you will put in your logo is also the most important key.
Like a mountain, as we all know are the highest lands around the world. It is a symbol of strength and superiority.
Use mountain in your brand logo it can imply might, dominance and the prestige of being in the top.
A mountain in a logo symbolizes a steely resolve to excel, dominate and rule. If that's exactly what you want to do, create an awesome mountain logo.
In this post, I will showcasing the most creative and artistically designed mountain logos to give you some idea or inspiration for your brand logo.
Let's take a look and enjoy!
Creative Mountain Logo Designs
1. C + hills by Milosz Klimek

2. Antartica by Milosz Klimek
3. Nordic Retro by Nick Slater

4. Sunset Mountain Logo Design by Dalius Stuoka
5. True North Jiu Jitsu Logo Design by Dalius Stuoka

6. Limestone Software Logo Design by Dalius Stuoka
7. MM + Mountains Logo Design by Dalius Stuoka

8. Tehachapi Logo by Brian Hurst
9. Adirondack Brewery by Nick Slater

10. Epicurrence by Dann Petty
11. NSMW Badge by Alex Rinker

12. Homefront Crossfit – Final emblem and Logo mark by Emir Ayouni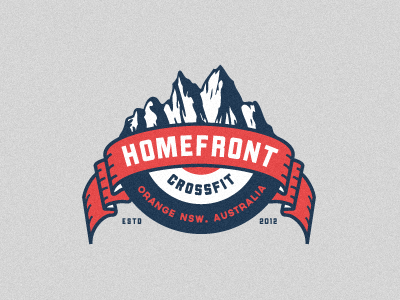 13. BreakPoint Logo by Emil Ayouni

14. Quest Logo Concept by Emil Ayouni

15. Mountain Logo by Jord Riekwel

16. Cycle Route App Logo by Jord Riekwel
17. The Polar Bear by Yoga Perdana

18. The Volcano by Yoga Perdana
19. Iceberg logo design symbol by Alex Tass

20. AM Geometric Monogram Logo by Alex Tass
21. Kalm Logo by Jord Riekwel

22. Maple Expedition by Jason Hines
23. Startup Cabin by Octopus

24. Red Rock by Joe White
25. Mountain West by Alex Rinker

26. Monteco Logo by Zeljko Ivanovic
27. Ski Brand Logo by Big Fan®

28. ABOVE DIGITAL logo by Aiste brand designer
29. Brightwood Brand Breakout by James Graves

30. Green Peak Logo by Deividas Bielskis
31. Arnaborg Logo by Deividas Bielskis

32. E-X-P-L-O-R-E by ∆ Studio–JQ ∆
33. Mountain Brand by asix studio

34. Longtucky Logo Badge by Steve Hamaker
35. Elevation Society by Steve Hamaker