Office Showcase: Inspiring Web Design Agency
To stimulating creativity and productivity, the design and layout of an office is an essential consideration and usually more important than the time and money companies put into it.
In this post we have a collection of 15 inspiring Office Showcase, featured Web Design Agency offices from around the world. Hope it can help you to get the inspiration.
The NetCircle Office


The Netcircle specializes in building and growing social communities, handling everything from the development and design to the marketing and managing. The office, situated in a gorgeous loft in Shanghai, China, and it's home to 40 of the happiest employees in the world.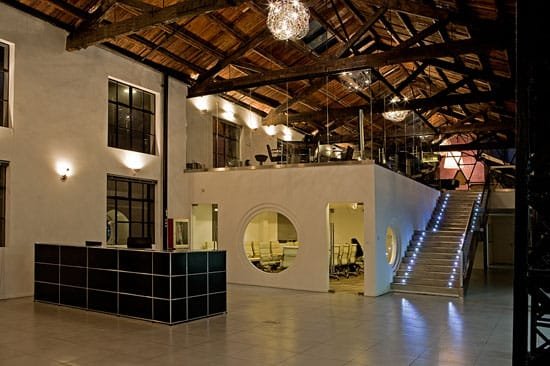 Source: http://www.officesnapshots.com/2009/09/29/the-netcircle-office/
Maycreate Idea Group Office


"A place to work is not just a place anymore, it's a destination. An oasis where one can leave the real world behind for the world of imagination. A world in which we explore new thoughts, new ideas, new ways of looking at old things. It's not about what has been, but what could be? It's where right and left brains come together in a way they have never united before. And when sparks fly so do ideas. The ideas that can make a business grow." – maycreate idea group description about their studio.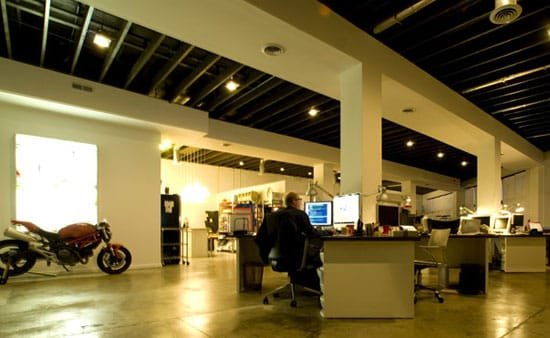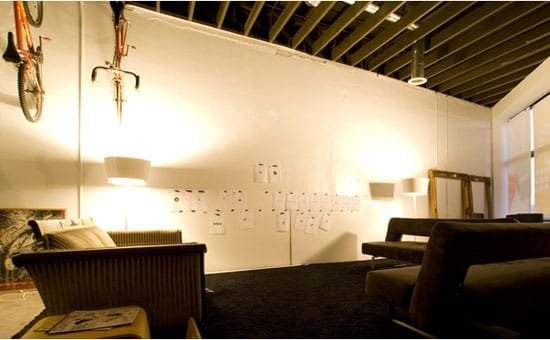 Source: http://wherewedesign.com/2010/03/maycreate-idea-group/
Slamdot Office


Slamdot is a website design and hosting company with a retail store and a proprietary control panel that was built for simplicity. Their offices are located in Knoxville, TN and have a wonderful look and feel to them. Because the space is both office and store front, it is necessary to be both useful to employees, but friendly and inviting for customers.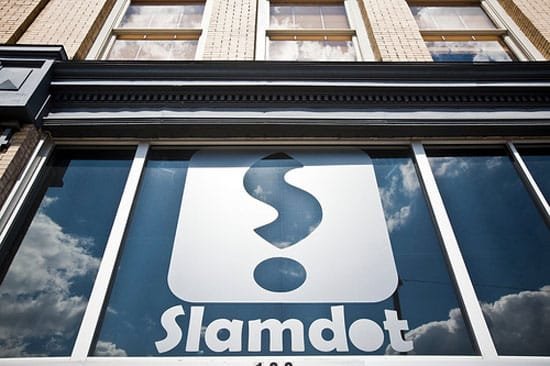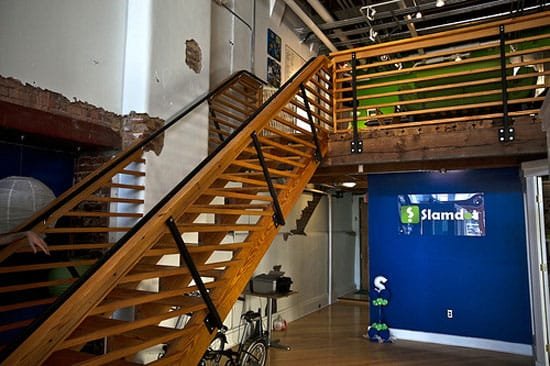 Source: http://www.officesnapshots.com/2010/05/28/slamdot-offices-store/
thisCLICKS Office


thisCLICKS interactive is a Minneapolis / St. Paul based interactive agency. We combine video, animation and interactivity to create premium experiences that leave lasting impressions. We provide insight into how technology can be used to meet business objectives.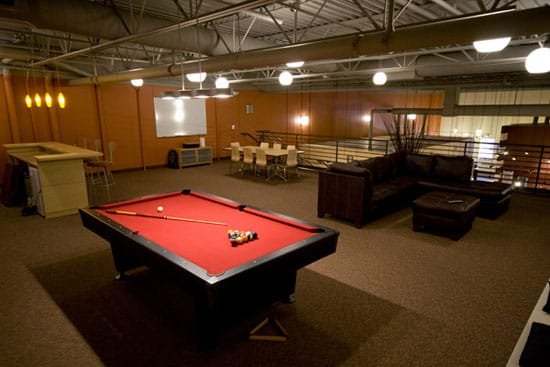 Source: http://wherewedesign.com/2010/02/thisclicks/
Teknision Inc's Offices


Teknision Inc, is headquartered in Ottawa, Ontario, Canada, which is blatantly obvious from the hockey game table they have next to their foosball table. Their offices are quite nice and have some really nice textures throughout, including greenery, wood, and always-wet flooring.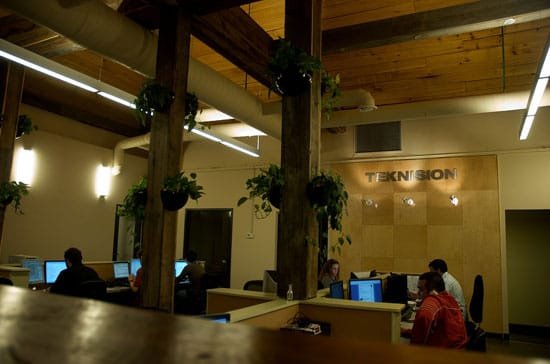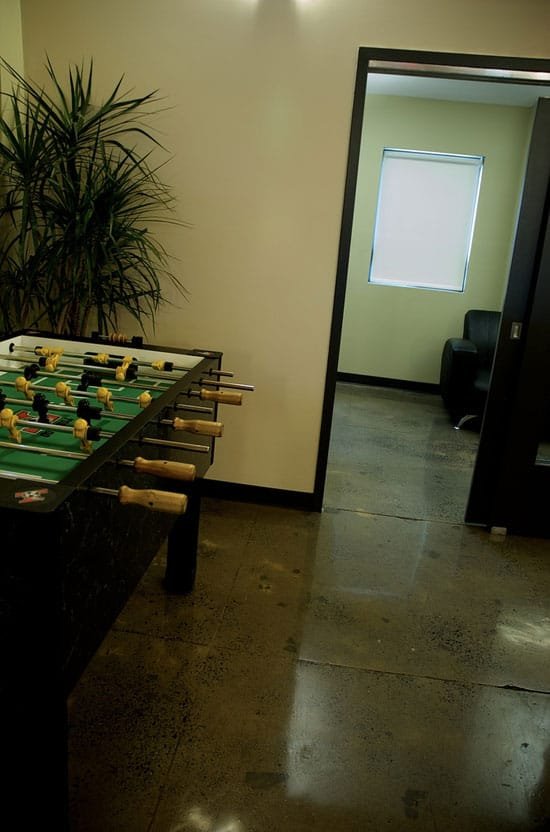 Source: http://www.officesnapshots.com/2010/02/03/teknision-incs-offices/
OKIA Office


OKIA was founded in 1996 being one of the first web agencies in Estonia. OKIA's target is to provide excellent business value for web related developments either it is simple website, self-service e-shop, complicated advisory tool or any web based marketing campaign


Source: http://wherewedesign.com/2010/02/okia/
Cuban Council NYC Office


Cuban Council is a digital development agency which specializes in creating simply superb solutions for web and print. This office is located in New York City. The office features a couple design gems from the Eames molded plastic side chair to the Jielde Industrial Wall Lamp.


Source: http://www.officesnapshots.com/2010/05/17/cuban-council-nyc-office/
Grandpa-George Office


Grandpa-George Design and Interactive is about one thing…good design.
The office is based in the heart of downtown Minneapolis, Minnesota, on the 7th floor of a 100+ year-old building with sweeping views of the Mighty Mississippi, the Grain Belt sign and the Warehouse District / NorthLoop. Sweet 711 is either freezing-ass cold, leaking like a sieve when it rains or stick-to-your-chair hot; just how Grandpa-George likes it.


Source: http://wherewedesign.com/2010/02/grandpa-george/
45royale Office


45royale is a small, two-person web design firm located in downtown Canton, Georgia and have done work for NYU, Tapulous, and Alienware. The interior is dressed in red brick with black furnishings and houses the company's two employees. As you can tell, the space is also decorated with a large number of figurines and wall art giving the space some life.


Source: http://www.officesnapshots.com/2010/05/03/45royale-offices/
Strawberrysoup Office


A creative web design agency with offices in Chichester, Bournemouth and London. We love designing and developing unique brands, websites and print work as well as working with great people.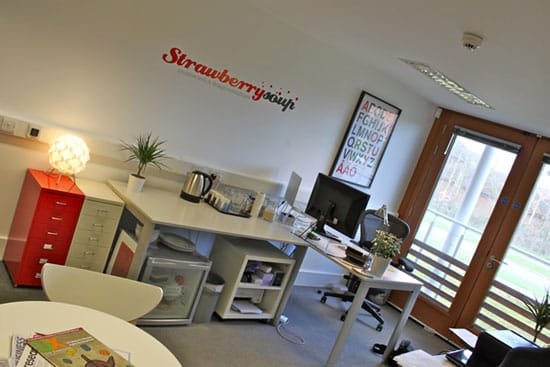 Source: http://wherewedesign.com/2010/04/strawberrysoup/
The Fresh Tilled Soil Office


a Waltham-based web design and application interface company. Fresh Tilled Soil has a wide open setup consisting of worktables for each employee along the length of the office, which is lined with many great light giving windows. The office space has a great view of the river from its lower level position.


Source: http://www.officesnapshots.com/2010/04/15/the-fresh-tilled-soil-tour-office-snapshots/
Equator Office


Equator is one of the UK's leading integrated digital agencies and we recently moved into a new studio that we designed to be really tactile and interactive.


Source: http://wherewedesign.com/2011/02/equator/
Creative State Office


A company that create anything and everything that your company might need from flash, company branding, web development, software development, and even photography and SEO. The company is located in Tulsa, Oklahoma and has one of the most elegantly modern offices we've seen.


Source: http://www.officesnapshots.com/2010/02/23/creative-state-offices/
PANORAMICAS3D Office


Vitale Studio projected a space full of creativity, communication and transgression. These are the concepts that define this internet software company's offices. The main wall is decorated with a 34m2 graffiti that pays homage to Susan Kare's iconography created for Apple.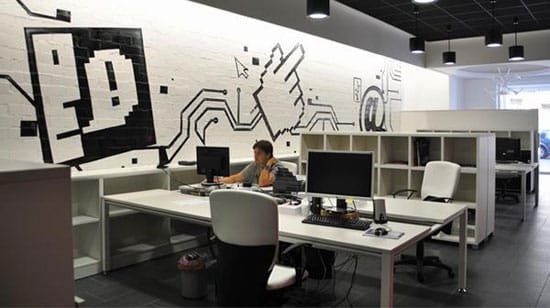 Source: http://wherewedesign.com/2011/06/panoramicas3d/
Toggle UK Office


Toggle is a small web design firm located in Staines, UK, which is just west of London (near Heathrow). The office is bright and light, with a nifty bookshelf for continued learning and reference, but that also passes as a nice look. The blue logo over the work area pops out against the light walls. White furnishings for the majority of the office offer a clean look, and one can hope the cat is not a shedder.


Source: http://www.officesnapshots.com/2010/06/09/toggle-uk-offices/
We hope you will enjoy and get some inspiration. Do you have another inspiring web design agency offices? Please share with us in the comment below, thanks.