40 Portfolio Websites Featuring Beautiful Nature
The depth of design choices and techniques used in portfolio website designs really helps them to stand out from the crowd and grab the attention of the user. Designed to present work in a more professional, stylish and elegant way, portfolio websites also create a fantastic storytelling environment for any brand or designer. As well as allowing a flow of content that controls the experience and message for the user, these sites are also very functional and easy to use.
Showcased here is a collection of some of the most stylish and exquisite portfolio designs featuring the most beautiful nature to inspire you in your own designs. From minimalist neat layouts, to rich colourful designs, each one of these beautiful portfolio websites demonstrates exceptional creativity and attention to detail whilst delivering a remarkable and truly inspiring visual experience to visitors.
Cool Responsive Parallax Scrolling Theme | $39


by Themify
Parallax theme is a combination of two cool trends – parallax scrolling and single-page design. It is designed to help you to build a stunning parallax scrolling site with ease. Showcase your work and services responsively on a single page. Viewers can enjoy your beautiful content in parallax scrolling sections. Impress your visitors with fly-in elements! The theme can be used as a single-page or regular site with page URLs. Jump in the parallax scrolling trend now with Parallax theme!
1. Langtidsmodnet
This site demonstrates very simple user navigation and takes the visitor very smoothly through the history of the company and how they make their product. The addition of incredible scenes of the rolling hills of Norway and compelling music completes the user experience.
2. Quechua

Outdoors company, Quecha allow the user to learn the story of their brand as they scroll down through the webpage. A truly interactive interface, with breathtaking images of the landscape of New Zealand.
3. Borgo27
Full of rich imagery of panoramic views of Valpantena, a valley in the foothills of the dolomites, 9km from Verona, this website simply takes the user through the story of this beautiful hotel.
4. Life of Pi

As the user scrolls through this website they will learn the story behind the making of this film and be treated to countless stunning rich colour images.
5. Julie Lavergne
This website offers professional equestrian services and its very simple interface, filled with stunning imagery of horses, educates the user quickly and effectively.
6. Madwell NYC

This portfolio site for creative agency, Madwell, really does justice to the incredibly inventive work that they do.
7. Fk Agency
Peppered with simplistic nature-themed imagery, this impressive website is a fantastic showcase of the work of this creative design agency.
8. Mestats Nordiques

This site for web documentary, My Northern States, tells the story of a teacher who went to teach in Northern Quebec.
9. 5eme Gauche
The website for this creative digital agency is a great showcase for the ethos behind it and the talents of this company.
10. Tandems

This website celebrates the relationship between France and Germany by 'twinning' their cities together. It uses an interactive interface inspired by nature to do this effectively.
11. Goodtwin
This creative advertising agency has a very aesthetically pleasing website with easy user navigation filled with engaging nature-inspired imagery.
12. Zensorium

Visitors to this site can very quickly tour through the story of this fitness monitor by simply scrolling down the homepage.
13. Evo Energy
Full of bright, changing colours, this engaging guide to energy consumption allows the user to interact with the site at clearly marked points.
14. Learn Lake Nona

This thoughtfully designed website for the beautiful area of Lake Nona, Orlando, offers users everything they might need to know about the area within a very effective interface.
15. MQ
This interactive site allows users to learn about the green ways of Macquarie University campus in a fun and engaging way.
16. Somersby

This beautifully illustrated website allows the user to learn the story of Somerby Cider by simply scrolling through one page of content.
17. Web Designer London
User interface designer and developer, Sahil Bs, very simply outlines his skills and services with an emphasis on colourful and engaging graphics.
18. Drink Trade Winds

Full of tropical imagery, the website for this ice tea company very effectively shares its brand message.
19. Oliver Brux
Web designer and food photographer, Oliver Brux, prides himself on creating designs and brand experiences that stand out from the crowd, just as his own website does.
20. Grampagilmans

The natural skincare products this company produces are bought to life through this visually engaging website design.
21. Tozen
This digital agency pride themselves on being fresh in their approach which is emphasised by their refreshingly minimalistic website.
22. Natural High Safaris

Incredible scenes of natural beauty are used to grab the attention of the user of this walking and trekking holiday company.
23. Looloo
In just one web page this design effectively communicates the merits of this app for discovering the Philippines.
24. Alessandro Modesti

This website for web and graphic designer, Alessandro Modesti, beautifully sums up his work with this simplistic yet engaging website.
25. Creative Thien
This web and graphic designer uses creatures created from his vivid imagination to tell the story of this company.
26. Ciruli Brothers

This website for Colorado-based growers and shippers of fresh fruits and vegetables, Ciruli Brothers, beautifully tells the story of this family-owned business.
27. Jmby
Web and graphic designer, Jan Dzambasov, showcases his skills and designs in a visually engaging way.
28. Campozark

Lots of imagery and embedded videos of camp life effectively communicate the key facts about this Christian Sports and Adventure company.
29. Waglet Works
The website for this dog walking belt uses lots of colourful dog graphics and imagery to engage its target consumer.
30. CGI Vietnam

This Vietnamese animation and digital creative design company highlight their eye for details and beautiful things with this website filled with cute animations and illustrations.
31. Eye Flow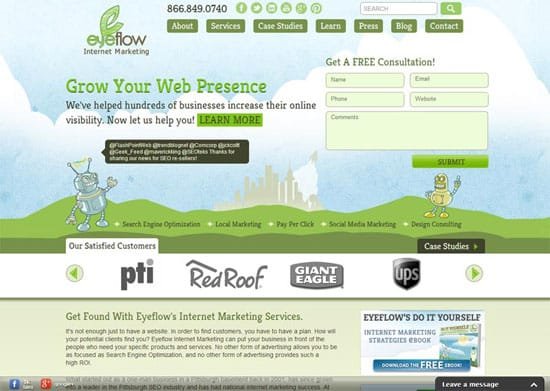 The site for this Pittsburgh-based internet marketing company uses unique nature-inspired graphics to bring to life its services and values.
32. Oestervangskovbrug

Growers of Christmas trees and other greenery, this Danish company stays true to its business with lots of green scenes and tree graphics.
33. Sanleaf Europe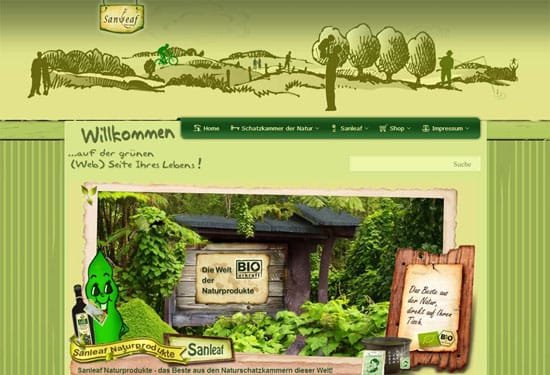 This company source tea and natural products from all over the world and its website uses a rich palette of greens and rich images from nature to tell its story.
34. Goatee Joe

Sellers of Yorkshire goat meat, this website simply yet effectively gives information about the product and the company, using lots of imagery of the local countryside.
35. Mctimberco
Through the use of a natural colour palette and imagery, this site takes the user through the story of this timber company in an engaging way.
36. Sproulet

This engineering company uses modest nature-inspired graphics and lots of negative space to communicate its key messages and services.
37. Isadora Design
This beautifully designed website uses whimsical illustrations to communicate the creativity and innovation behind this website design business.
38. Childrens 2012

The website for Children's of Alabama, a paediatric health system, uses bright primary colours to section up the information it wants to showcase. Rich imagery and vivid graphics also capture the attention of the user.
39. Edge Design
With a mission to make the world more beautiful, this web design company already are, with the soft piano music that plays when you first enter the site and the striking handmade graphics used throughout.
40. Creative Link

Flash web and front end designer, Mazen Arafat's website is full of rich colour nature-inspired handmade graphics that are revealed as the site scrolls from left to right.
About the Author!
Claire writes for Print Express, an online printing company. Claire has a love of social media and a keen interest in web design and marketing.