10 Professional WordPress Themes for Your Online Resume
Have an unique, attractive and visually appealing resume is your very effective marketing tool. Inside your resume you can show your worth first by informing your background and what you're capable of doing. And by the help of the internet today, you can showcase your resume online and let the people around the world see your capability.
Today we'll be taking a look at 10 professional wordpress themes for your online resume. Each templates below are easy to use and customize, so it will help you to make your online resume stand out from the crowd.
[afiliasitn3gallery]
Cascade – Personal vCard WordPress Theme


by QuanticaLabs
Cascade is a minimalistic personal vCard WordPress Theme based on colorful vertical menu tabs. Tabs are presenting content of the pages. Each page is a single tab.
Zwin – Responsive vCard WordPress Theme


by rbista
Zwin is an impressive and professional online vcard, a beautiful portfolio with sliding effect, resume and contact information with Google map.
It's simple! Just download and install in a few minutes, you can show your online card to your friend, customer or employer in an interview by phone or tablet. Because Zwin is a responsive wordpress theme, you can view your website on pc as well as handheld devices.
Prestige – Portfolio WordPress Theme


by QuanticaLabs
Prestige is a minimal and colorful portfolio WordPress Theme based on different color menu tabs. Tabs are presenting pages content. Each page is a single tab. The Theme contains blog with comments, working contact form, slider, build-in gallery lightbox with video support, latest tweets, plenty of social icons to choose from.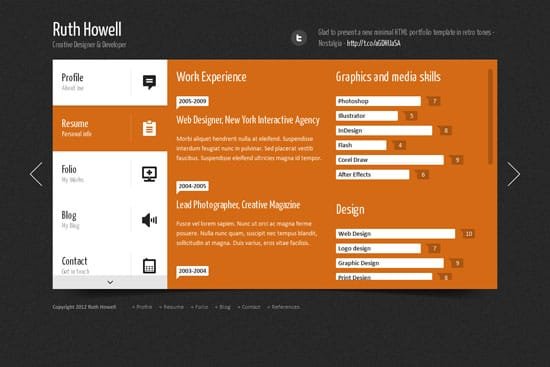 Biopic – Responsive vCard WordPress Theme


by themebakers
Biopic is a minimalist, elegant and responsive vCard wordpress theme which is suitable for using it as a vcard, small personal portfolios, photographers, wedding journals etc. It works on all devices from desktop to tablets to smartphones. It is not just a responsive theme but as well as an adaptive theme because it hides the blog sidebar when viewed on a smartphone.
Precision – Premium vCard WordPress Theme


by thememates
Precision – Premium vCard WordPress Theme is a sleek and minimalist single page WordPress theme with smooth scrolling design and amazing effects!
It has a unique "brochure style" design with a fixed left hand side so your image slide-show is always visible. The home page is built inside a content slider (supports anything) this can slide, fade or be a static page. Suitable for virtual card, mini portfolio and personal bio websites.
ShiftCV – Blog \ Resume \ Portfolio \ WordPress


by ThemeREX
ShiftCV is your professional online resume, since after you've installed the theme, resume is your homepage by default. The design is out of the box so it can attract employer or clients. With features: Flat design, Fully responsive layout, Retina ready, QR code ready, fully customizable and more.
Self – A Responsive vCard WordPress Theme


by JustinScheetz
Self is a fully responsive vCard WordPress theme that works in all major browsers, tablets and mobile phones. The perfect theme for your online resume.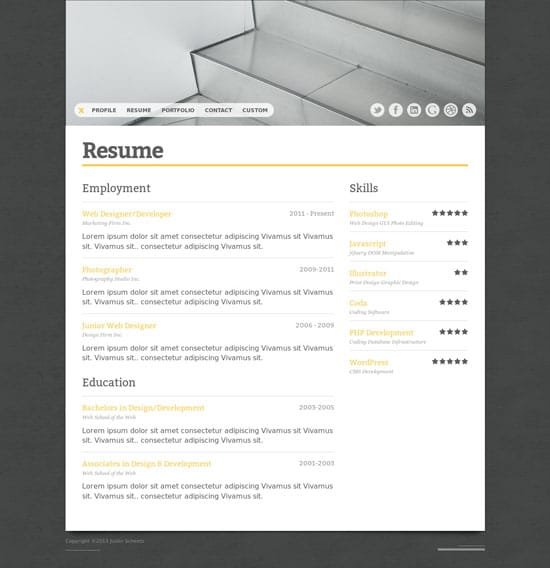 AboutMe – 3D Responsive Vcard & Portfolio WP-Theme


by egemenerd
About Me is a modern responsive 3D animated vcard WordPress theme designed for a personal or company portfolio. Using this unique WordPress vcard theme for your online resume could set you apart from your competition.
FlexiCV – Responsive WP vCard (Multipurpose)


by uouapps
FlexiCV is a responsive WordPress vCard that is ideal for an optimized presentation & illustration of your skills & competencies regardless from your type of prefession.
FlatCV – Resume \ Portfolio \ WordPress


by ThemeREX
FlatCV is a unique multipurpose personal webiste that has big functional options!
FlatCV perfectly suits for placing your personal information: your skills, level of your competence, your education, experience, and hobbies. The theme will handle the task, no matter what you do – whether you are a designer, programmer or manager.…