Sometimes it's necessary to add text to graphic design elements. If such a need arises, graphic designers have to pick the font for their projects.
Graphic designers use various fonts in their work. There is no shortage of fonts available for graphic designs these days. That's the reason why creating font collections is not always easy task for a designer.
Professionals have to be very selective when picking fonts. Their goal is to choose the right type of fonts for designs. When picking fonts, you need to pay close attention to such factors as:
Give a preference to fonts that fits a project in the best possible way. It's a lot easier to choose a suitable font if you have experience and skills in graphic design.
Today, we'll share the list of fonts that gained huge popularity among graphic designers. Hopefully, this will help you make great font choices for your projects.
#1. Helvetica

Helvetica is an incredibly popular font. The font itself is versatile. It works well for different types of graphic design styles. Helvetica is also best known for its simplicity.
It's possible to use this font in almost any industry. The font is suitable for any occasion. That's why so many professionals choose to use Helvetica for their graphic design works.
#2. Trajan
The font has a rich history that dates back to 1989. Initially, a famous American designer, Carol Twombly, used the font for work. The designer specialized in typefaces.
Trajan is well-known as an old-style Roman-inspired font. It is an elegant font that has a royal look. The font adds beauty as well as the ancient style to graphic design projects.
It's also important to note that the font is easy to read. Graphic design experts prefer to use the font in modern design materials.
Trajan is associated with law, marriage, society and religion.
Trajan has become popular in the film-making industry. Graphic design professionals have used the font in Hollywood movie posters many times. If you take a closer look at the font, you may remember your favorite movie.
#3. Futura

Futura is another popular font. The history of the font began in 1927. Nowadays, many graphic design professionals prefer to make use of the font. Today, even the world's famous brands use the font for their graphic design projects.
The font perfectly combines geometric shapes such as circles, squares as well as triangles. Use the font when a need to add the text of a small size to graphic designs arises.
Futura makes it possible for professionals to incorporate the text into the graphic design elements in an impressive way. Professionals often use this font for creating designs of books, displays, typefaces, advertisements, logos, etc.
#4. Gotham
Two professional designers, Frere-Jones and Hoefler, created this font. The font appeared in 2000. Initially, professionals used the font in the typeface industry.
The Gotham font has a modern and professional look. The font is clean and very simple.
Gotham is a font that can affect people's mind and decisions. And of course, advertisers prefer to take advantage of this fact. That's why graphic designers often use it for political promotion purposes.
Gotham is associated with some political events. In 2008, promoters used the font to create the graphic designs for Barack Obama's campaign. The font was an element of the president's flyers as well as posters. The Australian Labor Party also used this font for political purposes in 2016.
#5. Tattoo Fonts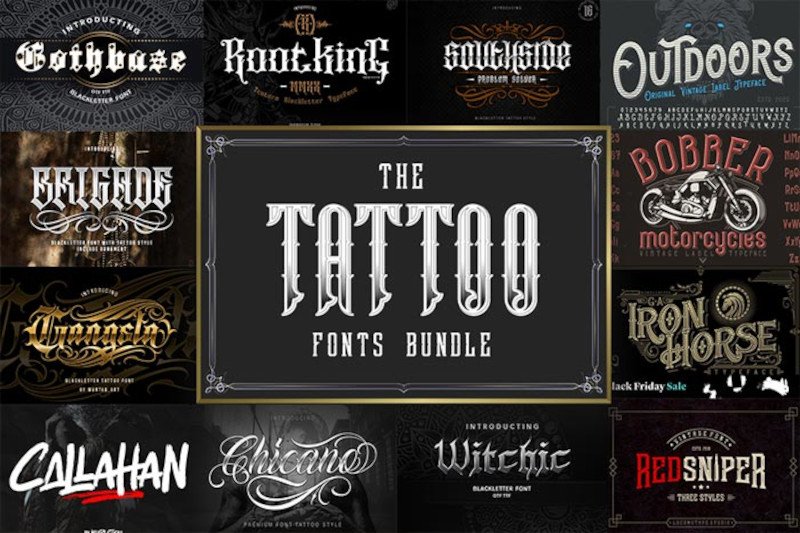 Tattoo fonts are available in a vast variety of themes and design styles. The collection includes fonts for all tastes.
Among the most popular tattoo fonts are angilla tattoo, bleeding cowboys, fearless script, inked script, hustlers, mardian pro, true love, sailors tattoo pro, true men tattoos, fette fraktur, etc.
Professionals created the fonts of this category for designs of tattoos. On top of that, it's possible to apply fonts for decorations, drawings, prints and other types of graphic designs.
#6. Bodoni
The history of the Bodoni font dates back to the 18-th century. People used the font for the design of Italian books. Some popular brands use this font for graphic design now.
Bodoni is a font that has a beautiful geometric construction. The font offers an aesthetic look. It is the answer for designers who want to find the golden mean between thick and thin fonts.
You can use the font for creating headlines and decorative texts. Bodoni can be a part of logo design as well. Graphic designers choose to make use of the font to create a logo that looks in a classic style.
#7. Rockwell

Rockwell was created by Monotype Corporation and presented to the public in 1934.
Advertisers used the font to create designs of old posters earlier. The font provides graphic design elements with a nostalgic feeling.
Rockwell impresses with its luxurious design. Many designers consider it as the headline font. It makes a lot of sense to use this font for designing various displays. The font is an ideal choice for design projects of a small size. Rockwell goes well with other fonts.
The font would be the perfect choice if you would like to design graphic elements in a classic style. The reality is, Rockwell adds charm to graphic designs.
Bottom Line
As you can see, there are many great fonts for graphic designers. So, this list could go on and on. These are the so-called must-have graphic fonts. With such fonts, designers find it easy to get the most creative ideas for their projects.
These popular fonts allow designers to create visually appealing projects that leave a big impression on the audience and contribute to business success.
A lot of professionals use these graphic fonts these days. And of course, you can take advantage of these favorite fonts for graphic designs as well. Select the fonts that meet your project's needs in the best possible way.
Start selecting fonts only if you know the purpose of your project. When designing a project, you should clearly understand what message you would like to deliver to the audience. Best of luck!