Identifying and hiring the right talent is not at all an easy task. The HR professionals get hundreds of resumes and from them, finding the most suitable candidate is a tough job. To make the process a little easier, they choose to give the highest priority to the applicant's qualifications. It leads to the elimination of many candidates that do not match up to the required skills or expertise.
The one who is having the highest proportion of expertise in that domain will be called for an interview. Primarily every firm considers the educational background, relevant degree, and skill set in the first stage of hiring. The turn for personal and interpersonal skills tests from eSkill comes almost at last
For a very long time, there has been a debate about whether to look for qualifications or personality to achieve more success while hiring. Professional degrees and qualifications may get similar to other candidates.
Still, the one that makes the difference between them is 'personality.' No one can clearly justify whether the beam balance's pointer should move towards qualification or personality.
It is mutually beneficial that a candidate has a strong qualification along with an attractive personality. But this is not the case with every job-seeker. Therefore, it is a most crucial question.
Although there might be no powerful answer to look more on one, this article shows the importance of qualification and personality to recruit the right talent successfully.
What Does Talent Acquisition Mean
TA (Talent Acquisition) is the process of attracting, searching, recruiting, and retaining skilled candidates as per the requirement of the organization to fulfill the vacant position.
The TA team is responsible for finding the most suitable candidate that makes a considerable contribution in making the company more successful.
The TA department is mostly a team within the company's personnel department that handles this process that demands filling roles as per the needed skills and expertise.
Importance Of Qualification And Personality For Recruiting
Employees are the true driver of every business. Therefore, hiring the best candidate is the most crucial duty of every organization.
In the interview process, the recruiter recognizes their professional qualities by seeing their educational qualification, way of attempting the interview process, and their demeanor within a couple of seconds.
But it is difficult for them to look for candidates' personalities. The only way to show your personality as a job-seeker is by appropriately dressing, showing your descent behavior, and with the ability to eloquent your thoughts.
What will be your decision while hiring a candidate? Will it weigh more towards qualification or personality? Or you equally consider both.
Let's look at the below-mentioned points that show us the mutual advantage of qualification and personality in a candidate.
#1. Skills Are Cultivable

To look for the most appropriate candidate, recruiters often choose to make decisions based on the skills and knowledge they are having in that domain. But one thing that everyone will concur on is that you can train workers to enhance their skills, but it is almost impossible to make changes to their personalities.
Richard Branson rightly mentioned that if you find a candidate who is friendly, caring, and efficiently collaborates with the team, then you are on the winning path.
Supporting this, I am not saying that while hiring a web designer, you choose the one who is completely blank about the designing concept. Those having the required skills along with a good personality you can pick them and with further training they can learn all the skills.
With different types of jobs, the criteria of expertise also differ, and in that case, if you give more importance to qualification only, it may not work in the long run.
Every new joiner requires training to fit in their role. Technicality is the thing that employees can learn within a specified span, but the same does not apply to personality development.
#2. Makes A Potent Team
There are varieties of jobs where the level of communication with the clients differs. Even if the post does not demand much customer interaction, there is still a colossal importance of personality in the workplace as it greatly affects the working environment.
The way employees interact and connect with their team and with the whole organization determines the growth rate of the business to a considerable extent.
One who is easily mixing up with his team can cross several milestones of success. Do you know what makes this possible? It is their personality that improves communication, collaboration, and internal working efforts that lead to the development of a productive environment.
It becomes one of the primary reasons that an employee considers remaining connected with the same company. The below statistic gives proof for the same.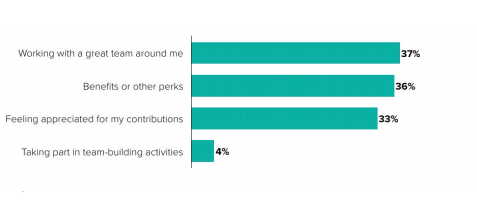 Many times HR managers fail to identify such a personality that results in diminishing teamwork. A possible way to look into it is by listening to what they are saying. By approaching this concept, you will be able to know about their personality more.
When the employer gets that insight, they can surely hire the best candidate. Whether looking for hiring remote employees or for the workplace, such capabilities will indeed work to recruit the right one.
With such abilities, they can even find the best role for the applicant. As in some cases, it may happen that the applicant applying for the particular post may not get qualified for it. But their personality may fix them to other positions.
Talking about my own experience where I was giving an interview for a BDE profile, my personality does not get matched with it. The recruiters, instead of telling me GOODBYE, suggested applying for a content writer profile.
That was the day that has changed my life. I worked with a great team with whom my thoughts get matched, and together we completed many projects successfully.
#3. Enhances Customer Satisfaction
For every company, its clients are the true asset that takes their company to the next level of success. Similar is found by a survey conducted on the importance of customers experience; it is as shown in the figure below:

Do you know when this happens? The only answer to this question is when the customers get satisfied with their services.
It is up to employees how they deal with the clients, which shows their satisfaction rate. Mostly the customers like to work with the firm where they get a friendly, responsive, and professional working attitude. Workers are the ones that reflect all these qualities.
Here the role of soft skills comes in the growth of their career. It is much more difficult to learn about these skills than the technical ones. To deal with the customers, the requirement of interpersonal skills ranks at the highest stage.
Consider one example where you are looking for a sales executive. They are the one that represents the company in front of the customers. For that role, will you consider the one who is having much experience in that field but not having enough enthusiasm in doing the job?
Or the one who does not have an experience like him but is confident enough, having a positive attitude, and well-behaved nature. The one who is not enjoying his job, how he will be able to bring smiles to the face of the customers even if he is pretty experienced in that domain.
Here the importance of personality comes that makes a more significant impact on the job. Therefore, while looking for the right talent, it is necessary to choose the one who has enough enthusiasm to achieve the goal.
#4. Brings Positivity
While working in corporate culture, everyone comes to the office and has pressure to meet the deadline for completing their work. In such a case, no one likes to hire a candidate who, instead of helping in reducing the workload, increases it.
The one who passionately performs his duties always generates positivity in the workplace. There often comes a situation in the office premises where everyone feels stressed and worried about their tasks.
While dealing with this situation, if they get the company of the smiling individual that boosts their energy is all about the beginning of a stress-free workplace where employees can start their work in a refreshed manner again.
It is also surveyed that positive comments significantly impact the team and make them more successful in their job. It is as shown in the figure below.
Think once that will it be fine for you to weed out such a good personality candidate from the bunch of qualified ones.
#5. Breakless Learning Cycle
Skills are undoubtedly a valuable gift for every employee, but one must take care that it does get converted into the generation of dreadful practices.
An experienced individual may consider himself as a complete package where there is no place for a learning attitude. Such employees follow their routine structure and do not like to try something new that can make their work even more efficient.
To avoid such cases, many companies prefer to hire freshers as they work as the most powerful sources who are willing to work and learn new skills to make their job more effective.
The one who is utterly new to the role always tries to give their best and is always open to learning new things. They do not have any previous memories that affect their work.
Such an energetic personality is enough to run the learning cycle continuously that shapes them well in their role. One having that level of enthusiasm when trained well can bring many benefits to the organization.
Final Thoughts
From the very beginning recruiting is a tough job. It requires dedication, patience, time, and extra effort to make it perfect. To build a complete image of the right hiree, give equal value to qualification and personality as per your organization's requirement.
Consider the points mentioned above and accordingly reframe your talent acquisition strategies to get the most desired candidate for your company.
About the Author!
Meet Vara is an experienced Product Marketer at FactoHR, having expertise in creating various ideas for creative writing. He is passionate about researching and exploring blogs and checking out the latest trends and replicating his expertise in crafting exclusive content. His approach and readiness towards writing quality content are exceptional.