Top 12 Grungy Business Card Design Tutorials
As a freelance we must have a creative and attractive business card that deliver business information about your company or yourself. Business cards are an essential part of your brand identity, so the design must be unique and well designed to make a good first impression. And with grunge style design, a business card will look more attractive compared with clean and simple design.
In this article you can find top 12 business card design tutorials which will guide you to create your own grunge business card design. And at the end of the article, we have selected the best 7 premium grunge business card template for your inspiration.
Making a Grungy Business Card


by Luxa
There are many different ways to attack a business card design. Clean & corporate is always nice. But why not get a little wild? This tutorial will walk you through setting up a vertical grungy business card template, front to back and ready to print.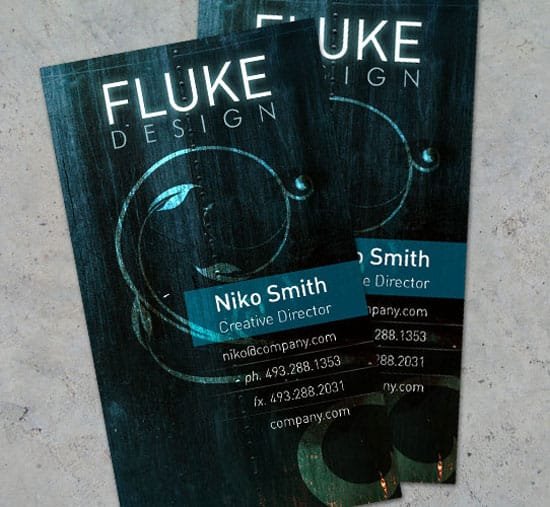 Making a Print-Ready Business Card Using Only Photoshop


by Collis
In this tutorial, we are going to design up a simple business card in Photoshop and get it ready for print with crop marks and bleed. Normally you'd do some of this with a tool like InDesign, but it is in fact possible to get by with just our trusty old Photoshop.
Stylish Print-Ready Business Card Design


by Kannan C
With as many businesses that are out there today, it's important to stand out amongst the crowd! Plain white or multi-colored cards are a thing of the past and the new dark business card designs are sure to set you apart from the competition!
In this tutorial, I am going to design up a print ready dark themed business card. Let we get in to the tutorial.
Design a business card in photoshop tutorial


by Alfoart
A slick grungy red design tutorial.
Create a Stylish Business Card in Photoshop


by Manish Khatri
Today we are going to "Create a Stylish looking Business Card in Photoshop". Its an very easy and simple tutorial to understand. This tutorial is something inspired by "Ismaelgnc's Business CardsIsmaelgnc's Business Cards" on flickr. I like the idea and the way of presentation, so i decided to share the steps behind creation of Business Cards but in my own way. So lets start with it…!!
Designing a Professional Business Card in Photoshop


by PSD Nation
A professional business card is vital to successfully representing your business. PSD Nation has created an easy-to-follow tutorial showing the steps to create a fantastic business card.
PSD Tutorial: Design a Dirty Business card


by Sri Ganesh.M
Today we are going to create a simple business card with texture applying on it. As i always shout "break the rules". But the basic guidelines should be kept for printing and user-friendly to the print media and client.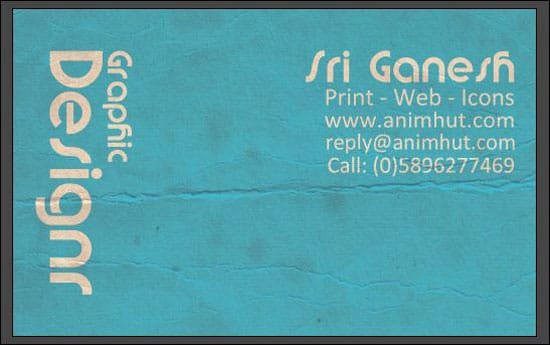 Design a cool and original jeans style Business Card in Photoshop


by Madalin Tudose
This tutorial will guide you through the process of designing a professional jeans style business card. The tutorial features some great techniques, effects and layer styles in which you can use over and over for future projects.
Design a Print Ready Business Card for Designers


by Chris Spooner
Business cards are a useful resource for any business, for designers in particular it gives an opportunity to create something a little out of the ordinary and artistic to showcase their creative flair. Follow this walkthrough in Adobe Photoshop, Adobe Illustrator and Adobe InDesign to create your own double sided business card design, resulting in a print-ready file to send to your favoured print firm.
Cardboard And Torn Paper Business Card


by pshero
In this Advanced Photoshop tutorial we'll create a nice cardboard effect and play with a neat torn edge effect.
How To Create Old Grudge Style Print Ready Business Card


by Subhadeep
Today i will guide and help you to create a cool old grudged business card in photoshop which is fully print ready with full bleed. The size of the business card we'll be creating is standard US size of 3.5 X 2 inch. I'll show you some techniques for working swiftly for any design you do in future and i promise you'll learn something new in the tutorial.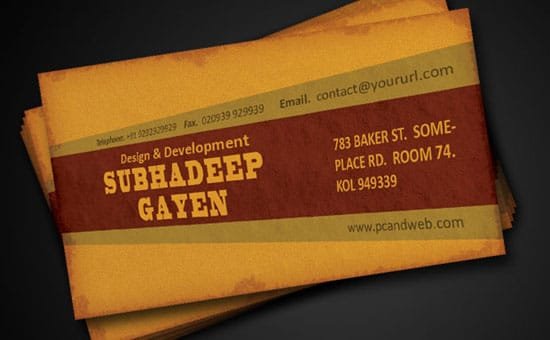 How To Create A Sweet Bokeh Business Card In Photoshop


by Mahmoud
In this Photoshop tutorial we're going to learn how to create a double-sided business card that features Bokeh and abstract effects. We'll also create many different color schemes for it. So, let's get started!
The Best 7 Premium Grungy Business Card Design Templates

RetroMetro – grunge professional

New Green Grunge Style Business Card

Rough House Grunge Business Card