A Showcase of Amazing Google Offices in 12 Cities
If you ever see the google office? Although I myself am often seen from the articles showcase, but I was never bored, very inspiring and very exciting work culture. Maybe this is one reason they became the largest online companies in the world.
In this post you'll find a collection of very creative google offices in 12 cities araound the globe, hope you'll get some inspiration.
Google Montreal – Canada

Profile:
We're located in a historic building overlooking the heart of downtown Montréal. The office is a combination of working space and play space. We have quiet areas, conference rooms and also a games room, massage room and automatic massage chair, a library… and of course, a cafeteria, where fabulous (free) lunches are served every day!
Location:
1253 McGill College, Suite 250
Montréal, Québec, H3B 2Y5
Phone: 514-670-8700



Image Source: https://picasaweb.google.com/photos.jobs/CanadaOfficePhotos#
Google Dublin – Ireland

Profile:
What we do in Dublin is help millions of Google users and customers right across Europe, the Middle East, and Africa (EMEA) to get the most from our products. Google's Dublin office is the EMEA Operations Headquarters. That means we support everyone who uses our products: the search engine that we are most known for, plus consumer products like Gmail and Calendar, advertising products like AdWords and AdSense, right through to business solutions for major corporations. In Dublin we also build on our existing products and create new ones, employing some of the finest engineering talent in the world. Many of the Dublin-based teams are engaged in supporting other Google offices across the EMEA region, working in areas like finance, payroll, legal, and HR.
Location:
Google Ireland Ltd.
Gordon House
Barrow Street
Dublin 4
Ireland
Fax: +353 (1) 436 1001



Image Source: https://picasaweb.google.com/photos.jobs/DublinOfficePhotos02
Google Seoul – Korea

Profile:
The Seoul office maintains Google's unique culture with massage chairs, a pool table, a tea room, unicycles and, of course, free catered food daily. Since the launch of google.co.kr in 2000, Seoul engineers have worked on many exciting and important projects, including:
Building innovative products and technologies
Aggressively experimenting in the local market in order to take innovative ideas global
Fully customizing Google products for Korean users
With the highest broadband and mobile penetration in the world, Korea provides a truly invigorating environment for innovative and creative engineers.
Location:
Google Korea LLC.
22nd Floor, Gangnam Finance Center
737 Yeoksam-dong
Kangnam-ku
Seoul 135-984
South Korea
Phone +82-2-531-9000
Fax +82-2-531-9002



Image Source: https://picasaweb.google.com/photos.jobs/KoreaOfficePhotos
Google Paris – France

Profile:
Google Paris is a special place that blends the enthusiasm, creativity, teamwork and … passion for a business project unique. Our obsessions: the best products to our users …
Location:
38 avenue de l'Opera
75002 Paris
France



Image Source: https://picasaweb.google.com/photos.jobs/ParisOfficePhotos
Google Munich – Germany

Profile:
Munich is often called the "German Silicon Valley," so it's no surprise that Google's Munich's office is the place to be for software engineers who want to push the limits on distributed systems, scale and performance. Here, we build global and local products and innovate at high scale.
Location:
Google Germany GmbH
Dienerstrasse 12
80331 Munich
Phone: +49 089 839309000
Fax: +49 089 839309001



Image Source: https://picasaweb.google.com/photos.jobs/GermanyOfficePhotos#
Google Wroclaw – Poland

Profile:
Google's utility and ease of use have made it one of the world's best-known brands almost entirely through word of mouth from satisfied users. As a business, Google generates revenue by providing advertisers with the opportunity to deliver measurable, cost-effective online advertising that is relevant to the information displayed on any given page. The new office in Wroclaw contributes to Google's presence in EMEA and more effectively supports our users. We hope it will evolve into a "centre of excellence" for Google users, advertisers, and publishers alike.
Location:
Bema Plaza, V pietro
Plac Gen. Jozefa Bema nr 2
50-265 Wroclaw
Phone +48 (71) 734 1000
Fax +48 (71) 734 1051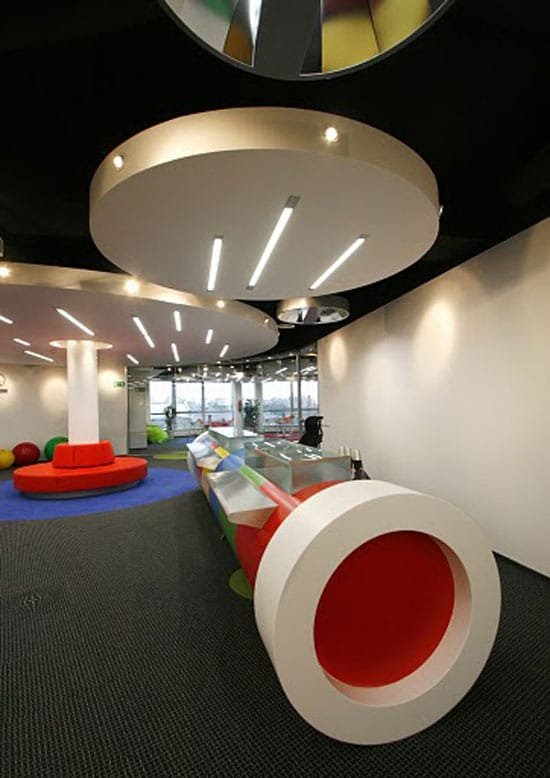 Image Source: https://picasaweb.google.com/photos.jobs/PolandOfficePhotos#
Google Zurich – Switzerland

Profile:
Google Zurich is the largest Google engineering office outside the of the US. We call our office the "real mountain view" since you can actually see the Swiss Alps from our office. The Zurich office has Googlers from every corner of the globe – 67 countries at last count. Our engineers work on problems in a variety of areas including distributed systems, information retrieval, machine learning, algorithms, UI, novel search features, and scalability problems of huge amounts of data and a rapidly increasing user base. Our products reflect the Google principle: we put the users first. As in all Google Engineering offices, we love academic endeavors and active learning, and we encourage engineers to spend 20% of their time on their own projects.
Location:
Brandschenkestrasse 110
CH-8002 Zurich
Switzerland
Phone +41-44-668-1800
Fax +41-44-668-1593



Image Source: https://picasaweb.google.com/photos.jobs/ZurichOfficePhotos#
Google Washington, D.C. – U.S.

Profile:
Washington D.C. office could possibly be one of the most interesting. While Google Zurich has some pretty outrageous amenities, D.C. is said to have 1100 sq. ft. per employee, which is pretty insane. One article believes that this office is meant for only a couple things, neither of which are engineering related: Lobbying and Partying.
Location:
1101 New York Avenue, N.W.
Second Floor
Washington, DC 20005
Phone: (202) 346-1100



Image Source: http://www.officesnapshots.com/2008/09/03/google-offices-washington-dc/
Google Moscow – Russia

Profile:
Google Russia is a great place of work for software engineers involved in the improvement of distributed systems, their expansion and efficiency. Google office in Moscow was opened in 2005, and currently he performs all basic functions, including engineering, sales, personnel, marketing, finance, technical equipment, etc. The office is located just 10 minutes walk from Red Square, which gives a unique opportunity to enjoy the views of the city.
Location:
Ltd. "Google"
st. Baltschug, 7
Moscow 115035
Russia
Tel.: +7 495 644 1400
Fax: +7 495 644 1401



Image Source: https://picasaweb.google.com/photos.jobs/RussiaOfficePhotos#
Google Milan – Italy

Designer said:
With this innovative company clever design is essential for an ideal development of its activities, entailing flexibility, more community spaces relative to individual workstations, good quality without indulging in luxury, and environment-friendly investments in better services and support spaces.
Location:
Corso Europa 2
20122 Milan



Image Source: http://www.officesnapshots.com/2010/12/15/google-offices-milan/
Google Sydney – Australia

Check this beautiful google office in Sydney, and get the perspective of what the ideas were going into the design.
Location:
Level 5, Workplace 6
48 Pirrama Road,
Pyrmont, NSW 2009
Main Phone +61 2 9374 4000
Main Fax +61 2 9374 4001



Image Source: https://picasaweb.google.com/photos.jobs/AustraliaOfficePhotos#
Google Mountain View, CA – U.S.

Profile:
Our global headquarters in Mountain View, fondly named the Googleplex, is a long way from our humble beginnings in a small garage in Menlo Park, CA. With Googlers hailing from every part of the globe, our campus in Mountain View is a diverse, creative and curious community.
Over the years Google has expanded to more than 40 offices worldwide, but our Mountain View campus continues to serve as our largest engineering and research and development center. As in every Google office, high value is placed on an interactive, team-oriented, accessible and open environment in which we share a commitment to do the right thing for users, clients and employees.
Location:
1600 Amphitheatre Parkway
Mountain View, CA 94043
Phone (650) 253-0000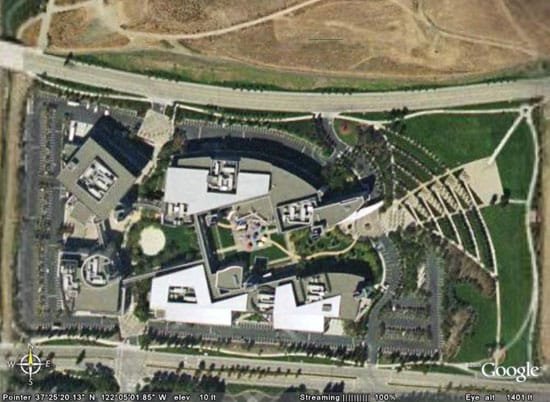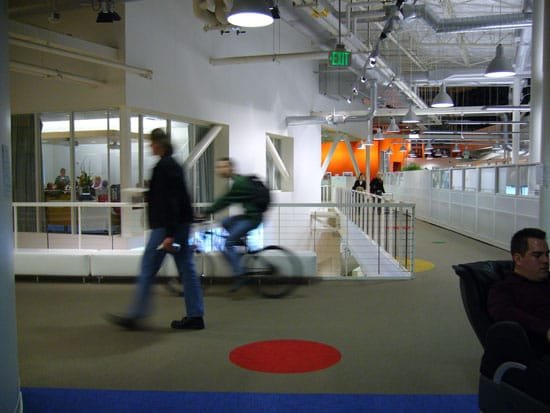 Image Source: http://www.officesnapshots.com/2008/02/19/google-mountainview-headquarters/
How do you think? Do you like working atmosphere in their offices? or which one you like the most from their offices? Please share with us in the comment below, thanks 🙂