If you are looking for an efficient way to turn your WordPress website into an alluring and eye-catching one to visitors, you are in the right place because we have the solution for you. The hack is simple – Add visual-based content like images and videos to it.
Now it might create a doubt in your mind or concern you that images, videos, and other visuals might affect the website's speed and hamper the reputation, right?
Don't worry; we have a solution for that as well – Instagram Feed WordPress Plugin.
We all know how impactful Instagram is, right? And one of the main reasons for that is – it is a hub for visual-based content that successfully attracts audiences to the platform with its vibe aura.
Therefore, businesses are keen on using Instagram for their marketing and extract more benefits with the help of the Instagram widget for WordPress websites.
Why Instagram?
This question might be wandering in your mind about why we recommend Instagram as the source for integrating content.
The answer is simple: Instagram users are very creative and use the platform to its full potential by delivering some engaging and entertaining content. In addition, the content of Instagram is known for its vibrancy, liveliness and carries a vibe.
And hence we recommend you to use the platform for your marketing purpose and suggest using Instagram Feed WordPress plugins.
Instagram Feed WordPress plugins provide you with ease in displaying the Instagram feed on the website without affecting the website's speed.
We all know WordPress is full of plugins that provide great functionality to the website, and numerous plugins help you embed Instagram feeds on your WordPress website.
But to ease your task, we have examined these tools based on their functionality, features, and budget and have prepared a list of the 10 best plugins that stood tall in our analysis.
10 Best Instagram Feed WordPress Plugin
We all know how important it is to have an alluring website in this digital world, as it helps attract visitors and creates a great impression on them. And we all know the impact of a good impression in attaining sales.
Hence we highly recommend you to use Instagram feed to add charm to your website. And these are plugins that help you in achieving this feat.

Tagembed has made quite a name for itself in the field of social media aggregators. It is known for its easy-to-operate interface and budget-friendly prices.
It carries the same magic onto its WordPress plugin, and you can easily discover it on the WordPress plugin store; search for the Instagram Widget WordPress Plugin and you will be able to find it.
The plugin is easy to use and does not require any coding knowledge or skills; within a few simple steps, it displays Instagram posts on a responsive feed that adjusts itself as per the screen type.
Talking about the plugin's work helps you collect Instagram feeds from your desired source and display them on the website.
Alongside Instagram, it is also compatible with 15+ social media platforms; hence you can never have a shortage of content to display on your website.
Moreover, the plugin also allows you to customize the feed as per your choice; you can choose from different layouts, font sizes, font styles, background, and various other modifications to provide your feed required personalization to add grace and charm to your website.
Adding to it, the plugin offers you full control over your feed, which means it, provides you with authority to decide which post to show/hide on your feed.
You choose to remove the posts manually or opt for auto-moderation, where the plugin automatically removes the posts containing provided keywords or even blocks the post from a particular Instagram handle.
Custom CSS, analytics, and more, and that too with Free Forever plan, it surely stands as an ideal Instagram feed WordPress plugin.
Smash balloon social photo is a simple WordPress plugin that helps you collect and display Instagram photos and videos on your website without any hassle.
In addition, you can display Instagram feeds from multiple Instagram accounts in the same feed or separate feeds.
The feeds are completely customizable, and you can provide your desired modifications by changing the dimensions of the feed, number of photos, columns, spacing, and more.
And with the 'load more' button' you can keep your visitors engaged on your website and instill an interest in their minds.

10Web Social Photo Feed is a user-friendly and easy-to-use plugin for your WordPress website. It is a perfect fit for bloggers and businesses from the photography industry or businesses who want to add liveliness and vibrancy to their websites.
It increases the user engagement on your website as it provides scrollable Instagram feeds and displays all the latest Instagram posts from your desired sources without any hassle. In addition, it allows you to display the feed using various layouts.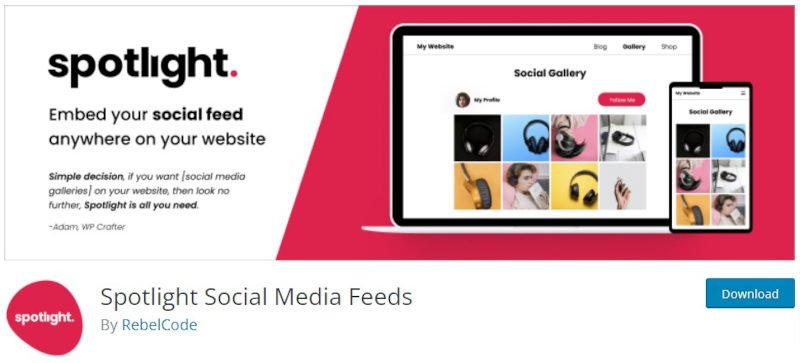 Make your embedding task easy with the help of Spotlight Social Media Feeds. The plugin helps you embed Instagram feeds on the website, and you can embed the feed anywhere on your website and display them beautifully with the designed template.
The feed is responsive and adjusts itself as per the device. You can strengthen your Instagram presence by using the Follow button, which allows your visitor to follow you on the platform without leaving the window. And with the 'load more' button, your visitor and look to the infinite Instagram posts.

Feed them social is an easy to install and easy-to-use WordPress plugin. The plugin provides you with a responsive feed that adds charm to your website no matter what device your visitor is using.
You can display the Instagram feeds on any post, page, or sidebar to add grace to your website and make it alluring. You can add more grace by customizing the feed as per your requirement.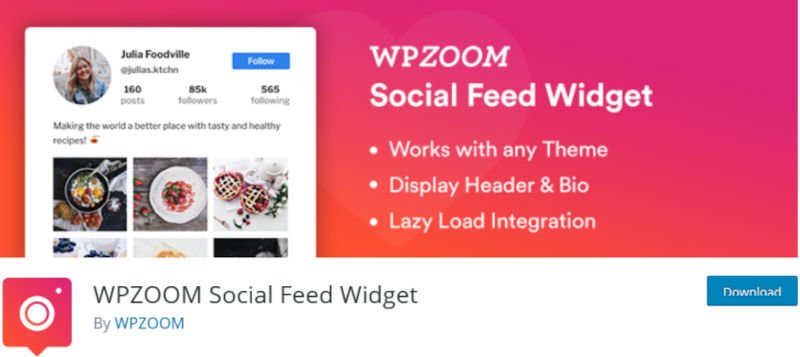 WPZOOM Social Feed widget is a lightweight plugin that displays the Instagram feeds on your website without affecting the speed of your website. You can place the feed anywhere you want to display, it is easy to setup and configure.

Social Galley and widget is another amazing WordPress plugin that helps you display stunning image galleries and stream amazing Instagram videos on your website with ease.
The feed is completive responsive and is mobile friendly. In addition, it allows you to post up to 20 posts from your public Instagram account.
Social Slider Widget – Want to display Instagram feed on the widget anywhere on your website, then the Social slider widget WordPress Plugin is the perfect tool for you.
It is compatible with shortcode and hence you can display the feeds anywhere on your website.
You can even opt to showcase your feeds in the slider. Thus, the slider helps enhance your website's visuals and makes your website appealing and user engaging.
Another amazing benefit of using a slider is that it can be embedded anywhere on the page; it requires less space and provides fast reloading.
This plugin is very useful for your website; it provides a completely responsive Instagram feed and comfortably streams all types of images and videos from your Instagram on your website.
Furthermore, the plugin is very easy to use, so even if you don't have any coding experience or knowledge, you can still operate the plugin like a pro.

What does one look for when deciding on the plugin to install? – Easy to use, user-friendly, and has rich design settings? – Flow-Flow Social Feed stream has it all.
Moreover, it also provides you with the customization feature, which allows you to personalize your feed as your requirements.
So enjoy showcasing Instagram posts to your visitors and providing them with your brand's social proofs and establish credibility.
Photo Feed WordPress plugin makes your embedding process easy as it provides you with the ease to embed Instagram feed on your website.
You just need to follow simple steps, and within seconds, the plugin will display a great-looking Instagram feed on your website.
You even update the display setting and make the feed as per your style. All these measures help you in adding grace to your website and provide your website a professional look.
And hence catches the attention of the visitors and creates a great impression.
Ending Note
Instagram has been one of the most influential social media platforms that allow you to market your product to a huge audience; besides enhancing the reach, you can also use the platform to bring liveliness to your website.
Instagram and WordPress integration has been effective for businesses and helps businesses in growth. You can try the plugins mentioned above and use the plugin that satisfies your need and suits your style.
Businesses are actively using Instagram widgets for WordPress websites to showcase amazing user-generated content related to their business and make a great impression on their visitors, which eventually helps attain more sales.
About the Author!
I'm Daisy and I'm a digital marketer & technical writer For Tagembed. I'm passionate about exploring and writing about innovation, technology, social media, and digital marketing trends.