It has been an entire year since our professional lives have changed. Ever since the outbreak of COVID-19, almost every industry has embraced new ways of working. Meanwhile, we all say a silent prayer for our lives to return to normalcy; until then, we continue to carry out our professional work with the same passion.
For that, we resort to tools and technology. But not all the tools can offer you the features required to perform your tasks with the same productivity. Or to collaborate easily with your team to offer great results. As a business, the benefits of operating remotely are many.
To help you manage your remote working better and increase the collaboration and productivity of the team, here are few tools we highly recommend.
#1. HubStaff

HubStaff is a popular application that helps you keep track of the working hours and the project progress. It has efficient features such as time-tracking and works management, which is built to help teams use their time effectively.
HubStaff is available as a desktop app for Mac, Windows, Linux, and Android & iOS applications. Once the tracker is on, it would automatically start recording the hours you and your team members work. It also has features such as URL tracking, optional screenshots, time reminders, and also idle time reminders. It also gives you a detailed work report of every employee and allows you to manage their payrolls.
It is a paid tool that has three variants:
Basic ($7/user/month)
Premium ($10/user/month)
Enterprise ($20/user/month)
#2. Hubstaff Tasks
Hubstaff Tasks makes it easy to track the project progress, keep team members updated, and focus on the priority tasks. It makes it easy to handle the work efficiently and creates a smooth workflow for remote working.
The tool is built on agile methodologies, which makes it a perfect tool for high-end IT projects too. You can use the tool to plan your work efficiently through lists, Kanban-style boards, To-do lists, organize the tasks based on your schedule, and more.
It comes with features such as Kanban-style workflow, sprints, epics, project timelines, roadmaps, automated stand-ups, and more. Also, it offers easy messaging through comments, where you can notify the team member concerned.
Some of the features are free for up to five users; if you have a larger team, you can take the premium plan that costs $5/ user.
#3. Google Drive

Google Drive is a great tool to collaborate with the team. It allows you to move all your files to the cloud and ensure that they are not lost. It also allows you to access them while you are remotely working with other devices.
Cloud storage gives you a scalable solution to keep your project files in a centralized location; you can upload files, share them with other people and create directories. It also comes with office tools that allow you to create, edit, and present your word files, excel sheets, and PowerPoint presentations.
Google gives you 15GB free storage space in google drive, if you need more space, you can select from the following available plans:
100 GB ($1.99/month)
1 TB ($9.99/month)
2 TB ($19.99/month)
10 TB ($99.99/month)
20 TB ($199.99/month)
30 TB ($299.99/month)
#4. Indy
Indy is a user-friendly platform for managing your freelance projects. Bring all your workflows into one place with Indy's tools. Create proposals, contracts, and invoices in minutes with automatic tools.
Indy makes managing projects easier because you can use the Forms tool to automate client info requests, the Time Tracking tool to manage hourly billing, and the Tasks tool to connect tasks to Projects and get work done.
Cost: With a generous free trial and getting full access to Indy and all its features with the Pro Bundle for only $5.99 a month, it's one of the best sales tools around.
#5. Slack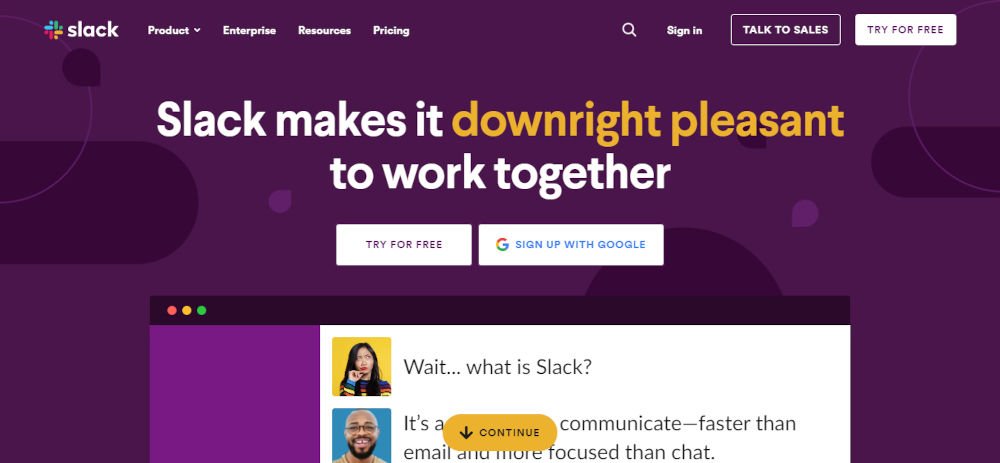 Communication is a key requirement for ensuring the success of any product; tools such as Slack comes very handy in not just remotely working but also while you are in the office. It comes with amazing tools that make communication easy.
It allows you to chat in real-time with everyone on the team and create channels that can be used for different purposes. The chats can also be organized using the thread feature. It comes with features that allow you to share files easily using the application.
If you have a small team and you don't require a full-fledged version, you can choose to take the free version. Otherwise, you can upgrade to:
Standard ($8/user/month)
Plus ($15/user/month)
Enterprise (custom pricing)
#6. Todoist
Todoist offers you tools that help you manage your tasks. It makes it easy for your employees to plan their day better. You can add reminders for the tasks and stay on top of their work.
It comes with features such as task management, task dependencies, recurring tasks, Kanban boards, and so much more. It also has an integrated virtual assistant like Google Home and Alexa. You can add task that comes in a list-like format.
Todoist is a free tool for up to 80 projects and for a team of five people per project. If you need more scalability, then you can choose to upgrade to premium ($3/month) or business ($5/user/month)
#7. PukkaTeam

PukkaTeam is another tool that helps people collaborate better while working remotely. It allows you to communicate with your teammates. The app is integrated with communication tools such as skype and supports video calls. You can also update your status to allow people to know what you are working on at that time. It offers custom statuses, availability notifications, and more.
PukkaTeam offers a free 60 days trial after which you can choose the tool at your convenience:
Group Package ($7/user/month)
Party Package ($9/user/month)
Crowd Package ($12/user/month)
#8. HelloSign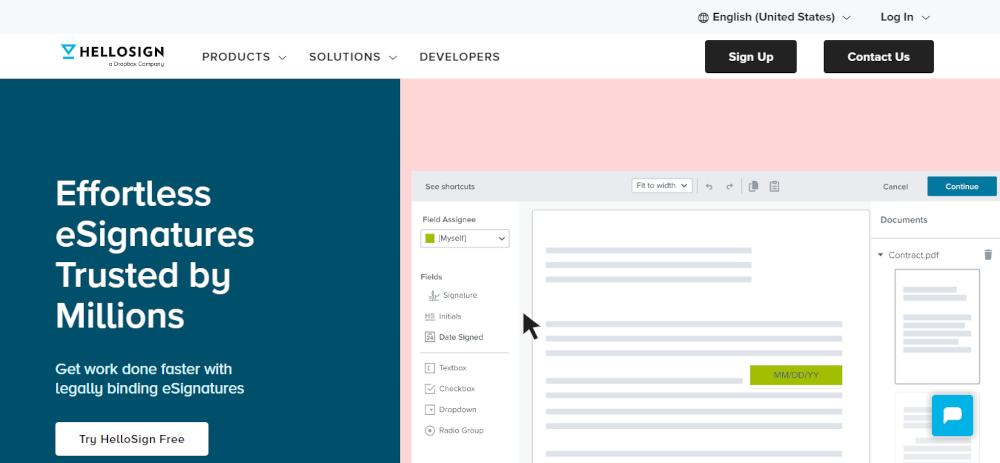 While seeking approvals, you might need an eSignature on any of your documents. A perfect solution for it is HelloSign which is designed to bring more flexibility to your operations. You can request signatures from up to 20 people and get a copy of signed documents to be sent to the inbox for anyone concerned.
Platforms allow custom branding, and it allows you to make sure that every document is aligned to your workings. It helps you align your contracts and templates that you can use to get documents quickly. It also offers you audit trails and has an option that allows people to sign documents using mobile devices.
HelloSign is a free tool for up to three signature requests per month. You can also upgrade the tool through these plans:
Essentials ($20/month)
Business ($50/month)
Enterprise (custom pricing)
#9. 1Password

While working remotely, one of the biggest concerns of all times is security. 1Password is a tool that helps you manage your passwords and store them all in one place. You don't require to remember the passwords, which are usually a dozen when you are using multiple tools and products.
The secure 1Password Vault eliminates the need to write the passwords down somewhere and put the security of the data at risk.
Also, you can use the tool on any device of your choice and get access to the passwords. It comes with features such as automatic form-filling, advanced encryption, data breach alerts, and more. It also allows you to monitor the web for security breaches and alerts you when someone breaches it.
1Password has a 14-days trial, after which you can upgrade the plan to:
Personal ($2.99/month)
Families ($4.99/month)
Teams ($3.99/user/month)
Business ($7.99/user/month)
Enterprise (custom pricing)
#10. Xero
Xero is a finance tool that allows you to track and pay bills with a single click. You can use it to claim expenses and approve and reimburse claims as well. It allows you to track your spending.
You can choose to connect the app with your bank account and letting it import transactions automatically. It also helps you categorize your bank transactions manually and reconcile them. You can set your own rules to automate the processes.
You can create invoices, make online payments, manage payroll, make expense claims, and more. You can also create a variety of reports to analyze your business's financial performance.
The tool is free to use for 30 days, and then you can upgrade to:
Starter ($20/month)
Standard ($30/month)
Premium ($40/month)
#11. OfficeVibe

OfficeVibe is a great tool to update and take feedbacks from your employees. As an employer, it is your duty to keep your team satisfied and allows meet the team's expectations.
This tool comes very handily when you are working remotely and experiencing any decline in productivity. It checkup your team members automatically. It also gathers information about your team and sends out short surveys to understand the status of your employees. It has features such as pulse surveys, survey reports, 1 on 1 meeting, feedbacks, anonymous feedback, and more.
OffieVibe is a free version that has limited features; the paid plan costs $4 / user/month.
Wrapping Up
These were some amazing tools that you can use to enhance productivity and collaboration amongst your users. These tools help you manage your projects better and come with tools that make communication seamless too. Also, these tools allow you to keep a check on work status and use agile methodologies to meet your timeline.
About the Author!
Prashant Pujara is the CEO of MultiQoS Technologies Pvt. Ltd., a leading website and Mobile App Development Company specialized in android and iOS app development. He has more than 10 years' experience in software development with a strong focus on mobile app development for all kinds of platforms including iOS and Android.