2020's been a rough year so far, with countless schools and businesses closing their doors indefinitely in the face of the coronavirus pandemic.
While it's crucial to flatten the curve, practice social distancing, and take the necessary precautions to stop the spread of the virus, it's also essential to bring back a sense of normalcy, as much as it's possible.
Fortunately, we live in the age of technology. It's enabled many of us to stay connected during these trying times, and it's allowed us to continue working and learning safely and responsibly.
With the help of virtual classroom software and similar technological solutions, we can connect teachers and students, help co-workers collaborate, and provide top-of-the-line employee training.
Top Online Classroom Softwares
To truly benefit from these virtual classroom technologies, you need the best of the best. So, take a look at some of the top online classroom software to use during the pandemic.

If you're looking for the best LMS software available on the market, this is it. ProProfs Virtual Classroom Software is a comprehensive solution that suits almost any learning environment.
It can be used both by schools and businesses for any training or learning as it does a great job of mimicking and even improving upon physical classrooms.
Primarily, ProProfs offers access to an abundance of learning materials. The library is filled with hundreds of pre-made courses covering various topics, all of them immediately ready for use.
Instructors can use the solution to develop and launch their own courses, create assessments, make flashcards, collect feedback, and more.
The built-in analytics tools can help track learner performance, monitor progress, and gauge course completion rates.
This virtual classroom software is compatible with all devices, making it ideal to use during the pandemic.
Whether your learners have Androids, iOS devices, tablets, or PCs at home, you can rest assured that they'll have complete access to their learning materials and a seamless learning experience.
ProProfs offers a free trial and affordable subscription options, making it an excellent solution for trainers and educators in corporate and educational settings.
With almost 70% of global organizations offering mobile learning, it's evident that a high-quality mobile solution is necessary during the COVID-19 crisis. And that's what TalentCards is.
It's an app designed for corporate environments to make employee training easier.
Instructors can conveniently create their training materials through the web and then deliver it to the employees in the form of learning cards.
All the information is delivered in chunks that are easy to digest, and you can increase learner engagement by adding images, audio, video, and other media to the cards.
The app is commonly used for pre-training briefing, onboarding, fast compliance training, and even product updates.
By focusing on microlearning, instructors can increase productivity, performance, and knowledge retention.
Instructors can always access the activity dashboard to monitor the overall progress and performance and develop valuable assessments to test their learners' knowledge.
The app is free for up to 5 users, making it a great choice for small businesses. There are four basic subscription models and an additional enterprise plan for companies with over 500 employees.

itslearning is one of the leading virtual classroom software solutions designed for K-12 and higher education.
It has excellent functionalities for both teachers and students. These essential features make it a comprehensive online classroom software that's easy to use.
Real-time communication is enabled through instant messaging features that allow for both one-on-one and group conversations.
Instructors can schedule automated notifications and announcements whenever there are new developments or events. They can create projects, group assignments, and more.
itslearning can be integrated with apps such as Zoom or Microsoft Team for video conferencing and real-time classes.
This online classroom software is accessible through a mobile app, web browser, or as a cloud-based solution.
The pricing is flexible, depending on the organization's needs, the number of licenses required, and any additional services needed.
SAP Litmos is a user-friendly solution developed to make employee training and onboarding easier than ever.
All the basic features are available and easy to use, so the learning curve is minimized. Instructors can seamlessly create courses and surveys, develop tests, generate training completion certificates, and more.
What makes SAP Litmos stand out is the gamification features. They can help improve the learning process and enhance knowledge retention rates.
This virtual classroom software includes gamification elements such as leaderboards, badges, and points to drive engagement and make learning more enjoyable.
The solution boasts extensive customization options, allowing instructors to personalize their courses with effective learning paths that can improve knowledge retention rates.
SAP Litmos has three subscription tiers and multiple optional add-ons that enable you to create an online classroom software that's optimized to suit your specific needs.

WizIQ is a web-based virtual classroom software that can be accessed from any device or browser; no downloads are required.
All the essential features are built-in and easy to use.
Instructors can deliver live lessons through HD video and audio, make use of the virtual whiteboard, upload training materials, create assignments, and more.
You can even develop instructor-led, self-paced courses and easily sell them through the platform as it features an integrated payment gateway.
Electa Live is an integral part of the Electa LMS solution but can be used as a standalone virtual classroom software.
You can use it to hold live online classes, participate in virtual meetings, deliver webinars, and group and one-on-one sessions.
During the live online lessons, you have access to interactive whiteboards and useful annotation tools that can help you keep the learners engaged.
All classes can be recorded and used for asynchronous learning.
Users can enjoy thorough polls and surveys, create smaller groups, collaborate in the break rooms, and go on guided web tours.
A free trial is available, but you'll need to upgrade to one of three subscription plans to launch your virtual classroom.

SkyPrep is quickly becoming one of the more sought-after virtual classroom software solutions. It offers an abundance of useful features that make it one of the best LMS software available.
Easily upload your existing content or create brand new course materials and include all media file types for more efficient learning.
You can assign learning paths by linking different courses together, create tests and quizzes, conduct surveys to gather feedback, and more.
While SkyPrep is used mostly by businesses, it can be a beneficial solution for educational institutions as well.
It's commonly used to enhance the onboarding process, assist in employee skill-boosting, and even provide customer training.
SkyPrep is customizable, intuitive, and user-friendly, making it a great choice of virtual classroom software.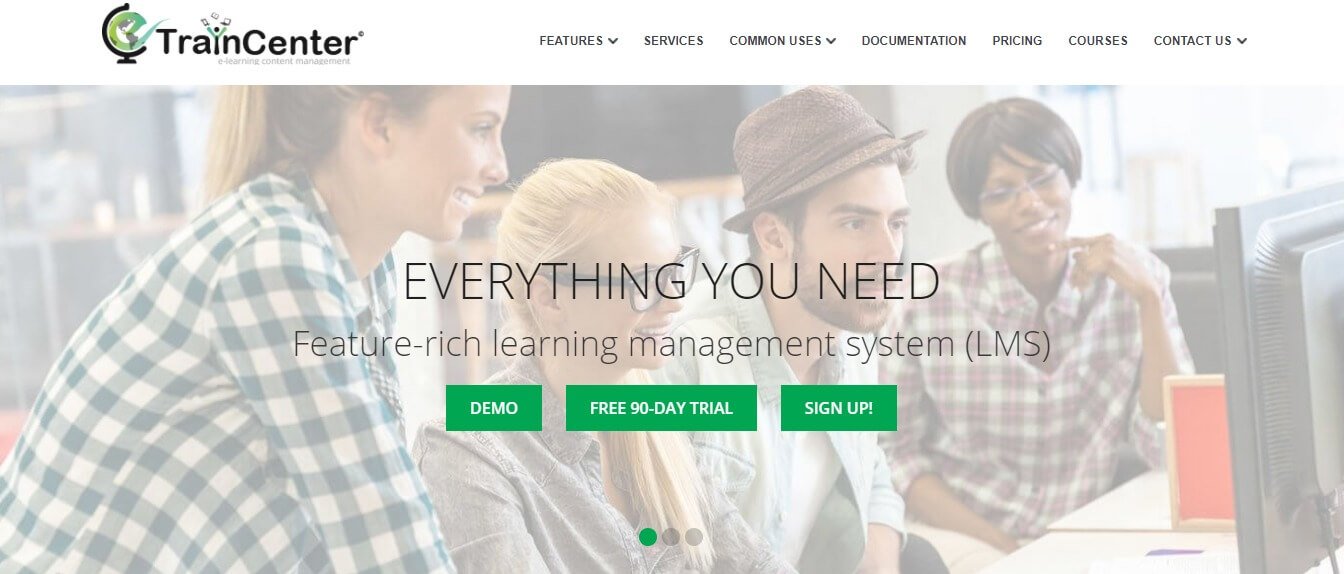 While it's easily scalable, the eTrainCenter online classroom software is primarily designed for smaller businesses and schools with fewer learners.
It's user-centric, and its streamlined interface gives you a clear overview of all the tools and features included in the software.
eTrainCenter has a vast library of hundreds of pre-made courses that suit any student or instructor's needs. But if you're looking for something different, you can just as easily create your course in a matter of minutes.
You can rely on eTrainCenter to create customer portals and use the platform to boost your profits by selling the courses you've developed.

Whether you're an instructor or learner, you'll enjoy using Brainier LMS. It's effortless to get accustomed to, and it can undoubtedly enhance learning during the COVID-19 pandemic.
As an online classroom software, Brainier LMS can be accessed from any device, operating system, or browser. It's fully customizable, so you can make it more appealing by changing the theme and skin to match the colors, mascot, or brand logo of your school.
Use it to develop unique training content, optimize the existing materials to suit your learners' needs, manage learner profiles, and create detailed reports in a single click.
With a minimal learning curve, it's a good choice for both experienced virtual classroom users and novices.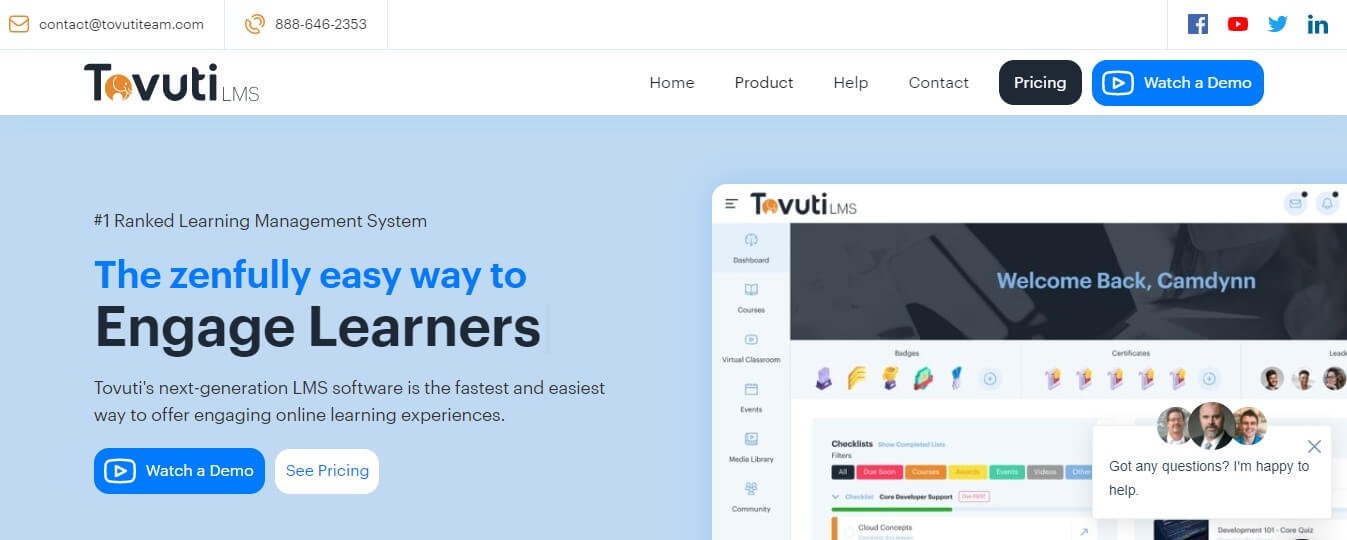 Course creation from scratch is a breeze with Tovuti virtual classroom software. You can create over 40 different interactive content types and ensure it's all SCORM-compliant by quickly uploading your SCORM files.
Choose from thousands of unique, customizable templates, design learner portals, have live classes, or enable asynchronous learning experiences.
You can use Tovuti to track learner progress, create quizzes, develop learning paths, add significant milestones, and leave ratings and comments to make lessons more interactive.
It's a comprehensive platform with plenty of easy-to-use features that will help you achieve all virtual classroom goals.
Subscription plans are suitable for most budgets.
Looking For Virtual Classroom Software?
Finding the right virtual classroom software can be challenging as each solution comes with its pros and cons. Fortunately, most online classroom software does offer free trials, so make sure you take a test drive before you commit.
About the Author!
Kamy Anderson is an ed-tech enthusiast with a passion for writing on emerging technologies in the areas of corporate training and education. He is an expert in learning management system & eLearning authoring tools – currently associated with ProProfs Training Maker.