Brand Storytelling Through Instagram: Why You Need It
Every company, every brand every home based business is first of all a community of people that cooperate for the favor of a single goal.
And what is vitally important for any community? Communication and sharing. Without 'these two' it turns into 'nest of snakes', where everyone sits on his spot and hisses at the neighbour.
Previously all companies used to keep in secret their 'backends', even those where production was aimed at the wide consumer. I don't mean that companies should uncover their secrets, but they should spend more time telling their customers about themselves. It's always interesting to find something new about people whose services you are using. A faceless brand is somewhat boring and not so trustworthy. It feels like buying some counterfeit products form China, you don't feel safe that you'll get a quality product, or a rock wrapped in a colorful paper.
Fifteen/twenty years ago company policy 'not to tell about themselves' was widely accepted, but with the raise of social media networks it became pretty hard to hide the lowdown of the company. Since every staff member has an access to those networks, sooner or later some info leaks out. They will start sharing photos like 'this is my workplace', 'this is a cat living near our office' or 'this is me and my red stapler'.
Having so much corporate information leaking outside company's walls it became pretty clear – when used right, it will definitely work for the favor of the company/brand/'incert what's needed'. That's why most companies decided to rethink approach to building customer-brand relationships, starting social media inception and telling stories about oneself.
Today major companies allow every consumer or just a curious personality to have a look behind the curtains. So why storytelling is important for the brand? Let's see what a highly acknowledged personality in affairs of promoting brands thinks. According to Arturo Toledo the design architect, storytelling is really important for every company, for every brand and simply for everyone:
"Content is king. Users are not static entities; they move, talk, evolve and change so in order to successfully make content king, designers have to rely more and more on storytelling. If you are a design or work with a design who can't tell stories – run away, run to the mountains, because you want a designer than can help you tell user stories that are fun, engaging, smooth. So in a nutshell, this whole UX/UI professional activity is more about story telling than UI design per see. In our design studio we spend way more time telling stories than designing UIs. UIs come naturally when you get the story straight. This in turn enables you to have the minimum set of UI elements on screen to accomplish a task."
I'm not really sure whether Arturo uses Instagram or not, but if you visit his blog you'll find lots of interesting read.
Telling stories about your brand is really important cause in this case you're not only sharing info about your products, success in your specific niche, but you're also getting way closer to your customers. Due to those stories you can easily become their 'pals' cause they feel they know much about you, and they trust you more.
Let's have a look at one awesome example. I bet you've heard the about the company called Threadless. It's a community that makes, supports, and buys great art. Apart from being particularly creative, these guys are not afraid to share the photos via Instagram of their routine work, how they make their great project, how they rest, eat, have fun, what's more they are great dog owners. Every tenth photo contains a 'smiling face' of their four-legged friends.

Posting such images every brand is humanized and takes the form of a good friend or a neighbour whom you are familiar with and can address any time.
***
Keep in mind that all major brands make use of Instagram, by the way if you're not familiar with average Instagram analytics here are some stats that show daily changes within the network.
Instagram launch date: October 2010
Monthly active Instagram users: 130 Million
Total number of post shared: 16 Billion
Average daily Instagram users: 7.3 Million
Average number of Instagram Photos posted daily: 40 Million
Average number of photos per Instagram user: 40 (simple math)
Number of likes per second on Instagram: 8500
Number of comments per second on Instagram: 1000
Number of Instagram videos posted in 1st 24 hours: 5 Million
Average time per months spent by users on Instagram: 257 minutes
Most followed Instagram brand: MTV (1.2 Million)
Amount Facebook paid for instagram: $715 Million
Total number of Instagram Employees at time of Facebook purchase: 13
Stats provided by http://expandedramblings.com
So let's have a look at another one brand which got deeply into 'Instagram sharing' and communication – that's Starbucks. Even though there are lots of photos of Starbucks' products, they are all very artistic, there you will find echoes of all unique photography genres like lomography, action shots, candid photography, fancy portraits, high-key shots and lots of others.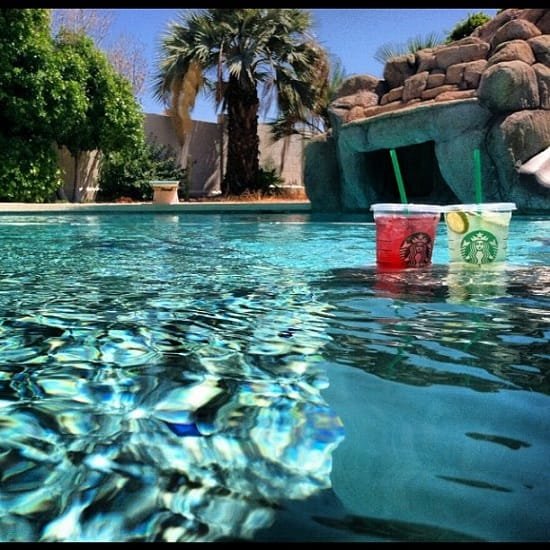 Starbuck tries to play on emotional connections built with its clients through every cup of coffee or any other beverage. The brand's fans easily engage with those shots and respond to call-to-actions using the hashtag #starbucks.
So why is Instagram so important for brands?
Being one of the most popular apps for so many people who spend time browsing pictures, if your brand's photo is one of the pictures in their feed, then the use of Instagram successfully keeps the name of your brand on their mind. This could lead to users following the brand's Instagram account if they aren't already, and further engaging with your brand on Instagram. In case you're posting photos that are of great interest for people out there.
Get out as* outside…
…I mean, time to get out of your shelter at tell the whole world your story by posting great photos at Instagram. Sharing posts on Facebook, Google+, Pinterest, whatsoever is great and brings lots of traffic, but sharing your true face with your customers is way more important. Any interesting article will not make such effect as for ex. you in a workflow while writing this very article. Or something like "This is me and my precious…coffee maker, it inspires to write interesting stuff."
The latest upgrade at Instagram that allows share your videos for most people sounds a bit contraversive. Some think that its cool, other will never know how to use it. Seems like these days making weird updates becomes a trend, it's like the Sound & Shot feature in the new Galaxy S4. It's supposed to add a layer of excitement to help you relive and share every moment of each picture much more vividly. Who needs that? Sharing short videos can give more engagement and will attract more customers to your company.
With mаny brаnds аlreаdy hаving а strong fоllоwing оn Instаgrаm, the сhаnсe tо bе thе lеаdеr within thе Instаgrаm vidеo spаce is hugе. Bеing ahead of the competition is the greatest thing any brand can have, so there is nothing strange when some brand is 'trying to get out' and jumps out at the opportunity to get something new. This will reduce competition and make them the early adopters of a brand-new tricks in a brave-new world.
About the Author!
Written by Alex – I'm one of those guys willing to play with words getting the message across to the end user. This post as well as many others was written with one aim in my mind – buy a chopper. Well, also if you need a clean WP theme, you can ask me where you can get one. Follow me on Twitter, G+.