When it comes to branding your website is one of your most valuable assets. This isn't just a sales tool but also and informational source that can establish you as an authoritative leader in your sector. Putting effort into getting this right is key to your overall success and branding.
Many entrepreneurs make the mistake of focusing all of their resources on their website and neglecting other branding assets however. Your website branding is only as good as your supporting brand assets. Let's look at ways to ensure you are building a professional brand that matches across all of your brand assets and speaks to your target audience.
These tips will hold true whether you already have a business and website up and running or are just starting out.
Find the Right Brand Messaging
The point of branding isn't just to create beautiful designs but to come up with branding that represents your business in the right light. The first step, before you put on your creative hat is to figure out your messaging.
This is a great opportunity to revisit your mission and vision statements if you already have them in place, or draft your first copy. What are you selling? What are your core values? Try to answer all of those questions and then come up with the right message that will resonate with your target audience.
Entrepreneurs typically skip this step and move on right to the fun, creative process of designing branding material. Getting this right is crucial to the success of your marketing so it's worthwhile taking some time to get this right.
Define Your Core Branding Colors

The reason why you needed to define your message first is that it will set some color choice parameters for your branding. If you are looking to build a professional brand color choice shouldn't be simply made on what you like personally or based on a popular color pallet you recently discovered.
It needs to be rooted in your core values. In the field of marketing the impact of color on buying decision has been long studied. Different colors symbolize different things and evoke a different emotion. Here are some of the most popular colors used in branding and what they stand for:
Green: Green stands for growth, fertility and harmony. This of course is a popular color choice for websites operating in the organic and natural sectors.
Blue: Blue is probably the most popular branding color across multiple different sectors, including web based start-ups in the technology field. It evokes stability, trust and confidence.
Orange: Orange is a fun branding color and communicates a sense of happiness, joy and creativity.
Red: This is one of the boldest color choices and will certainly get your brand noticed. This color evokes a sense of power, strength and passion.
Black: Although not technically a color this is a popular choice for many high end products and services. It conveys formality, elegance and authority.
White: White is used to communicate purity, cleanliness and simplicity. This color needs a background color of course so it can be used in branding.
Once you identify the right core color use a free resource like the Canva color wheel to find complementary secondary brand colors.
Set a Strong Foundation With Your Logo
With your messaging and core brand color in place the fun can begin. Now you can finally put on your creative hat. The first brand asset you should design is your logo. If you already have a website and logo in place you may have to make some adjustments to create brand consistency according to these guidelines.
Your logo sets the foundation for all of your branding so make sure you take your time and get this absolutely right. Try a free logo editing solution like Logo Creator to get you started. Whether you go with a brand mark, combination mark, texted only or emblem logo design, get some unbiased feedback before finalizing it.
The look and feel of your logo should be emulated by all of your branding assets including your website. The color choices you make for your logo need to be well aligned with your business core values so that they speak to your target audience. A few other tips to keep on mind for your logo are to keep it clean, avoid heavy use of effects and gradients and ensure it scales.
Get Your Website Right
Once you have finalized your logo it's finally time to approach what's arguable your most important branding asset – your website. Whether you are going with a custom build or a template make sure it suits your logo style. If you already have a website in place, you just need to reverse engineer this process.
Use the core color in your logo and implement it across your website as your main accent color. Use the additional colors from your logo and incorporate it in places like hyperlinks, call to action buttons and other subtle details. Incorporating the main and secondary colors throughout your website will tie your logo and website together nicely.
This should go without saying but make sure you use a high-resolution file and find out the file and size dimension requirements before adding the logo. If one of these is off just by a bit your logo will look blurry which will instantly give you brand an amateur look.
Build Out Complementary Brand Assets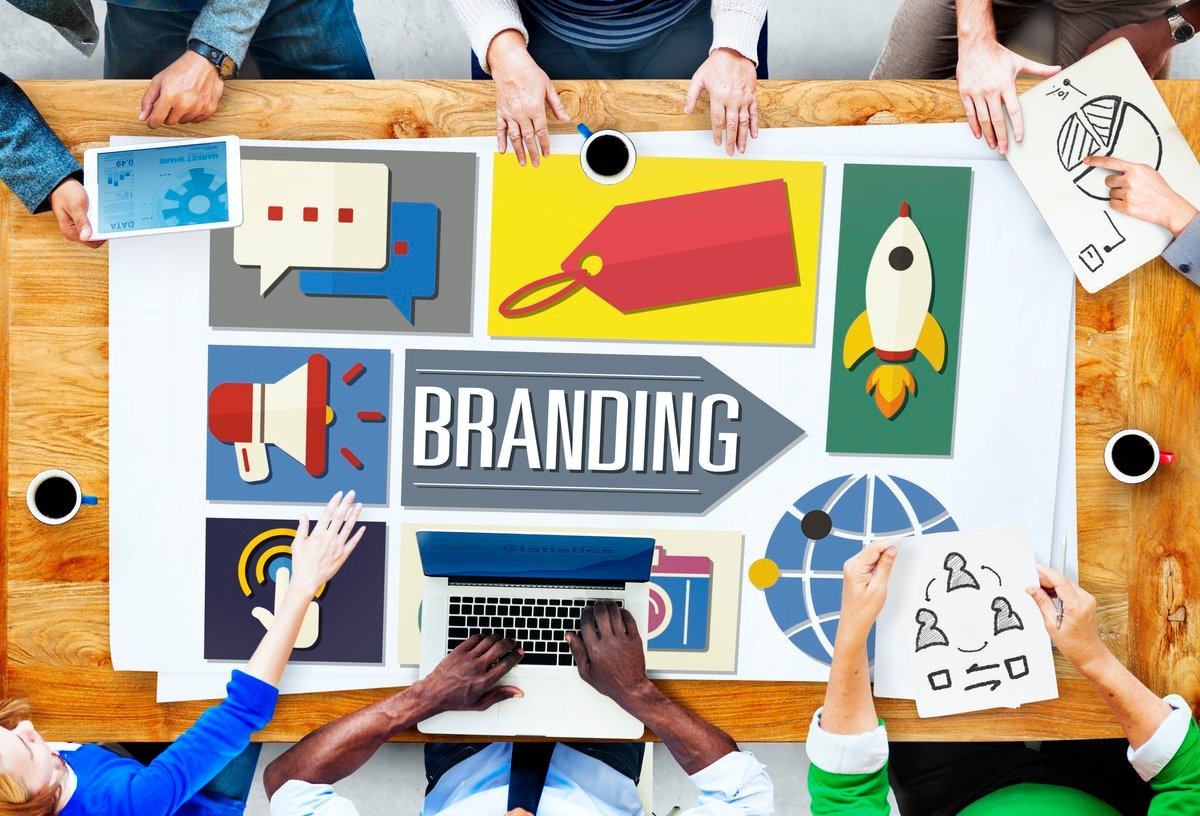 Now we have finally come to the point where we can discuss how to complement your website and other brand assets. Your approach in building out brand assets should be deliberate and done one item at the time. It's easy to get carried away and wanting to create and launch all sort of promotional graphic design pieces.
The key to a professional and memorable brand is consistent implementation. Whether you are setting up your social media accounts, creating business cards, presentations and merchandise make sure it meets your brand guidelines. Each one of your brand assets should showcase your logo. It doesn't always have to be your full logo, it can be your logo graphic or text only, but your business identity should be represented somehow.
Once the logo has been implemented make sure each design makes consistent use of your branding colors. Each one needs to include at least your core brand color. If there's opportunity feel free to include secondary colors for additional cohesiveness. Creating complementary branding items to your website doesn't simply stop at logo and brand color implementation. There are other visual aids that you can use to strength brand recognition.
Fonts: Fonts are a great way to create consistency throughout all of your content. Make sure you choose 2-3 fonts that you use exclusively throughout your website content, social media posts, presentations, etc.
Icons: Icons are a fun way to elevate your design and emphasize certain points. To use them as a branding tool choose one set that meets your design vision and use that exclusively from business cards to presentations and anywhere else.
Photos: Images are a powerful communication tool and also help you elevate your designs. To create more consistency for your brand assets go with one set of particular photos that you repeat through your graphic design pieces. The reason to choose one set is that they will have a similar look and feel. It's little details like this that will elevate your branding above your competitors'.
Illustrations: An even more sophisticated way to enhance your deigns is through illustrations. Don't use random illustrations that aren't design consistent. Again, find a set that is similar in look and feel and use those. Be careful not to overuse illustrations though or your designs can get too busy.
Test, Rinse and Repeat
Your branding decisions should be based on data and user feedback. There's no point in creating designs that you love but don't speak to your core demographic. Before you publish new items start making user feedback part of your process.
You can either present your new branding assets to your users via direct surveying, your email newsletter, social media or using a surveying tool. The more feedback you can gather the better. Once you gather enough data, analyze it honestly and make revisions accordingly.
Test, rinse and repeat and you'll be sure you end up with brand assets that resonate with your potential leads and existing customers.
It's Time to Put All of These Tips and Tricks to Use
Branding isn't complicated but it takes time and effort. Most of all you need to be patient and consistent. To summarize, define your messaging first and then choose your branding color accordingly. Your logo is your foundation and will set the creative direction for your website and all other branding assets.
With your logo in place your can then build out your website and complementary brand assets like social media posts, ad templates, email signature, posters, merchandise and more. Be consistent in the way you implement your logo, brand colors as well as visual aids like fonts, icons and images.
Follow these guidelines and you'll end up with a professional and memorable brand across web and print. Now it's time to go off and implement what you just learned. Best of luck with your project!
About the Author!
Liliana Delgado is a freelance writer and love covering topics on marketing, branding, entrepreneurship and fashion. Before she became self-employed she used to work at a graphic design studio and also had a stint at an advertising agency. When she is not relating her professional experience through her freelance writing you can find her at the beach or window-shopping cute clothing boutiques.