If 2020 proved anything, it's the fact that businesses need websites if they want to continue to thrive amid the global pandemic. However, it's not enough to have a website just for the sake of it. Internet users these days are becoming harder to please because of their shortened attention span.
Your website needs to be engaging in order to attract visitors and keep them there. In fact, your website's aesthetics, functionality and navigation have a huge impact on your traffic, Search Engine Optimization, and in building trust with your audience.
Top 5 Website Design Tips
So, if you're ready to bring your website to the next level, here are some tips that you can incorporate in 2021:
#1. Consider Hiring A Professional
If you haven't already thought about it, it's time to decide whether to build your website from scratch or to hire a professional web designer or web design agency. With each one come various pros and cons.
Whether simply implementing changes or building a website from the ground up, doing it yourself is certainly the cheapest route. However, if you have no background in web design, it could take you six months or more to learn how to deploy your own website, never mind actually do it. If you're not willing to invest that much time, it makes more sense to hire an expert to help you.
Hiring an experienced designer will certainly cost more. However, there are many web design agencies out there offering very fair deals, such as Oxford web design by Intuitiv.
Hiring a professional web designer not only paves the way to a stunning website in a short period, but it can also help you with implementing the changes you want in terms of website functionality. Use their expertise to help personalize your website and to improve the overall user experience and interface.
#2. Create A Plan

In creating a website, you should always begin with the end in mind. Before you can deploy a finished product, you need to create a deliberate plan to help guide you through any changes you need to implement. Having a plan also allows you to set your expectations regarding the results you want to see after implementation.
In planning a website, consider your target audience, navigation, and overall design and features. Identify your target audience first. Having a target audience in mind allows you to create a website that they can connect with. If your website speaks to them specifically, they're more likely to consume your content on a regular basis. This can increase your web traffic and help build credibility for your site in the long run.
After brainstorming your niche, it's time to think about what your website will look like. Website aesthetics are important because they represent the very first impression that potential clients take from your business.
How visitors initially feel while scrolling through your site determines how they'll feel about doing business with you. Make sure that the home page is attractive enough to get them interested, and that you have plenty of helpful info about your products and/or services. Pay attention to the colors you use, the company logo and the layout of information, as this can affect the flow and attractiveness of your website.
Website navigation works like signs on a freeway; they take you to your desired destination. Improving your website navigation retains visitors and helps them to find what they're looking for. As a rule of thumb, if website visitors can't access certain pages on your site in three clicks, then you need to improve your website's navigation.
#3. Keep Your Design Simple
Websites these days have migrated from dull static websites to incorporating more impressive designs like animations, colorful and interactive call-to-action buttons and three-dimensional design. These are great improvements for the overall user experience, but too many of them at once will clutter your website, making it harder to navigate.
In 2021, simplicity will continue to be the trend. Why? Believe it or not, your visitor's attention span has become very short over the years. On average, your website only has a few seconds to convince them to consume the information that you're offering, so make them count. It's best to be concise with your content, company information, and your product or service.
#4. Design A Mobile-Friendly Website
When designing your website, make sure to incorporate a mobile-first approach. This is a web design principle by which professionals begin the process for small screens first and then move on to the bigger ones. In other words, design how your website will look on a smartphone first, then move up.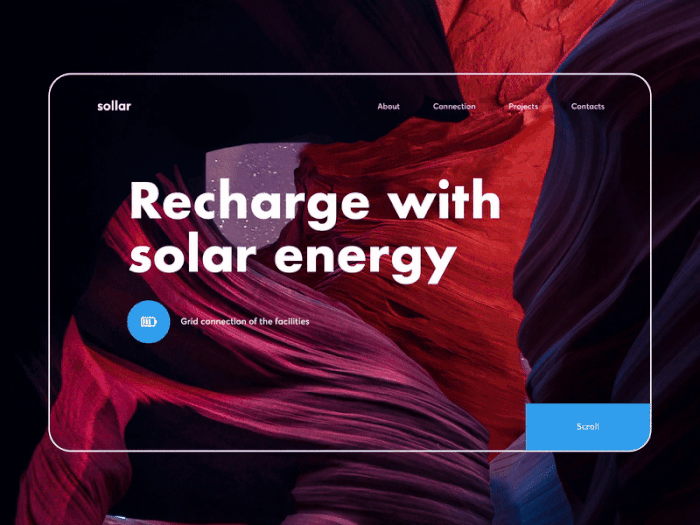 A mobile-friendly website means that your content, font size, buttons, images and navigation are all optimized for users to interact with on their phones. If your website is made for desktop access only, these features will come out differently and will likely function poorly on a smartphone.
Your website needs to be mobile-friendly because most of web traffic nowadays come from mobile searches; people are usually on the go, and they take their phones everywhere with them. You don't want your web visitors squinting at the screen, trying to read content that isn't meant for phone use.
#5. Consider Website Load Speed
One more thing you should consider is your load speed. This is the amount of time your website will take to load on a user's device. Two factors that affect your load speed are the user's internet speed and the size of your website.
Being that the internet is a fast-paced world with fast-paced consumers, a slow website load speed can be a deal breaker. In fact, in July 2018, Google's algorithm began to factor in website load speeds for mobile searches. This means that your ranking on Google search will be affected if your load speed is subpar.
There are plenty of apps available to check your website's speed. In fact, Google has its very own, called Page Speed Insight. This app offers you a detailed description of how fast your site loads on both desktop and mobile devices. It also lists ways in which you can improve it.
Your Turn
Websites are the most important online marketing tools. They help you to interact with your audience, build your brand and provide information about your products and services. That said, make sure that your website is attractive, fast and accessible.