15 Tips for Effective eCommerce Store Design to bring more Sales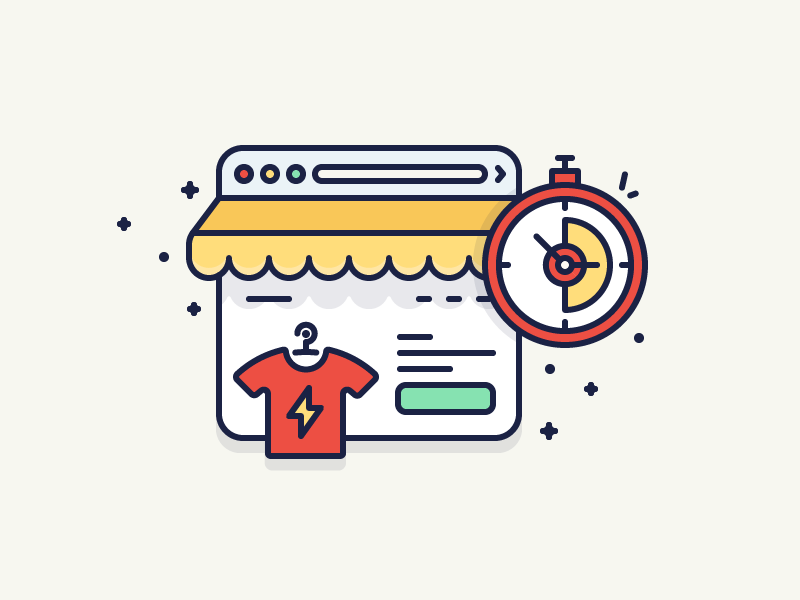 Illustration by Justas Galaburda via Dribbble
A career in eCommerce website development is hot right now. Moreover, eCommerce has an overwhelming long-term worldwide growth outlook. These days, the total market is big—more than $1 trillion and is forecasted to grow at 17 percent every year.
A great eCommerce web design is paramount to convert visitors into customers. The ideal website design should make the process of buying as quick, stress-free and easy as possible. Regardless of how good the online ads perhaps, a business could be losing valuable customers if it's not optimized for sales. Therefore, the services of an eCommerce development company is a must.
With the tough competition these days, it is imperative for any eCommerce store to have their websites designed to the max to bring in more sales. How to design, let's find out.
15 Tips For Effective Store Design To Bring More Sales
Start seeing more conversions in no time with these effective tips:
Tip #1. Keep Users in Mind
Each detail of the website from images of products to contact forms could contribute to the decision of a user to purchase. Thus, when designing an eCommerce store, always keep the user in mind. If you want to convert your visitors into customers and customers into regular ore repeat buyers, then User Experience or UX is paramount. An effective eCommerce website design could help build a great design that boosts visual appeal an overall satisfaction to the site.
Tip #2. Simple Web Design
Consistently, minimalist eCommerce store designs are more trustworthy and visually appealing than complex-looking ones. Consider simplifying to optimize the web design for conversions. Simplify by doing away with irrelevant information and go for a minimalistic design with lots of white space.
White space means there shouldn't be distracting images, videos, or links. Moreover, the call to action is clearly defined. Furthermore, the simplistic design gives off a minimalist, professional feel.
Tip #3. Be honest on Pricing
When it comes to an eCommerce store design, you should be upfront all the time and honest about the price of products or services. Never attempt to hide information or make it hard for visitors to find on your site. You certainly would not want visitors to feel that they're tricked or deceived.
Put prices somewhere that's easy for visitors to find and simple to understand. Moreover, the rule should apply to shipping. Be upfront about the costs of shipping on your products and the policies that customers should be aware of. Make certain that customers could see the total product cost, including shipping, before buying.
Tip #4. The View Cart Button
Most eCommerce stores have a tiny shopping cart icon on each page, enabling users to view items that they've added to their cart easily. The View cart button is one of the most critical eCommerce web design techniques there is. Keeping this button visible all the time has been proven to boost rates of conversion.
Just make certain though that it is recognizable, such as a shopping bag or shopping cart for instance. Make this stand out since this is one of the most chief buttons on your store to catch the visitors' eyes. Moreover, it should be bigger than the other buttons so it would be the easiest to find.
Tip #5. Quality Pictures
The biggest pain point for web shoppers probably is that they couldn't see products in person before they buy like in a physical store. To ease this point, consider enhancing the web design with product images that are high in quality and perhaps even a video. High-resolution photos are a requisite. Blurry images could turn customers away.
It would be great to have a photo gallery of each product so that users could click through and see several angles of each product. A pop-up box is a popular feature wherein people could zoom in on a specific image and take a look at fine details. Use lifestyle images of actual people interacting or using your products if possible.
Tip #6. Never Distract Users
Generate more sales by optimizing your web design. It would be nice to include more information on the story of your eCommerce brand, a blog, or an option for web visitors to sign up for a newsletter. Make sure however that the extra pieces of information do no distract visitors from buying.
A form on the front page or else at the bottom of the homepage that visitors could fill out to join the email list would be nice. Refrain from making a pop-up window asking users to sign up since it could have an opposite effect of what you want to achieve. It does not only distract them from buying, it could also annoy them and abandon their carts instead.
Tip #7. Testimonials and Reviews
More than sixty percent of online shoppers report that they read reviews from other customers before making a purchase. This helpful statistic could be used for your website's advantage. Customer reviews are an easy and fast way of promoting conversions and sales fast.
Including product-specific reviews under each product description is one effective technique in web design. Include a separate page of your website testimonials and reviews if you don't have a lot of products.
Tip #8. At All Times, Be Honest
Besides using clear information on pricing and honest photos of products, make sure that your shipping and return policies are readily available as well. For fast and easy way to handle this vital detail, consider adding a link to the main navigation menu for store policies. Consider a little persuasive language. Nonetheless, you should never go overboard and don't attempt to deceive web visitors.
Tip #9. Organizing Products
Keep your products organized to make it easy for users to find what they're looking for. Categories of products must be easy to find via a menu bar to simplify the search. This additionally enables users a glimpse into product categories that they did not know the store offers.
Product categories could include clothing, accessories, infant toys, home and office, and a whole lot more. Users could narrow down their search by clicking on one of the categories. This is extremely helpful to the store since customers could end up purchasing some other product they did not know the store has in stock.
Tip #10. Navigation Menu
Users could easily navigate the website pages with menu bars. To max usage ease, the menu should be in all pages, preferably at the top of a page. Be careful however to not load the menu with a lot of options, since this could look cluttered and confuse users. A drop-down menu is better for many pages and categories for a better organization without causing an overload.
Tip #11. Search Bar
Most visitors likely already have a particular product in mind. A search bar allows visitors to find what they're searching for with ease. There is no nee dot scroll through pages that don't interest them. If a user fails to find a way to search the site for the product they have in mind, they would likely go to another website or brand. The search bear then should be near the top of the website, usually at the right-hand corner.
Tip #12. Optimizing for Mobile Devices
More than half of all websites are opened and accessed from mobile devices. The percentage is projected to increase as smartphones as well as tablets are getting more advanced. Do not ever make the mistake of not optimizing the eCommerce web design for mobile usage.
A responsive layout lets a website adopt to any type and size of the screen, thus you need not worry about making a different mobile version of your website for every kind of device. To be sure, check it out from the various devices as well as operating systems.
Tip #13. Grid Style Layout
Grid layouts have the tendency to be the best for eCommerce sites. When users browse through, products should be organized in columns and rows. Consider having only three or four products for each row to make the look of the catalog more appealing. Keeping a lot of white space around every item provides users with a breathing room and lets them distinguish products clearly.
Tip #14. Logical Branding
Although it's a great idea to use popular web design conventions for web optimization, you also would want your eCommerce store to stand out among the rest. Consistent and logical branding across pages easily makes your website stand out. Make your logo visible on each page of the website and keep fonts and color schemes consistent. Maintaining the same design scheme and navigation menu across pages displays trustworthiness and consistency.
Tip #15. Linking to Social Media Sites
The most popular online stores today have buttons linking to social media accounts. Include social icons in the eCommerce web design to entice customers to keep in touch and to encourage a longer-term brand and customer relationships.
Social media links on a website have been proven time and again to boost SEO rankings. Nonetheless, make certain that the links open to your social media accounts in a new tab since you would not want visitors to leave your store.
About the Author!
Henrik Adams is an eCommerce Industry Analyst, who worked with one of the leading Magento Development Company — Sparsh Technologies. He likes to write about eCommerce development, web development, marketing, sales, and more about current trends.