10 Effective Lead Generation Strategies for Coaches and Consultants
Illustration by Peak Studio via Dribbble
First off, let's get one thing clear. This informational post on generating leads is for you if you are a coach already.
If not, you've to go back and learn how to coach and what to coach first. Get your basics clear, and we'll catch up.
But if we're luckily on the same page, let's proceed ahead.
Finding the right leads for your coaching business can be a tough, challenging task. For most talented and skilled people out there, juggling between their actual coaching skills and marketing skills is the real deal.
You are a coach. You're good at what you do. But marketing is a different domain. Isn't it?
And that's particularly true in the complex marketing world of today.
You've to focus on several different strategies and brand yourself on many platforms. How do you keep up effectively? How do you generate leads with this very activity?
Well, it's lengthy for sure. But it's not as tricky. Let us tell you how.
Know Who You Are
No, don't get us wrong. We're not talking about the basics. We know you know who you are: a coach. And we also know you have a command over your specific field.
But the question here is: Where do you stand as a coach? Have you only started with your coaching and consulting journey? Or are you an established coach?
If you have only begun, there are high chances you seek lead generation ideas that bring you, clients. You need lead generation ideas that put you out at the front and make them aware of your presence in the industry.
If you happen to be an established coach or consultant, you need to generate new leads. You need to attract a newer audience and reinvent your older courses to get back your older audience's attention.
In case you are a coach or consultant who has a regular and consistent flow of clients, you might need lead generation ideas that direct them towards your online products or fellow coaches in your team.
All three approaches set you to a different level of coaching. And thus, separate your lead generation needs.
Although we will be mentioning ten effective ways to attract customers that can work for all three, we highly recommend knowing your place in the industry. It will help you optimize and customize your ways to get a better reach.
10 Effective Lead Generations Strategies for Coaches
Here are ten effective ways to hush away all your worries concerning how to find coaching clients online:
#1. Produce More Content
Content increases visibility. And visibility wins the game in the current marketing means. If you are on the front page (be it google or social media), you are already very successful. Apart from fame, you'll receive a massive amount of earning opportunities in all ways.
For that very reason, we recommend all the coaches and consultants out there to produce more content. You can produce the following types of content, including:
When creating blogs, you do not only have to deliver valuable information. But you have to deliver unique information too. Make your blog stand out from the competition and maximize your retention rate. Some tips we'd like to give:
Upload Infographics
Add relevant images
Optimize the blog posts with keywords
Post frequently
Using these will build the trust of your audience in your content. Plus, to rank higher, you can make use of the Google News API. It helps you find trending stories and searches.
Since the latest news pops up first, you can use it to your advantage. Craft a blog about trending news topics, cover the news, pass your comments as an authority in the field, derive newer aspects of learning, and there! Viola! You have newer content that wins your audience and is bound to rank.
#2. Shoot a Short Video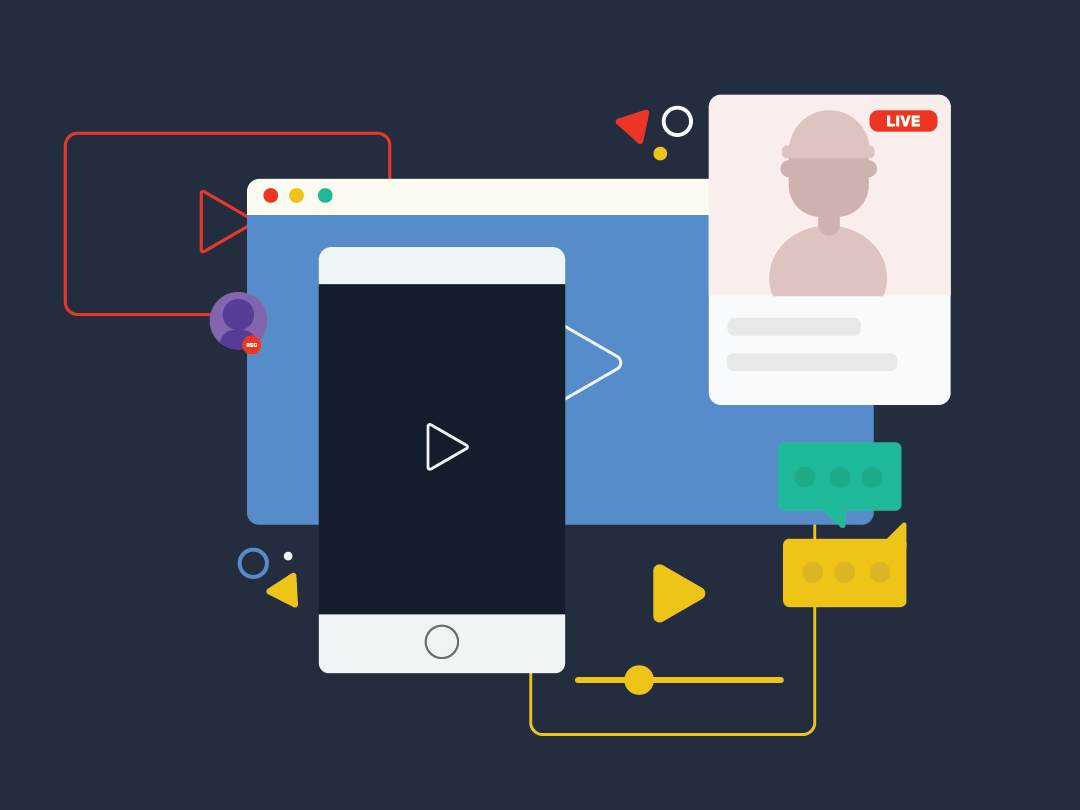 When creating video content, we advise all consultants and coaches to opt for educational videos rather than insightful videos. Your audience is more inclined towards learning something new rather than getting an insight into how your office looks like.
It's okay to share what you're excited about once in a while. But only sticking to your interests will kill your business. You need to keep your clients happy, and for that, you need to keep on putting out educational content.
Now, note that you don't need to create and upload entire one-hour classes on how to master a certain skill. Instead, create a minute-long clip about a very specific topic. The more specific you get, the more ideally and realistically you will help your audience.
What's more, videos are always ten times more impactful. According to a study, 80 percent of users reported remembering video content even after 30 days.
#3. Create Audio Content
Not everyone likes to read and watch. If that were the case, everyone in the world would have known what happened in the hunger games. Or how exactly did Tris escape Abnegation in Divergent? And well, that's because both of these things exist in book and movie form.
So, what do you do?
You create audio content! Repurpose the audio your record for your educational videos for podcasts and online audio streaming. You can even embed links to audio versions of blog posts on your pages.
In this way, those who don't like to read will visit your pages to listen! Plus, learning while listening makes multi-tasking much easier. So, that'd serve as an additional magnet to your business.
#4. Stay in the News
If you want more leads, you want the industry to stay updated and aware of your presence. You want everybody to acknowledge you as an authority and look up to you for guidance. And for that, you have to stay in the news.
For that, you can participate in podcasts and give interviews, more of which we will cover below.
#5. Participate in Podcasts
Apart from creating podcasts of your own, it's important to participate in other podcasts as well. Try participating in podcasts of those who already have a bigger following. You can invite their audience to join you on your platform as well.
#6. Keep Your Audience Updated
We mentioned the use of Google news API for your personal blog-building needs. Now, you can use the same feature to benefit your audience too. When you are building your website, embed this feature, and provide your audience with the latest news of the industry.
Since Google news API may not be as recent, you can make use of other APIs. But embedding this will make your blog a. one-stop solution. Thus, attracting more traffic and bringing potential leads within your reach.
#7. Provide Downloadable Resources
Everyone loves freebies. So, when networking professionally and marketing yourself out there, ensure that you provide your audience with something that stays with them. It will not only serve as a solid reminder of your presence.
But it will also serve as an excellent means of publicity. Each time the user refers to it or shares it out with a friend, they will come across your name and be amused by your expertise.
So, provide short and valuable resources to your audience via your social media posts, emails, and even your articles. Ensure these resources have your copyrights, so others don't steal the content. Simultaneously, make these resources actionable and super useful.
#8. Lead Industry Events
Another way to stay in the news is to keep in touch with the professionals of the industry. Arrange PR events that bring great minds together. It will not only allow you to learn, grow, and network, but it will also help you generate newer content for your audience.
The X-factor for lead generation is the fact that when you lead these events of leaders, people will recognize you as the ultimate leader. Thus, they'll entrust you with their skills and time.
#9. Broadcast Success Stories
Perhaps, the quickest way to generate leads is to tell them how successful you are. Yes, the tables have turned. Today, people love storytelling more than demonstration.
So, if you directly narrate how you started and finally got to the place where you are, they will be able to relate. And they will strive to have the same frame. Once you have them in this mindset, they will want your lead and consultation.
#10. Offer Demo Classes for Online Courses
Lastly, amuse your audience before inviting them to your show. Make them believe you can change their lives before changing their lives for real.
And you can do that by offering a demo class before asking them to sign up for your online paid course or consultation. If you win their confidence in the free trial, they will entrust their money with your happily. And the fact you offered them great information for free will have them bring their peers to you too.
Final Thoughts
Summing up, once you set out to find your answers to how to find coaching clients online, you will see that the possibilities are endless. But to get started, you've to hop in. So, the sooner you hop in, the better it will be!