At present, branding is not just about a logo, tagline, or an awe-inspiring campaign. The concept of branding has evolved and is now built on the interaction between a customer and a business, both online and in-person. Artificial intelligence is also changing the age-old perception of the brand as it brings a whole new characterization to human connection.
According to PwC findings, 72% of business decision-makers agree that AI diminishes the number of person-to-person interactions and enables humans to concentrate on the crucial task. So that the process of building relationships with the customers will soon be the responsibility of software, rather than your marketing or sales team.
Google and Microsoft are among the prominent global brands that have calibrated their operations to focus on Artificial Intelligence research. These brands aim at shifting their primary user service platforms and applying AI to these platforms. Other industry leaders like Apple, Amazon, Facebook, and Alibaba are not far behind from this objective.
All these indicate that AI is becoming the core technology for shaping the company's brand. Without further ado, let's discuss how brands can remain authentically human by utilizing essential AI technology.
#1. AI Helps you connect with the Right Audience
Branding is about building a relationship with the audience by understanding who exactly they are and what they want. Forming an emotional connection with a brand is highly influential, and can determine whether or not a person buys from you. And, this connection on a personal level has always been the key to forming a famous brand that stands out from the competition.
Apple is the perfect example of a company that utilizes emotions to form an everlasting connection with consumers. Apple's branding strategy uses simplicity and, most importantly, a desire to be part of a lifestyle movement.

Instead of sending out press releases, the company creates events to unveil new products, nurturing a sense of mystery and allowing users to be a part of something big and significant.
There are several other reasons why people feel such an emotional connection with a particular firm. Let's take a look at the survey report by Customer Thermometer.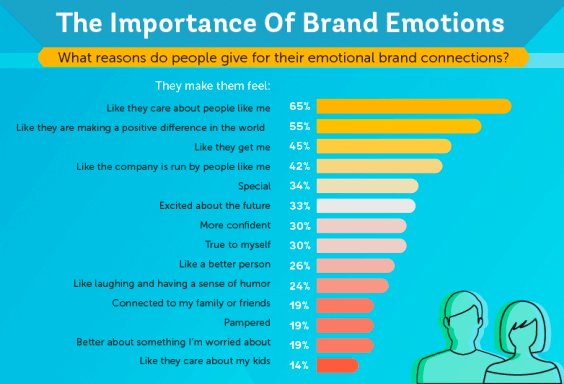 Marketers can achieve this intense relationship between the customers by creating content that appeals to their emotional state, needs, ego, and aspirations. But before beginning, you need to understand who you are trying to connect with. Many marketing teams adopt audience analytics to determine the demographics of their audience. However, such evaluations are not always accurate, especially if you measure the wrong data points.
Artificial Intelligence tools will help marketers in this area. It collects and analyzes loads of data, giving access to the right information to drive marketing strategies. For example, data gathered from webpage tracking tells you about the kinds of products that are frequently purchased or viewed by a specific customer.
As per the Capgemini report, 79% of marketers using AI-generated analytics saw better insights and results.
The data from AI-generated reports can also be used to create highly personalized content, including recommendations and unique offers. Personalization is essential to today's consumer, and according to a study conducted by Infosys, 59% of customer's state that it has been a significant influence on their decision-making process.
#2. AI Helps you Fuel Customer Conversation
When customers contact any business online, they expect an immediate response, which is simply not feasible for many firms.

The above report published on HubSpot says, 82% of consumers look for an immediate response from a company on marketing or sales questions. However, this type of availability is now possible because of AI technology. Artificial Intelligence chatbots offer a comprehensive communications solution when it comes to providing sales suggestions, answering FAQs, or guiding a customer where to go next.
By integrating AI-powered chatbots into the customer service toolset, customers need not have to call in and wait on hold for a representative. All the common inquiries will be answered through the automated live chat.
AI bots use deep learning algorithms to improve the value and relevance of their output. Instead of scripted responses based on input, they detect the user's intent and enhance their performance over time by gathering feedback from every interaction. With this data, it can suggest items that may interest customers based on their shopping history or preferences.
#3. AI Helps you Monitor Online Reputation
Word of mouth, social media posts, and online customer review websites are powerful when it comes to forming or destroying a company's reputation. It is vital for businesses to analyze and follow what customers say on different platforms so as to respond in a way that looks after their online status.

Reputation is what persuades the audience to buy from you or a competitor.
7 in 10 marketing representatives allot up to 20% of their workweek to manage the brand reputation. In conversion, that's around one full day per week. However, utilizing AI can save time and also improve results.
Artificial Intelligence lets firms guard their online reputation and achieve advanced brand management.
It helps brand and product managers to conduct large-scale research and analysis on social media channels, blogs, websites, and other forums.
Businesses using AI tools for online reputation management can precisely monitor mentions on social media.
It helps you identify the people complaining about the poor customer services received and aids you in rectifying it.
The same algorithm also identifies positive comments which can be shared on various mediums to build a repute.
Artificial intelligence also helps firms to combat fake news. A good example of a company that became a victim of fakery is Starbucks. Misleading tweets were developed advertising the "Dreamer Day" where the coffee chain would give away free Frappuccino to undocumented US migrants. This fake news spread immediately under the hashtag: #borderfreecoffee.
Here is a screenshot showing how the company responded to this tweet.
If Starbucks weren't quick enough to dismiss this news, it would have led to severe reputation damage.
#4. AI Helps you Secure Customer Data
Securing customer data is also as crucial as guarding a company's reputation. In the wake of cybercrime, 92% of online customers cite data security and privacy as a concern, as per Consumer Privacy study by TRUSTe/NCSA.

In the recent past, we saw the introduction of GDPR and CCPA seeking to secure customer data. Companies that are involved in leaking sensitive customer data have had their reputation damaged badly. To reinstate the confidence in your company, you have to invest in Artificial Intelligence. This is a crucial initiative when it comes to brand management.
AI-driven security tools will reduce the risks and manage the threats to data safety. They do this either by themselves or by offering enhanced capabilities to security teams and Security Operation Centers (SOCs).
Selected Examples of AI-Powered Data Security Solutions
User and Entity Behavior Analytics (UEBA) – It learns patterns of authentic access usage and employs these patterns to detect multifaceted attacks like insider threats by recognizing behaviors that specify malicious intent and expose valuable data.
Security, Orchestration, Automation, & Response (SOAR) – This cybersecurity solution detects threats and automatically deals with low-level threats efficiently.
Some firms came up with AI systems like facial, voice, and sound recognition that lets customers register their biometrics, which can be used to receive services later on.
#5. AI Helps you Improve Company Culture
Your company is made up of humans, no matter how many AI systems you use. So, as long as there are people, there will be a culture within the firm which is solely based on the personalities and current practices. This culture will most likely impact the brand's persona with customers.
People always look up to a brand that not only delivers quality products but also known for their exceptionally progressive cultures. Hence the businesses that prioritize culture are commonly more productive and have higher ROI than competitors.
According to a Columbia University study, the probability of job turnover at a company with a high internal culture is 13.9%. In contrast, the chances of job turnover in low company cultures are whopping 48.4%. The reason is simple:
Unhappy employees don't tend to work more than the minimum
Exceptional workers who don't feel appreciated quit immediately
Poor managerial skills negatively affect workers and their productivity
AI can help by building a better culture from the beginning. AI-driven recruiting systems will automate the pre-hiring process by selecting the right candidates based on their potential culture fit and qualifications.
Moreover, AI tools can be used within the firm to measure and define the existing culture. These systems use machine learning technology and big data to analyze cultural aspects, like employee sentiment, productivity levels, and engagement.
Final Note
Artificial intelligence is no more a new edition of the business world. It has already transformed how companies sell and promote. Early adopters of AI have achieved significant benefits from it, including revenue growth and more. So, stop being skeptical about AI and embrace it at the earliest.
About the Author!
Emily Johnson is a marketing consultant with 10 years of experience in the execution of marketing strategies. She is interested in writing and helps SMBs and large firms with her rich experience. Currently, she heads the marketing department at Blue Mail Media, a renowned B2B data solution company based out of Irving, Texas offering host of services like email appending, data appending, etc.