Over the last few years, we have been introduced to a number of new technologies including artificial Intelligence- sometimes known as Machine Learning, or simply the AI.
AI or Artificial Intelligence was developed to support humans. Today, it has matured into an innovation that delivers results. While it was initially expensive, AI has become affordable for SMEs (Small and Medium Enterprises) as well.
In fact, it's already being used by several businesses around the world in several ways, from determining market/product fit to automating customer communications. A survey conducted by Vistage on CEOs from SMEs found that 29.5 percent of leaders are in favor of Artificial Intelligence and its many benefits on businesses. They believe that AI will have a significant impact on their companies in the coming year.
However, you don't need to look into the future to find out how AI can help your business now. Several applications have been invented for virtually every venture, with AI-based applications offering the following benefits:
Reducing risk
Improving responsiveness and flexibility
Increasing results
Lowering costs
Minimizing the time spent on every task
In the financial market, some lenders have already begun incorporating AI/Machine Learning to improve their risk assessment process. Whether you've already started implementing AI to improve your business or not, you're probably not aware of every advantage AI offers.
How Can AI Help You In Running A Smarter Business?
AI can drive major breakthroughs for small and medium-sized enterprises across many departments. Although artificial intelligence is still developing, we believe that it'll certainly transform the way organizations are managed. Many companies have started implementing AI in their business and are beginning to see considerable improvements in their ROI and overall business turnover.
It might seem like AI applications are only limited to huge corporations like Apple or Google. However, as these mega-companies continue to work on developing AI and making it more mainstream, it's becoming more affordable and accessible than ever for SMEs.

Here are some benefits of implementing artificial intelligence in your small business:
Smarter Email Marketing
Artificial intelligence plays a key role in marketing; it has been for years and will continue to do so. In fact, AI has expanded the things we can achieve via email marketing, from driving conversions to enabling enhanced personalization.
As email delivers the highest ROI as compared to other channels, which is $38 for every dollar spent, this is good news. This gives rise to two important points:
If you haven't yet started using email marketing for your business, it's high time that you get started.
If you've already started using email tactics, it's time for you to fine-tune it with AI.
If you own a physical store, you can gather email addresses of customers by utilizing a POS system. On the contrary, if you have exclusive online retail, you'll collect their email id when they visit your site or make a purchase.
Modern eCommerce platforms and POS systems have integration with email marketing platforms like MailChimp. This allows you to sync your online and physical client list to create a segmented email list by dividing it into different groups, for example, by purchase frequency or location.
By using AI applications, you'll be able to keep tabs on your customer's journey as they go through your site and examine their behavior. This will allow you to offer a more customized experience for your clients.
Segmented email lists can help you in devising personalized email marketing tactics that better serve your clients. For instance, if you're going to host an event at the store, it won't make sense to send emails to customers who are out of state.
Furthermore, you can step it up by using email automation. Email automation enables you to create emails that are delivered automatically when triggered by your subscriber's inactivity, inactivity, or a specific date, such as an anniversary or a birthday.
So triggers are essentially the work of AI in the background. When a subscriber takes a specific action, a programmed response is activated, and so on, until the customer turns to a sale.
Ease Human Resource Tasks
Human resource is one of the unexpected areas where AI has started having an impact on. AI applications have been developed to not only smoothen the onboarding and hiring process but also to obtain reviews from new employees regarding how the HR can enhance those tasks, both of which have a major impact on the business bottom line.
AI tools can help you examine hundreds of applications automatically. This will not only help you determine the best applicant available but also save you valuable resources and time. Also, after the candidate is brought on board, the software can also serve as a knowledge base regarding the company's policy, benefits, and so on.
By using AI, small business owners can save a lot of capital spent on hiring extra employees or for specified projects. When repetitive and mundane tasks can be done efficiently and quickly with just a click, employees will have enough time to focus on activities that will help in growing the company.
Use Chatbot to Automate Customer Communications
Chatbots are a popular sales tool that allows you to initiate communications with customers and help answer queries automatically. It's like having a customer service and sales team that works 24/7.
A study shows that 53% of customers prefer using online chat before contacting a company. Whether you have dealt with AI or not, you must have already come across chatbots.
It's that pop-up window that appears whenever you first visit a site. Chatbot AI can answer most customer queries in a more human-like and engaging manner.
Here's an example:

Most small organizations don't have a dedicated sales team or customer service yet. If the same applies to you, chatbots can help in alleviating the pressure and enable you to focus on tasks which matter the most.
Improve Sales With AI-powered CRM
CRM (Customer Relationship Management) systems have been designed to collect customer data across various communication channels such as email, social, and phone to improve and automate sales processes.
Platforms like Salesforce have started using AI to help small retail owners analyze client reviews from those channels and then adjust marketing and lead generation campaigns automatically using that information.
AI-powered CRMs can not only help you in increasing lead generation but also acquire relevant sales and marketing insights.
Acquire Competitive Intelligence
AI can help you in analyzing your competition more thoroughly, from social media posts to video and written content. Many AI-based tools have been developed that enable you to keep track of your competitor's business processes and determine relevant insights.
For instance, Crayon is an AI-based competitive analysis software that keeps tabs on your competitor's every move across different channels such as web applications, social media, and websites.
Such functionality lets you acquire much more comprehensive information quicker, allowing you to respond efficiently and faster to ongoing changes in the industry that might affect your business.
Though AI has just entered the workplace, it's already starting to show a great promise. With the help of AI, now you'll be able to save not just time and revenue but also enhance every aspect of the business.
Logistics
This is an area all small businesses deal with. Thanks to the introduction of AI-powered tools, you can now deliver goods more accurately without any human involvement.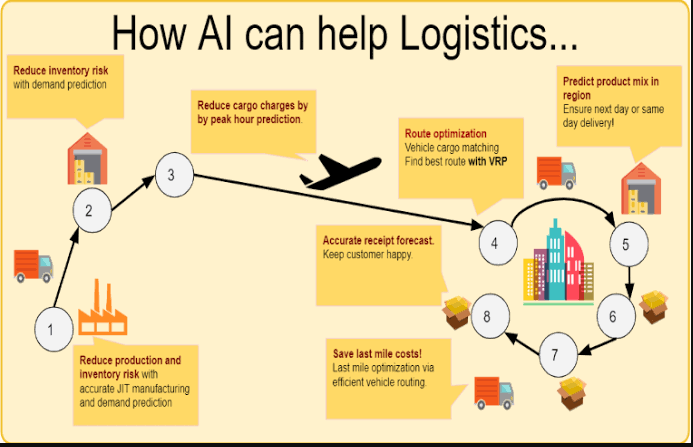 The supply network has always focused on data and the algorithms of AI relies on the information obtained from the data. The success of online businesses, therefore, depends on accurate logistics since the services and the products are delivered at the customer's doorstep.
For instance, warehouse management is a concern that retailers deal with, but thanks to AI, it's no longer a concern. This is because it can predict the routes that are likely to have congestion and avoid that channel strategically to deliver without any interference.
Wrapping Up
Artificial Intelligence assists humans by helping minimize manual work and improving productivity. Consequently, it becomes essential for small organizations to utilize machine learning and artificial intelligence. For instance, product tagging is one such task that takes more time to complete when done manually. However, AI applications can get it done with very little time and effort.
The use of AI is not limited to just large organizations now. They're a great way for small businesses to achieve exceptional growth as well. With AI tools becoming more accessible and affordable for SMEs, now you can effectively delegate traditional tasks to be completed by a more innovative and fast approach. This provides employees with ample time to work on other creative and resourceful activities that will help in expanding the company.
While some SMEs have already embraced the changes and influence brought by AI, others are a bit more skeptical. Whatever may be the case for you, one thing sure and that is artificial intelligence is here to stay. You might already be benefiting from it by saving your time and resources.
About the Author!
Robert Jordan, a seasoned marketing professional with over 10 years of experience, currently working as Media Relations Manager at InfoClutch Inc, which offers most sought after technology database & technographic data with other services like data licensing, data appending etc. Have expertise in setting up the lead flow for budding startups and takes it to the next level. Have a deep interest in CX, SEM & Social Media related discussions. Always open for new ideas & discussions.