How to Say Thanks to Your Facebook Fans
Most of the brands now have a Facebook page to promote their products, and of course Facebook as a social media platform is helping brands to find the loyal fans. The fans have an important role to create a Facebook page to be more "alive" with their like, comment and share every post facebook page.
So a big thank you is must be eligible to be spoken for the fans, a variety of suggestions and ways sometimes will make you confused to begin say thank you. Based on this, I raised the 6 simple ways based on real-life examples of well-known brand that has been expressing their gratitude to the fans who make their Facebook page more "alive", here they are:
#1. Say thanks for their comment
Usually you do a variety ways to make your facebook page look more attractive, whether talking about the product, about the environment or about events that are happening in the world today. Every time you do a post on Facebook will certainly get comments from customers, that comment can be positive or negative. Any way, comments from fans should you respect, like the example shown below belong to coca cola Australia Facebook page, who globally gratefully acknowledge the comments from fans regarding the northem territory.
And see so many fans do like, comment and share the posting.

Lesson that you can learn: Say thank you in posting wall globaly to the fans who have to comment.
#2. Reply the comments from your fans
Often I find there are fans who do post on Facebook wall brand that he likes, but not a few of the brands no response to the fans posting. Well, I know any brands with high busyness not have a time for reply to the post from the fans. However, you should prepare a special time to maintain your social media, as we can see in the example image below belongs pampers, papa John's pizza and pizza hut is patiently doing any fans reply comments, be it a compliment or complain comments. The purpose of doing this reply is to provide a proper explanation so that no misunderstanding and this is also to express his gratitude for the attention of fans to its brand.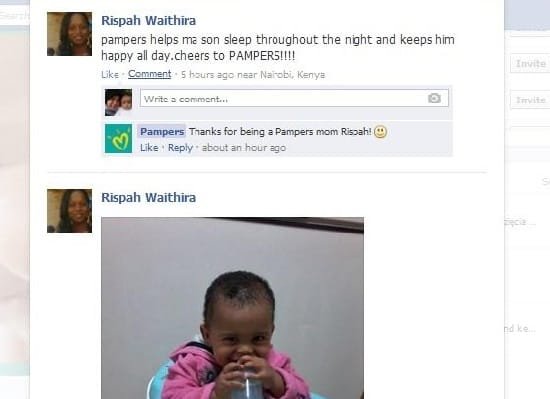 Lesson that you can learn: Please take a moment to reply any comments that your fans posted on Facebook wall.
#3. Make a promotion with thanks in the title
Another manifestation of gratitude to the fans is to give a gift to the fans. As you can see what was done by Papa John's pizza special offer that gives 50% of her gratitude unto the Facebook fans that have made by papa's john's pizza who reached number # 1 customer satisfaction. A real step by papa's John's pizza in expressing gratitude thanks which makes it a more meaningful brands in the eyes of consumers.

Lesson that you can learn: Celebrate your accomplishments achieved by giving special discounts to the fans that have made you the achievement.
#4. Make a special thanks just for noticing
Obviously you will often find that so many people pay attention to your Facebook right?
Observer of all the contents of your Facebook does like and not even buy things that you have to offer. Well, it would not hurt you to convince them with a thank you for being such noticing like what have done by Crumpler in the example picture below.
Gratitude is not only intended for Crumpler loyal fans but also for the observer who merely cursory look his Facebook page, kinds of thank you by Crumpler is showing some of his collection to convince the observer that they have nothing to lose by just looking at a collection of Crumpler because the collection is quite -unique design with an attractive design.
Lesson that you can learn: Say thank you to the cursory observer who only see your Facebook pages.
#5. Create a special offer for your facebook fans
How to make the fans be much appreciated one of them is by giving special offer for loyal fans on Facebook page. Let's take a look sample images Facebook page owned Picanha restaurant and Honda below, two examples are alike want to thank the loyal fans by giving them a special discount or offer only special gift to loyal fans. This method is quite unique; the two brands are not directly say thank you to the fans just by mere words but by direct action in the form of prizes.

Lesson that you can learn: Almost the same as the steps no.3, this no.5 give special discounts for your loyal fans on Facebook page.
#6. Say thanks when customer share their picture
I often encounter the fans were happy to share private photos on their favorite Facebook page, either when the photo share sometimes requested by the brand or without being asked. Should the brand owners do when the fans share they private images who associated with the brand products is to say thank you, as has been done by Lenovo at the time one of his fans share personal photo, directly Lenovo say thank you for sharing the photo with doing wall posts on his Facebook page.

Lesson that you can learn: Say personally via posting on your wall when one of the fans give personal photos relating to your product.
Conclusion
Various types of fans have encountered while you are posting on Facebook, there is a fans that are very loyal to your brand by expressing his happiness using your product, a fans who complain about your product, or a fans who only noticing to the content of your Facebook page. All types of fans deserves get your attention as the owner of brands. 6 ways above is a simple way to help you say thank you to all of your fans without exception, as a form of appreciation for their attention to your Facebook page.
What do you think about the kinds thanks well-known brands above? Do you ever do same like that to your fans? Please let me know by share your experience in the comment below.
– Written by Ratih –