How To Take Back Control of Your Audience from Social Media Networks and Their Algorithms
Image by Raj Kumar on Dribbble
Creating content is time consuming, and sometimes downright hard. It's so hard that I built a whole software platform to make it easier for people like us…
Catering to everchanging social media algorithms and their not-so-subtle pushes for 'pay to play' via ads, can cause a lot of frustration to entrepreneurs and marketers, and lead to inauthentic content.
I've found a way to help you side-step this, and build real and authentic relationships with your audience, and ultimately convert them to achieve your marketing goals.
Challenges in the 'Post-Organic Reach' Social Age
When I first started in digital marketing as a young (and naive) Account Manager looking after our clients social media accounts, I had a few recurring challenges to work through.
Finding new ways to grow a social audience without paying for it, which can be challenging when budget restraints mean all you have in your toolkit is repackaging content and curating other people's content.
Secondly, I had to continuously prove to my clients how the content that we were creating for their Facebook/ Twitter/ Instagram channels was ultimately delivering a marketing ROI.
Needless to say, it was tough. The age of organic reach was only just over, so finding ways to grow a social following with no ability to produce your own was a struggle at the best of times.
Turning Social Followers into Tangible ROI
One day, I decided to pitch a client an idea for a competition in which they were able to use a viral mechanic to get people to sign up to the competition, then share that with their friends for more chances to win – which was promoted through their social channels.
It achieved its goal, but the client was so happy because, for the first time, I was able to show them that we were able to deliver a tangible marketing ROI – which for them was growing their email list.
Their goal was growing their email subscribers by tens of thousands that year – so the fact that I could show them how spending time and money on growing a social media audience would lead to a steady stream of low-cost email subscribers was extremely well received.
What is 'Good Content' Anyway?
Fast forward to today, and as a business owner it's almost impossible to keep on top of what Facebook and other social networks decide qualifies as 'good content' in the last 10 years there's a been at least 10 major algorithm changes (that we know of) and chances are there's probably been a lot more than that.
According to Harvard Business Review they've evolved most recently into focusing on eliciting strong emotions like admiration, amazement, astonishment, curiosity and uncertainty from users – stuff that provokes an emotional response. Sometimes from a much more discouraging perspective; fear or even hate.
In 2021, we all know the societal challenges this can lead to…
No matter how much the algorithm changes, ultimately there's one thing that we can always be sure of – which is that Facebook are always going to push you to advertise, no matter what – as the old saying goes 'reach is dead.'
It's only going to become harder and more vague for marketers, creatives and business owners to get in front of their audience on socials. But what if instead of trying to fight the machine, we side-stepped it with our old friend, email marketing?

Cross-pollinate your Social following and your Email list
One of the biggest missed opportunities I've found in digital marketing today is that if you took a cross section of your email list to your social audience – chances are there's probably not a huge amount of commonality between the two.
You're very likely to find a whole untapped list in-waiting of social media followers who are not yet on your email list. It's in social media networks best interests to withhold as much information as possible on your audience in order for you to spend on advertising – whereas we know that a 100% of people who are in your email list will at least receive your email when it's sent.
It's really like owning a house versus renting.
But how do we convert this massive and ultimately anonymous group of people into your email list? Through content of course! But not just any content
Audiences Works Two Ways
Types of content designed to convert social media followers into email list subscribers work here. Specifically, interactive content.
'Traditional' social media content infers your audience just has to sit there and consume the content passively, whereas interactive content gives your audience to actively participate in the content – meaning there's a value exchange happening.
Examples include taking a quiz, filling out a survey, participating in a poll or uploading photos/ images – examples of two-way engagement with somebody is giving you value in exchange for you giving them value.
The benefit of this kind of content is that ultimately it will help you to grow your email list rapidly, because you can build data acquisition directly into the content itself.
Examples of Interactive Content
A great example is a Cafe who turned their 'Special of the Week' promotion into an interactive poll – by letting their social audience vote on their preferred option, then grabbing their email to tell them if they'd won, and when the special was available.
By building the email capture into the campaign itself you're essentially flying under their radar because they have to upload content to take part and participate but also the same time they're giving you direct permission to market to them – and it's GDPR compliant since they actually gave you direct permission to do so!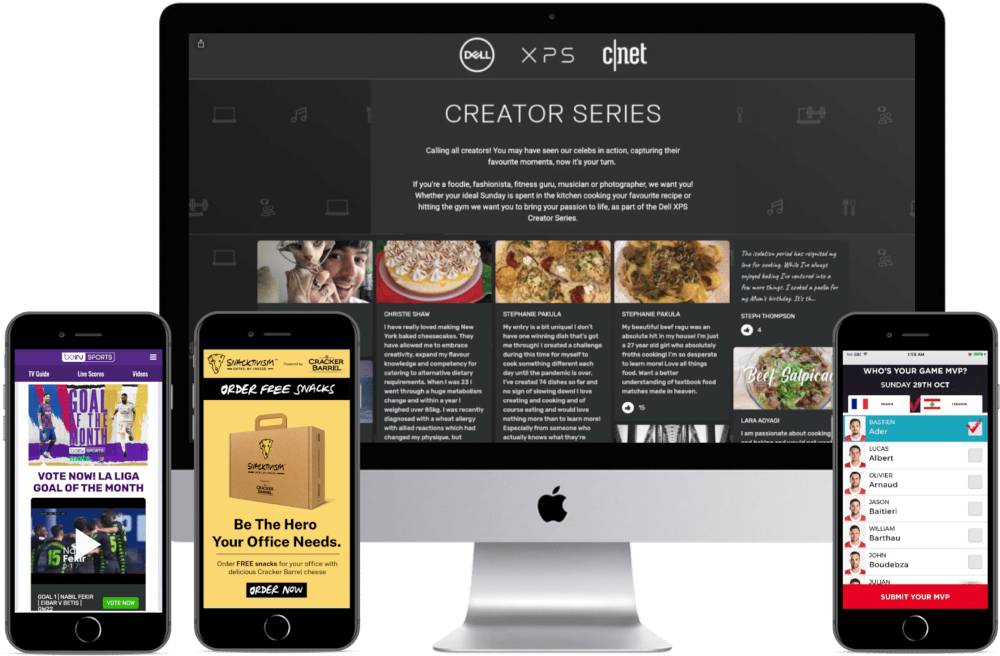 Prioritise your owned channels over rented space
Small business owner Gary Ashton decided to take control of his data from day 1 when launching a retail start up selling vinyl records. "We set up a data capture landing page prior to building out a full website. We used a QR code at the point-of-sale and were able to grow our mailing list quickly with very little work."
Flo Records built their email list alongside their social audience and saw an immediate ROI by using interactive content to email automation. Customers were instantly sent through a list of records that we're only available online. Targeting users at a crucial period of buying intent but presenting the sales message as value to the customer.
While Flo Records continue to use social to grow the top of funnel, they need the work they do to work harder for them, "We are a very small team trying to do our retail startup differently and Campaignware has helped us continue to grow."
Owner Gary Ashton was able to spend more time on creating sales driven email content which led to thousands of dollars of new revenue. But the main goal was to add innovation to a tradition retail experience and improve the customer journey; "Our new customers got a much better experience with an instant follow up."

Conclusion
By focusing on more interactive methods of engaging with your audience through your existing channels, you're able to grow your email list at astonishingly high conversion rates, Drive more traffic to your website and convert that list more effectively.
Here are a few key action points to take away and start implementing today:
Pick a goal. Choose one that's relevant for your organic social media followers on your page – it doesn't have to be achieved through advertising. A good example would be converting your social media audience into an email list
Brainstorm a few ideas of content your followers will engage with. If you're having trouble in coming up with ideas you can check out Campaignware's 50+ pre-built templates for free.
Build first party data capture as an authentic part of your campaign. Don't make it an ultimatum so your followers can only access the campaign if they give you the data. That's a recipe for terrible conversion rates.
Experiment: build, test and learn!
About the Author!
Adam is the founder of Campaignware, an interactive content creation platform that helps entrepreneurs and marketers create interactive content for free, with no coding or complexity.
Prior to that he spent 10+ years learning his craft building and creating campaigns and digital products for clients across Sydney, Australia.
Adam also teaches Digital Marketing, Product Management and UX at institutes including General Assembly and the University of New South Wales.
In his free time he enjoys making music, cooking and trying to teach his dog to fetch.