LinkedIn may not be the source for mouth-watering recipes or funny videos, but it certainly is at the center of the online professional world. Besides headhunting candidates and looking for a new job, LinkedIn has transformed into an excellent platform for B2B sales.
In fact, research has shown promising statistics about how 80% of all B2B leads come through LinkedIn and is favored by B2B marketers. How can you strengthen your roots for your business on LinkedIn? Follow these helpful tips to consistently climb the ladder to the top of your competition.
#1. Address Your Business Goals
There are endless ways to spend your time on LinkedIn and it's important to determine which actions will promote your business goals the best. For example, do you want to establish your profiles as an active portfolio that will attract potential partners and employees?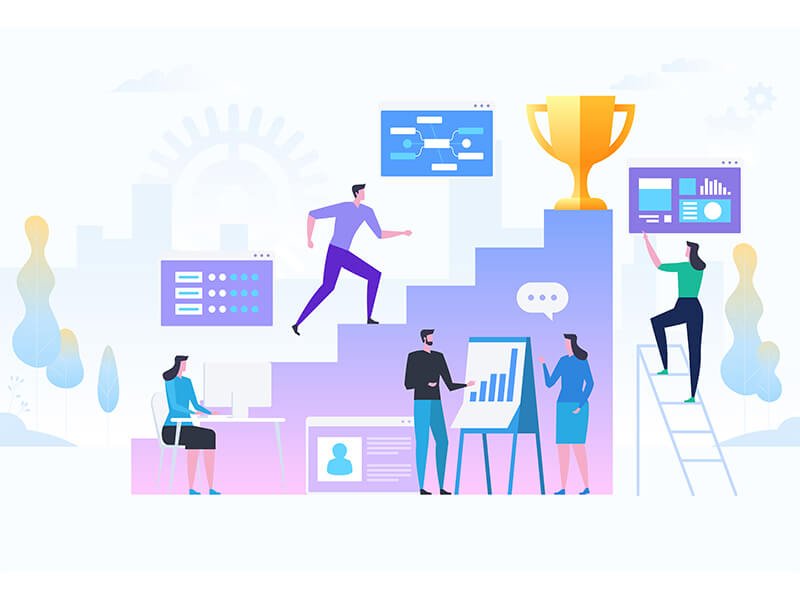 Do you want to directly generate leads for your business or vouch for your business from the side by sharing new features? Any or all of these options can only benefit, not harm, your business and it's alright if you start small and work your way up. It's important to consider your approach depending on your business type as well.
It may be a difficult pill to swallow, but not every type of product or service is guaranteed to succeed with their marketing efforts on LinkedIn. Why? There are 8.2 million C-level executives on LinkedIn, which is where it received its reputation for being a relatively professional and serious social networking platform.
This means that a business page for a fast food restaurant will particularly target this audience. However, a CEO or owner of a fast food restaurant which shares enticing content about branding and marketing will catch the attention of hundreds of thousands of users. A retrospective outlook towards your goals and expectations can make all the difference when it comes to marketing on LinkedIn.
#2. Cross-reference Business and Personal Pages
Now that you've created a profile on LinkedIn, what should you do next? Before we dive into marketing tactics, it's crucial to understand the value of opening a business page on LinkedIn alongside your personal profile.
You can easily do this once you have your personal profile and fill the page up with your company profile, as you would do on other social networking websites. It's also crucial to set up your profiles to their maximum potential and LinkedIn will actually indicate you if it considers the profile incomplete. This means that your profile is missing one more valuable component, such as a profile image or summary.
Don't let one or the other be at the center of attention, but rather, simultaneously optimize and evolve both to get the most out of your LinkedIn marketing efforts. On your personal profile, share relevant news, information, achievements, or more from your business page and vice versa. Once you strengthen the connecting link between both pages, you'll increase the chances of gaining consistent, quality leads.
#3. Keep it Subtle and Indirect
The best marketing is the kind that is seamless and doesn't stick out like an eye sore. If you're constantly pushing your business, services, or product forward without valuable content to support it, then your connections are less likely to be engaged. Don't be afraid to ask questions instead of only remarking your opinion.
Ask your connections enticing questions about specifics in the field that can ultimately tie back to your business. Starting a conversation is a compelling way to grab the attention of the millions of daily users on the platform.
Share content from other people's profiles or businesses that inspire or interest you! It's always appreciated when business owners have the capacity to admire and praise the ideas of others in the field.
#4. Make Connections That Matter
Networking takes users much farther on LinkedIn than any other marketing strategy you can concoct for the platform. Similar to how a single conference or event in real life can generate quality leads and connections for you and your business, the same is true for the LinkedIn experience.
And the best part? You can do it all from behind a screen without attending any actual event! Connections on your personal profile can easily transform into partners or potential clients down the road, and if you post something that they like, they may share it and let you tap into their pool of connections.
The chain can go on and on if your content is compelling enough to go viral. In the digital age, one viral message can go a long way, but it's impossible to do without connections.
#5. Engage 20 Minutes Every Day
Time is often one of the most valuable investments you can make for the success of your business, which is why it's recommended to engage on LinkedIn every day as you would on other networking channels. What qualifies as engagement? Anything from a post on your business page or a status update on your personal page, sending out new connection invitations, replying under a thread, and much more.
Activity yields more activity from those you follow you back and you need to constantly give them something to interact with even when you go offline for the rest of the day. This being said, avoid inactive spells as much as possible whether it's on your personal profile or business page. If you go off the map for some time, your followers will find other outlets of interest for themselves.
#6. Run LinkedIn Ad Campaigns
Alongside organic methods of lead generation and marketing, paid advertising can help give that extra push that you need to flourish and there's no shame in that! The organic path may not give you quality results for months or even years, but you can't wait that long to begin seeing results.
Nonetheless, launching a LinkedIn paid ad campaign is an optimal way to reach the screens of your target audience. LinkedIn allows you to target exactly what type of audience you are looking for which is more effective than making a post and wondering who it will reach blindly.
Besides the traditional image and video sponsored content placement, LinkedIn offers a unique ad format that isn't common across other applications. This is the option of message ads which are essentially messages that you pay for to be sent directly to the inboxes of participants within your target audience. Experiment with all types and pay attention to your analytics to see which methods are working best.
#7. Optimize for Search Engines

You're aware that your website is being crawled by search engines, but did you know that the same applies for LinkedIn as well? Search engine optimization is something that can put you ahead of your competition since this may slip past most of them.
The same principles of traditional SEO best practices apply: focus on your keyword research and usage throughout your content, optimize the URLs that you use anywhere on the profile, and optimize the images you use as well. With this, you're optimizing how well your LinkedIn profile performs outside of the platform, which doubles your chances of exposure.
#8. Involve Your Coworkers and Employees
Building on the idea of networking and engaging, don't forget about the people who make everything possible on a daily basis! If they have their personal LinkedIn profiles, this is a great way to showcase the people who work behind the scenes of the business.
They can also interact through the company profile and have dedicated posts which highlight their input in the company. Don't just be a one man show, your connections will certainly appreciate the more personal touches and engagement from your business.
After all, the closer your connections and followers feel with the content, the more likely they are to engage with it and be interested in receiving services or products from you.
#9. Follow Platform Updates
Every marketer needs a keen eye on new features that emerge on the platform which they are working on. LinkedIn is no exception to this! New features tend to roll out every now and then which shift the dynamics of the experience on the platform.
For example, disappearing posts or more commonly referred to as "stories" were added to the mobile version of the platform. This feature is an absolute goldmine on other platforms, which is why it's a valuable resource to tap into.
Always be on the lookout for what's new on the app and begin brainstorming how to incorporate it into your current marketing strategy. After all, the capacity to adapt is a necessity for surviving in the long term.
Final Words
LinkedIn is an excellent platform to market your products and services and generate leads when done right. The key to succeeding is to act one step ahead of your competitors with subtle and indirect strategies. Flashy content that blatantly advertises isn't as effective on LinkedIn as it is on Instagram, for example.
The more your network and engage with connections and followers, the more you increase your chances of gaining high quality leads to your business.
About the Author!
Ariana Martin is a passionate marketing specialist and content writer with 3 years of experience in the digital world. She writes a wide range of topics about digital marketing and business progress and shares her knowledge and experience with others through digital storytelling.