The competition for creating content is cut-throat. As we live in the time of digital content, there is an abundance of content available online. This makes it difficult for companies to stand out. To succeed with content marketing, you need to create unique, engaging, and authentic content.
Creating effective marketing content requires visual expertise. With platforms like Instagram, TikTok, and YouTube revolving around visual content, you need to create visual marketing content that enchants your audience and boosts ROI.
A study conducted on about 1,500 content creators revealed that visual content plays a huge role in brand awareness, social media engagement, sales, website traffic, and lead generation. To help you make the most of visual marketing, we share the most powerful tools.
What Is Visual Marketing?
Before we take a look at the most powerful visual marketing tools, you first need to understand what visual marketing is. It is marketing that uses data visualization, user-generated content, doodles, sketches, animations, memes, GIFs, infographics, and graphics to grab the attention of viewers and educate them.
Visual marketing allows businesses to get the message across in the best way possible. It increases conversion rates and is worth more effective than any other form of marketing. Just think about it. When you scroll through social media, engaging visual content is what draws your attention.
Considering the fact that 90 percent of the information our brain processes is visual, companies have to create engaging and attractive visual content to attract their core audience. The following reasons highlight why you need to turn to visual marketing.
The Best Visual Marketing Tools
As you know by now that engaging visuals result in huge results, you can use the right tools to create visuals to achieve your desired goals. The following visual marketing tools allow you to create imagery that is beyond phenomenal.
#1. Creatopy (Formerly Bannersnack)

One of the best tools for creating banner ads and social media visuals is Creatopy. Since it is a web-based tool, you do not need to install or download any software.
Select from a huge variety of editable templates to create content impeccable content. Here is how you can create a banner set for your internet marketing services using a template.
The first thing that you need to do is choose the banner size you need to create from the many of their presets.
You can either start from scratch or edit any of the pre-made templates. Use the built-in banner generate for creating static or animated banners.
Select a design that you find interesting and select various sizes for creating a set.
Next, you can customize the template by editing or adding text, using an element (colors, headlines, backgrounds, or buttons), or uploading your own assets.
It is up to you to decide whether to edit each banner separately or all the banners at once. It can be a huge time saver to create the same banner in multiple sizes simultaneously.
Finally, you can export or embed the designs once they are ready to any major advertising platform like Ads Display Network, Google Ads, and Ad Roll.
If you want to create a Facebook cover using Creatopy, you just have to select the Facebook cover option. Choose any of the templates and customize them or start from scratch. The best thing about the tool is that it allows you to customize every element of the design.
Creatopy has a lot to offer, and we have only covered the surface. You can get started for free and upgrade your plan if you are fully satisfied with the results.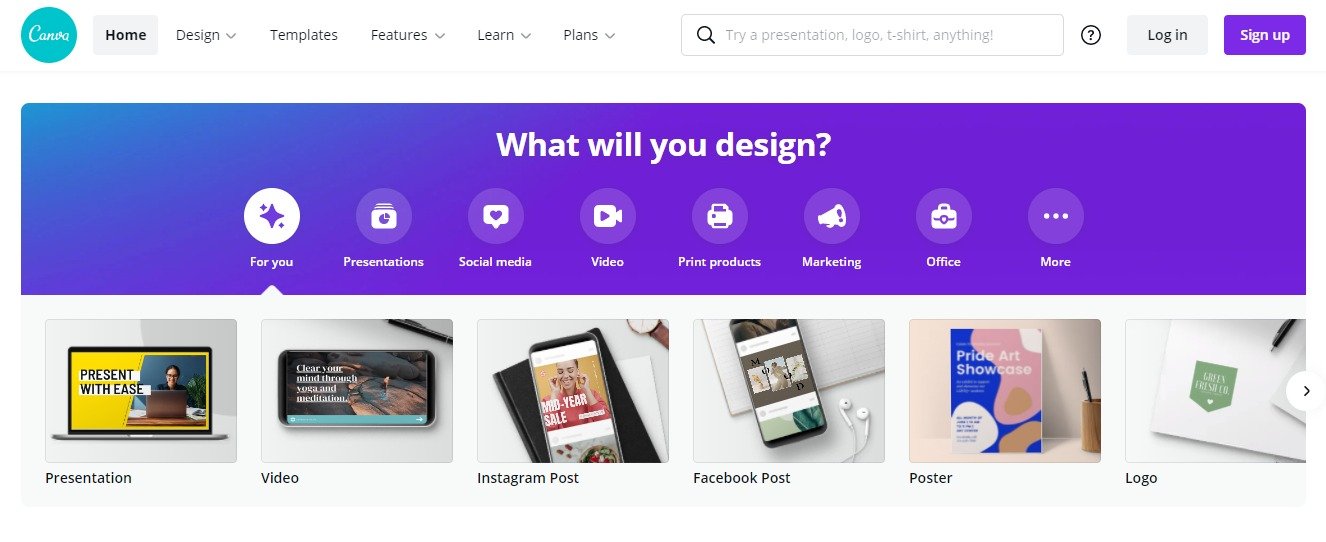 Another terrific visual marketing tool that is worth trying out is Canva. It is user-friendly, easy-to-use, and well-known. A great thing about it is that it offers an extensive stock library that has more than a million graphics and photos.
Select an image from its library or upload one. You can customize the templates with images, buttons, text, banners, and more. Since its interface is intuitive, you can quickly create beautiful visuals without much effort. Besides, its drag-and-drop process only makes things easier.
Create email newsletters, design illustrations for posts, and design visuals for social media with Canva. If you have still not used Canva, you are missing out. Here is how you can get started.
Select "Facebook Cover" from Templates and scroll through the templates to find one that suits your taste.
Next, you can start customizing the design. To open the editing canvas, you must click "Use this template."
Start by changing the colors of the template to match your brand colors. Click the part of the template where you need to change the color. The color square should pop up over the template for you to edit the color.
Select the text region to edit it. You can also select "Uploads" to upload your logo from the left sidebar navigation. Resize the logo to ensure that it blends in perfectly.
Finally, you just need to hit "Save" once you are done editing.
Creating a template with Canva is super easy. Customize the visuals to enchant your audience and boost ROI like never before. There are endless possibilities when you use the tool.

The next powerful visual marketing tool that you need to know about is Venngage. It allows you to create stunning infographics and more. Here is how you can use the tool to create amazing infographics easily:
Select a professionally designed template from the countless options.
Add information, text, and charts for visualizing the data.
Customize the design by changing the images, fonts, colors, and other elements.
Download the customized infographics.
If you use the free version of the tool, you will get to create up to five different infographics. Venngage is simply excellent. It provides you with access to an extensive database of templates, charts, icons, stock images, and thematic designs.
Only when you upgrade to the premium version would you be able to open more features and create more infographics. You can start with a free account and determine if it is the right fit for you. Creating infographics would barely take any time with the tool.
Import valuable data to Venngage. Then, you can add the data to ensure that it looks visually appealing and is easy to digest. Choose the type of chart that you want to create, such as stacked bar charts, word clouds, line charts, pictographs, bar charts, and pie charts.
Similar to other visual marketing tools mentioned above, Venngage also boasts a drag-and-drop editor that allows you to easily customize, edit, and personalize templates. Change the charts, colors, visuals, text, and fonts to match your brand message.
Finally, keeping the best for last, Lumen5 is a visual marketing powerhouse. If you are on the lookout for the easiest video maker in the market, it has got you covered.
Take your social media marketing to the next level with this amazing tool. It will help you create engaging videos using existing content. What makes Lumen5 stand out is the fact that it uses artificial intelligence to match the content with relevant images and video clips.
Create the perfect videos and more with Lumen5. If you use the free version, you should be able to create up to three videos a month. However, each video would have a Lumen5 watermark. On the other hand, if you opt for a premium plan, you would get to benefit from more options.
Here is how you can create a video with Lumen5:
Type or paste the URL of an article.
Paste the relevant content into the box.
Upload personal media to proceed with the video creation process.
Next, you will need to choose a video format. You will get to choose from Pinterest, LinkedIn newsfeed, YouTube landscape, Snapchat story, Twitter Timeline, Instagram, and Facebook.
Then, you will need to select a style or brand.
Lumen5 will handpick sentences, and you choose ones that you find appropriate.
Select the sentences that you want to include and reorder them for the highest appeal.
Type words to explain the video if necessary. Make sure that your text field has fewer than 140 characters.
Now, you can add media and audio. You can either upload your own media or choose from the built-in library.
You can also set up branding to build brand awareness. Select the Brand presets tab to upload your logo.
Lastly, you just have to add a call-to-action to complete the video and share it online.
Visual Marketing Tools Are the Future
Once you have finished reading this post, you will know about the top visual marketing tools. From Creatopy to Lumen5, each tool has something unique to offer and is worth checking out.
Although marketing trends will continue to shift, you will need to create visual content to keep your target audience hooked. Grow your brand by using a visual marketing tool. It will allow you to create the perfect visuals for attracting customers and increasing sales.
About the Author!
Muhammad AbdurRahman is a Computer Scientist with a passion for writing, Mobile Application Development and UI/UX Design and anything tech-related. His educational background in the technical field has given him the edge to write on many technology and computer software related topics. He occasionally writes blog articles for Dynamologic Solutions.