Why Do You Need Videos For Your Social Media Strategy?
Social media were once online places to virtually meet friends and family. Now, those platforms have grown into places to get real-time information and share content– including videos.
As you might already notice, social media and videos go hand-in-hand as more and more users are attached to online videos. And almost all social media are embracing video features to keep them spending more time on the platforms. Instagram Reels, YouTube Shorts, Facebook Live, you name it.
This is the reason why social videos have become essential tools for marketers looking for ways to stay relevant and stand out. But, are videos really crucial for social media campaigns, though?
Here are some points to answer the questions:
#1. Social Media Users Love Videos
We've mentioned briefly before; social media users love watching videos. They jump into YouTube and other social media platforms just to watch make-up tutorials, how to cook a perfect omelet, or demo videos from their favorite brands.
According to the statistics, YouTube viewers watch over a billion hours of video on the platform every day. Meanwhile, on Facebook, 500 million viewers watch 100 million hours of video content daily. Not to mention that people watch 2 billion videos on Twitter each day.
#2. Videos Convey Messages Better
There's an old adage that we probably hear too often: "a picture is worth a thousand words". But no matter how much you want to deny it, that still rings true in this content-loaded world. And if the picture is worth a thousand words, then it makes sense if a video is worth millions.
Videos can be an ideal medium to convey complex messages. They break down even abstract topics into smaller, more digestible chunks to help viewers understand without having to rack their brains.
Remember that social media users are fickle since they have almost endless choices on the platform. Providing them with easy to retain content can win their hearts.
#3. Videos Generate More Engagement
When you provide your audiences with easy-to-retain information, what comes after is more engagement.
For instance, tweets with video see more than 10x more engagement. Instagram video posts generate more engagement than any other content type. And LinkedIn also says that video ads have, on average, 2x higher engagement.
#4. Videos are Shareable
Social video generates 1200% more shares than text and images combined. You can upload one single video on YouTube and spread them like a wildfire at your fingertips in a matter of seconds.
With this high shareability, you can expand your reach and gain more opportunities to appeal to a broader audience.
#5. Video Grabs Attention
We're all guilty of passively scrolling through our social media feeds and only the most compelling content tends to make the grade for our attention. For marketers like you, it's a battle for eyeballs out there.
Unlike text-based social media posts, videos stand out in users' feeds. Most social media platforms display a thumbnail, making the video content more noticeable and clickable.
No wonder every video marketing checklist reminds you to always create a customized thumbnail. You can use image creation tools like Canva to create fully-customized video thumbnails to grab more eyeballs.
#6. Quick and Easy to Create
The beauty of social media video is that you don't need to invest in high-end equipment. Those scrappy, raw videos taken from smartphones are even more popular on social media platforms.
Also, thanks to the internet. Now you don't have to hire a professional video production company just to create high-performing videos for your social media. There are tons of video app tools available and you can use them effortlessly without breaking the bank.
At this point, we can say that social videos are a quick and easy marketing tool that even small businesses with a shoestring budget can take advantage of.
#7. Videos Have a Longer Shelf Life
Social videos are versatile and can be a long-term marketing investment. Video content also typically generates more interactions and shares, which means it stays in the ecosystem for longer.
They can be watched by more and more people over an extended period of time as a result of online sharing and searching.
#8. Videos Are Easy to Repurpose
In today's digital marketing field, high-quality content is king. That said, coming up with fresh, new content every week is backbreaking. This is why social videos come in handy. They are easy to repurpose across multiple digital platforms.
So, you can consider repurposing your video content. For example, Instagram Reels can be repurposed for YouTube Shorts or even Tik Tok videos. Instagram Feed videos are also a perfect format for Facebook native video content.
#9. Videos Show Your Personality
One thing that separates you apart from your competitors is your brand's personality. Videos can help you showcase it using tone, style, and even language that represents your image as a brand.
If you have a playful, friendly personality and aim to appeal to younger audiences, you can use animation and conversational voice-over or dialogue. That's how they can comfortably interact with your brand
Showing your personality can humanize your business and help create a deeper, more emotional connection between you and your audiences.
#10. Videos Tell, They Don't Sell
Social commerce is rising. More and more social media users find a brand and purchase products directly from the platform. Videos help you to demonstrate the products you sell, so they give users a clear expectation of what they'll get.
With a storytelling method, videos also make your messages less hard-selling and aggressive. After all, people aren't on social media to be sold something every second of their user experience. They want to be educated, entertained or even inspired. And video can help you provide them with all of that.
Wrapping Up
From all the points mentioned above, we now know the answer to the question "how important is video content for social media marketing campaigns?". It's crucial. This engaging content should be on every savvy marketer's content marketing strategies.
With the demand for online videos at an all-time high, it means that marketers who are still ignoring its power have been leaving the money on the table. After all, social media is all about quick and concise information sharing now and video is the type of content that is ideal for that.
Check out this checklist below to ensure you create the right video that boosts your social media campaigns: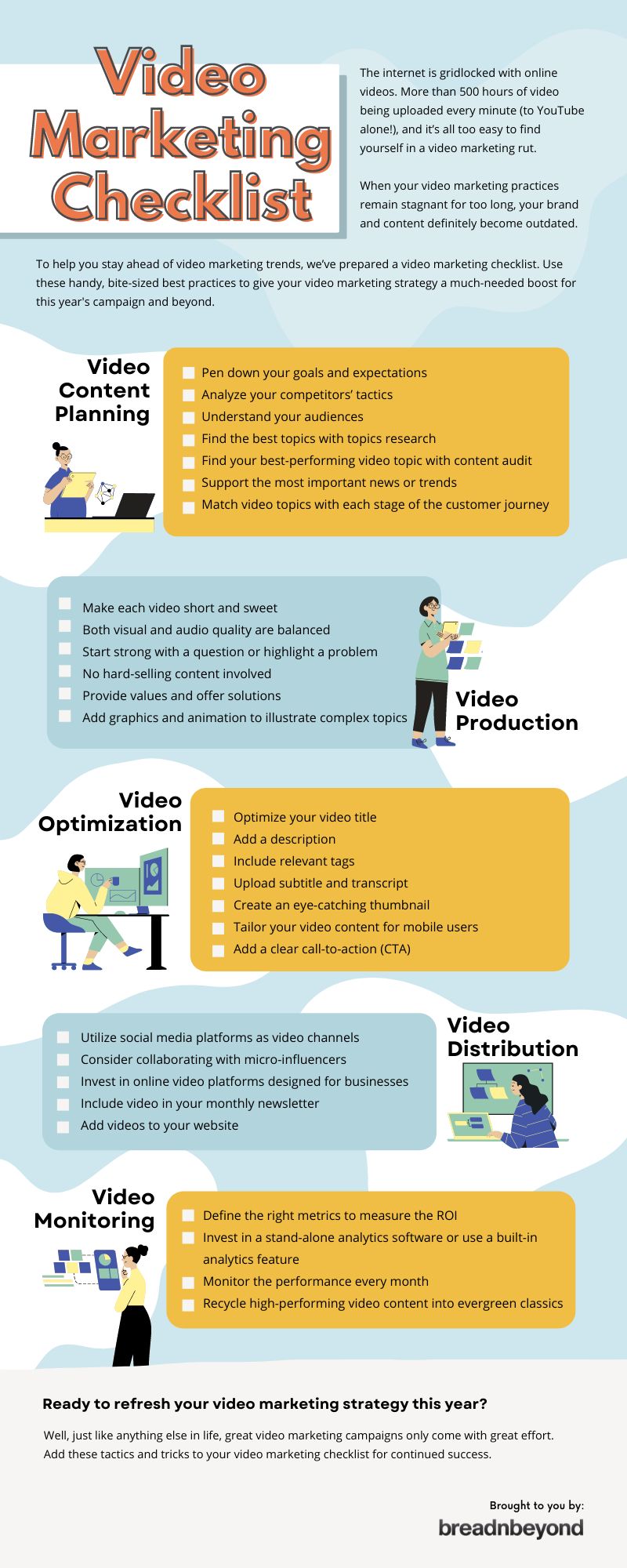 About the Author!
Andre Oentoro is the founder of Breadnbeyond, an award-winning explainer video company. He helps businesses increase conversion rates, close more sales, and get positive ROI from explainer videos (in that order). Follow him on Twitter @breadnbeyond.