Social Media has become an integral part of our lives. Previously billboards, tv advertisements, magazines, and newspaper ads did subsequent marketing as when gadgets did not prevail on us. However, now that we have gadgets we use it almost all the time.
We all know that social media is our constant companions and we refuse to get off our phones. So it is essential for you to understand that if you want to reach out to many you will have to resort to social media sooner than later.
There are a couple of important factors that you need to consider and incorporate social media as a part of your business. Let's discuss some of those rules and the reason why it is so important.
General Factors for Content Posting
Using social media will allow you to reach out to many people. Once you start knowing your target audience from up close you will understand their needs better. Plus, there are other benefits like running your idea by your target audience. If you see that you are getting a good response you will understand that people will focus on the ideas you root for. There are other such essentialities we will discuss later.
But, when you use social media for your business you will have to keep a few things in mind.
Content on Social Media
Remember that the content that you post on social media is very friendly and doesn't likely raise a conflict. It should provide some value to the audience and it should align with your area of business.The content should be attractive and engaging.
Again, Facebook Ads allows you to gain some traffic but make sure you don't overuse it. It may be intimidating and people may report your ads, if it pops up on their feed every now and then.
Attractive Content
An attractive content can be of different types. There can be creative images, videos, infographics, written material, and other relevant posts. The content that you produce, should be very short and catchy.
As the statistical data shows that people have a less attention span while using social media, so keep short, interesting, and informative. If you are posting a video make sure it is giving out a message that will be interesting to listen to.
Regular posts
Make sure that you are making regular posts. You can post as many times as you want on social media. But, make sure that you are not repeating yourself too much that they hide your posts.
Once you start with social media you will have to use more than one social media platform. A famous social media marketer once said your customer will notice your brand once they see it in seven different times and platforms.
DOs and DON'Ts
When you post on social media make sure your content has no grammatical errors or promises that can not be fulfilled. Wherever you are posting something on Facebook double check the spelling, other important things to eliminate the errors.
Unless you provide useful, attractive, and error-free content, people will not consume your content. Make sure that you use attractive elements so that your audience doesn't swipe through not checking your post at all.
We have already discussed some of the uses of social media. By now you know what your posts should look like as well. Now, you just have to know about efficiently using it for increasing traffic.
Review
Review, feedback, testimonials, ratings, and reactions are important to understand how your product or service is performing among your customers. These can also be used for converting the audience into customers.
Once your audience sees that your customers are saying both good and bad things, the authenticity of your products or services will increase.
However, as a business owner you should pay attention to the negative reviews and respond positively. You should engage with the negative reviews to provide better service or product by upgradation and modification.
Using the data
This data will be recorded in the business application provided by the social media you choose to use. Plus, you will gather the reviews. These will help you plan out your next step.
The data collected from your audience and/or customers will help make your brand better and the social media data will talk about your social performance. Don't just make promises to your viewers, work on the weak areas to come up with better solutions.
Leaving a Mark
If you have relevant posts on social media your audience will see how responsible you are. They will notice that you have responded to your customers and helped make their experience better.
As social media networks have a large user base, they can be used for promoting brand name and products. People generally use social media at least once in a day. So it can be used as an advantage to spread your brand. Businesses get help from social media to attract more customers and engage them in their social media pages.
Categorise Audience and Customers
Each social media platform has a different set of audience. So you can use the suitable social media platform that suits your business or industry. Here I have mentioned different social media platforms and which business is best for which platform.
YouTube
The most engaging and versatile video marketing platform that can be used literally for every kind of business. There is no barrier to your industry or limitations. You can create video content on anything on the planet and share them with your audience.
Facebook
Facebook is used by every age group and every type of business. Regardless of your industry, you can use Facebook for different businesses. Whether you are a manufacturing industry, educational institutions, marketing industry, finance, etc. You can use Facebook to promote your product, service, and business as well.
Instagram
Instagram is suitable for photography, restaurant, cafe, fashion, and technology. If you have a restaurant, then you can post short videos, photos of different dishes. If you have a photography shop, you can make a portfolio on Instagram for marketing. For fashion you can post high-quality images to market your brand.
Pinterest
This platform is very popular for DIY projects, most of the women creators and business ladies are using Pinterest as a primary medium for marketing. Apart from that, it is also used for small businesses and large corporations. If you are selling jewelry, fashion products, cosmetics, decorations products, then this platform is the best for you.
LinkedIn
It is one of the most professional social media platforms where most of the businesses are using it for hiring candidates. No matter which industry you belong to you will need employees. So spread your brand on LinkedIn to pool talent from different fields from here.
Facebook Messenger Bots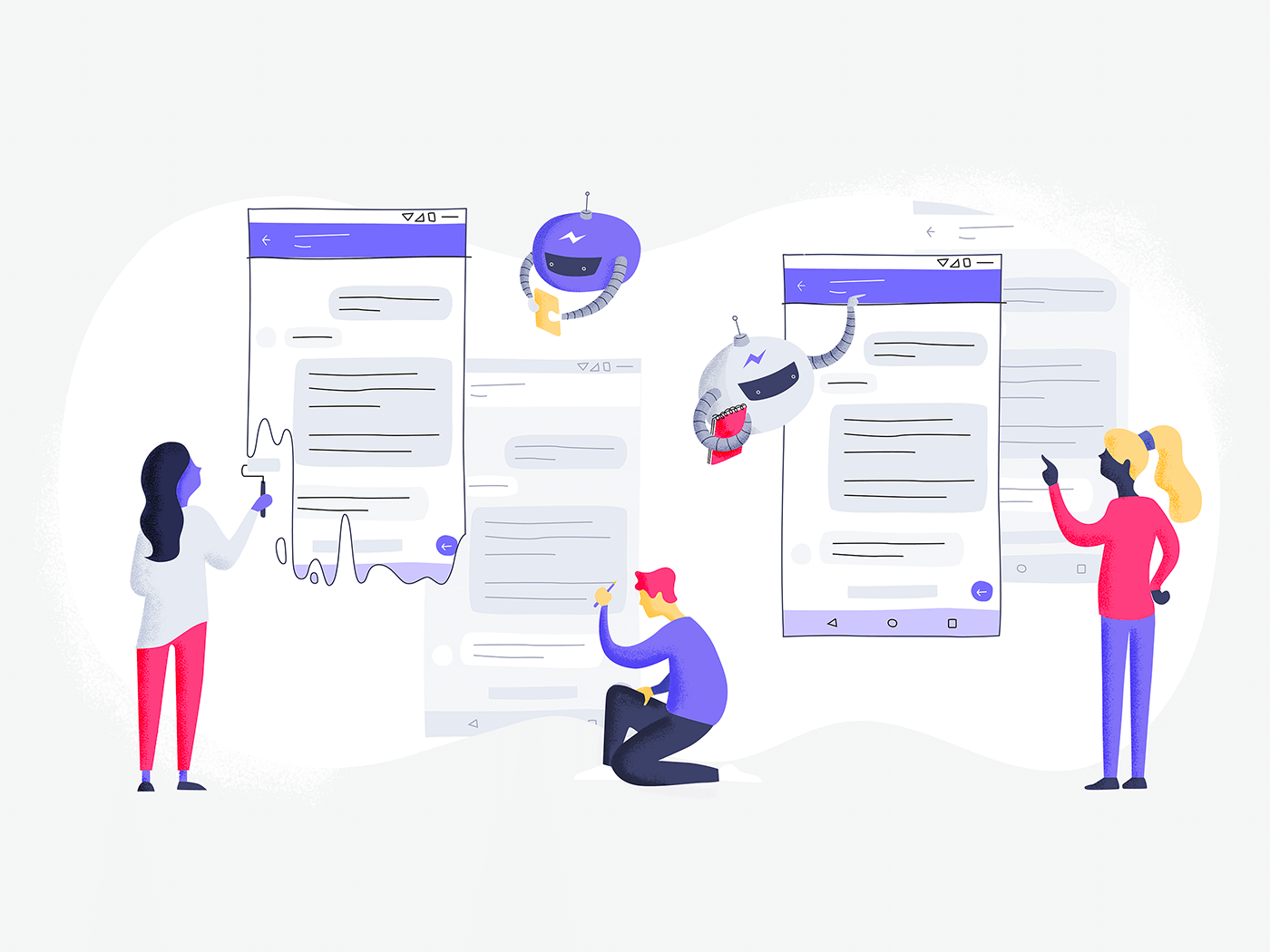 Generally chatbots are used for providing low level customer services. They are used for answering the basic questions of customers and guiding them. Facebook Messenger bots are used by many businesses for providing pre-purchase information to consumers.
For creating a Facebook Messenger bot for your business, you don't need any coding skills, you can create it with the advanced chatbot tools. There are many online tools that provide you the platform for developing your messenger bots in simple steps. You can create it in seven simple steps.
Sign up for an Account in the Chatbot Online Tool
Link the Account With Your Facebook Business Page
Create a Messenger for Greeting
Write a Welcome Message
Create Default Answers to Some Frequent Questions
Use the Advantages of AI
Add the Message Button on Your Facebook Page
Now your bot is ready to provide customer support.
In this way you can also use other social media platforms for customer support.
Social Media Builds Trust
Above all, social media builds trust with your audience. Once your audience starts believing in your company or service then they would love to buy your products. Having a social media profile brings authenticity of your business.
It is important for your business because most people search for a new product and services to check your authenticity. They read reviews and comments of users to know how you provide your services and products. It is therefore important to have a social media account for increasing brand awareness and reach to more customers.
Conclusion
Social media helps business in the above ways. If you are not active on social media, then create an account today in different social media platforms. The good news is most of the platforms allow you to create your account for free.
Social Media can become expensive at times. If you are having to handle your business on a tight budget, you start investing in Bitcoins will help you make a significant profit that will keep you running.
About the Author!
Mashum Mollah is a tech entrepreneur by profession and passionate blogger by heart. He is on a mission to help small businesses grow online. He shares his journey, insights, and experiences at MashumMollah.com & BlogStellar.com. If you are an entrepreneur, digital marketing professional, or simply an info-holic, then this blog is for you. Follow him on Instagram & LinkedIn.