Why You Should also Use LinkedIn? 5 Reasons to Consider
LinkedIn is one of the new social network with a number of users as much as 110 milion and was ranked third from the other social network based on a survey of ebizMBA rank. LinkedIn is helping you to exchange knowledge, ideas and networking opportunities with professionals. A new breakthrough of social network-based world of work. In short LinkedIn will help you in looking for a job that suits in your area.
Based on the above, here are some reasons you have to be LinkedIn social networks, both to look for a job opportunities or branding for your business. Check this out:
#1: LinkedIn Give Quality not Quantity
LinkedIn is not like other social networks, LinkedIn concept is to be conveyed in the professionalism of all of the user should, it not just be fun because its offering quality not quantity for each users.
LinkedIn also presenting a special page for the latest news. For the users, LinkedIn can be used not only to create a profile and make friends but can be used to view the latest news presented in linkedin for your reference.

LinkedIn shares the latest news from Google to give information to their users.
#2: LinkedIn Give Industry News and Job Opportunity
Looks like the second reason, this is the most important reason why you should pay attention to LinkedIn, because LinkedIn will help you in finding a job.
LinkedIn is not only used by those who are looking for a job, but also the companies that require employees to do branding and also utilize the facilities provided by the LinkedIn.
Coca cola looking for job seeker by share jobs opportunity in LinkedIn
#3: Profesional Oriented
As I have explained in point one, LinkedIn is a professional oriented social network, it can be seen from the user profile in LinkedIn, not just asking hobby, preference, or political views like on the other social networks. In fact, LinkedIn ask about your education, your work experience and skills you have. Interesting concepts right, LinkedIn presented to help the user should find the suitable job.
Mark presnell share his biography in LinkedIn by starting the current position, education, work experience and a brief description of him in terms of work experience.

xyzCo company page in LinkedIn share a brief description of the company and the opinions of its employees who have joined in xyzCo, it is interesting to the company profile on LinkedIn can help create a better corporate image.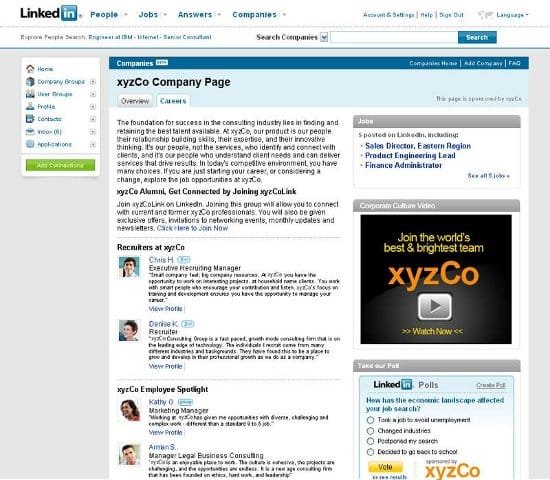 Based of the two examples above we can distinguish the profile to the users profile and the profile for the company, while the difference is as follows:
Users profile
For personal users are asked by the LinkedIn profile in the name, education, date of birth, length of work, company work, work experience, even LinkedIn ask summary of each the users, it use to make easier company look the applicants at the LinkedIn profile when the users in short appliying the job in that company. In short users profile on LinkedIn is the same with curiculum vitae when applying for a job would.
Company profile
While the company profile for more focused on a brief summary of the company in the field overview, and in the column next to the overview is a list of job vacancies offered by the company.
#4: More Easier to Search a Company Address in LinkedIn
Have you ever look at the address of a company when you want to apply for a job?
LinkedIn to help you in finding the companies that you would go, with the obligation of each user's LinkedIn form company to company include full details such as the type of company, employee number, and website address. This feature will make it easier for job applicants in finding out about the company to be addressed.
For the company itself indirectly by including a complete description of the profile is LinkedIn one way of branding in promoting his company, in addition to recruiting employees LinkedIn this company can also branding for the client in LinkedIn.

Mc. Donald's share the company addresses, website, type of company, years of establishment and the number of employee to assist job seekers and because the client who would like to cooperate with Mc. Donald's can easily find a Mc. Donald's both in the real world or in cyberspace.
#5: Give You the Opportunity to Join Dicussion
LinkedIn users can be divided into three types, here:
Users
Users is a LinkedIn for personal use, which can be used to fill his personal profile like a summary and his individual's personal data in search for a work.
Company
Company profile on LinkedIn is utilized by companies in promoting his company, could be two functions for corporate branding and to seek new employees in the company.
Group
Group is use by the company to open a forum in a discussion, utilizing company facilities in this group is directly to find out the opinions of their customers.

Users can also take advantage of this facilities to ask a question by group discussion.
In addition to companies that use this group facilities for their business branding, users can also use it to gain knowladge and get the answers that their need.
Pizza hut create a group with name Pizza Hut People in order to accommodate the opinions and questions from consumers Pizza Hut.
Conclusion
These 5 reasons that you can consider in triying to use LinkedIn, because it is different from the other social media, with the concept in the world of work professionality LinkedIn also offers fun for their users.
How about you? Do you interested in trying to create an account on LinkedIn? Please share your opinion in the comment below.
– Written by Ratih –