Easy to Build Your Business Websites with Zoho Sites
Creating my own website was something that attracted me a lot. As I am business man, I was looking for a site which has great offerings for business websites and personal websites. I always wanted to represent my company and its product portfolio in more professional and representative ways so that my company's brand imaging and ranking does improve. Fortunately, I found Zoho sites fulfilling my entire professional and technical requirements.
Here at Zoho, I can sign up for free, design my website with beautiful creative themes and customize in innovative ways by using Drag and Drop features, add as many pages as I like and publish my site on the specific domain. Find details below:
Getting Started
For creating a new website, Zoho Sites offers a complete step by step approach. One just needs to become a member by signing up.
Step 1: Free Sign Up
Zoho Sites allows signing up for free. There even is a free plan that basic users can stick to for as long as they need.

Step 2: After getting registered
One has to enter a site name, site name is required for registering site with specific name like HYPERLINK "http://www.myownsite.com/". One can also use a free subdomain of zohosites.com.
Step 3: Selecting design for your site
Design for any site plays important role for attracting maximum traffic. I did find a compelling combination of simple, well designed ,high quality websites themes at Zoho Sites. Zoho Sites offers different variety of themes to choose from. And secondly, it also allows to change theme any time.

Step 4: Adding Pages and Content to your Site
Zoho Sites offers a variety of features to add pages and content to the website. There are different features like adding headings, sub-headings, paragraphs, images, videos, columns and tables. So that one can add as many features as required.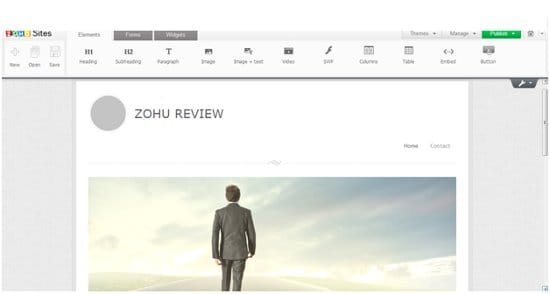 Step 5: Image addition on site
As for image addition, you can upload as many images as your website needs using the file manager, or upload them using the image widget, one at a time.

Step 6: Addition of headings and paragraphs
One can edit headings, paragraphs and add the content as per choice. These features allow text formatting, like changing the font style, size and text alignment.
Step 7: Addition of New Pages to Site
With Zoho Sites, you can add as many pages to your website as you need, even with the free plan, which can be customized. It does allow adding external link and duplicating a page. For the duplicate page, one can choose new page as per one's own choose, name it and here one can add blank page or other pages too.

Step 8: Addition of single image on new page
Zoho Sites allows single image drag and drop facility. For dragging and adding single image on site one can simply choose / upload image.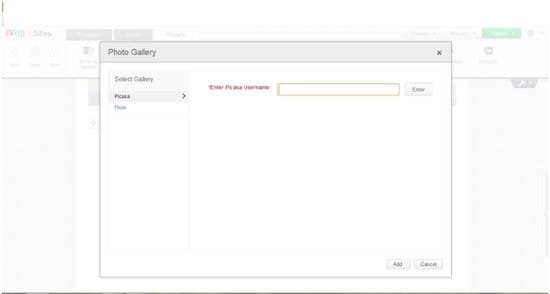 Step 9: Addition of Photo Gallery on new page
Zoho Sites allows image drag and drop facility. For dragging and adding photo gallery one can simply choose / upload images of one's requirements from widgets bar.

Step 10: Addition of theme on new page
Zoho Sites allows applying same or new theme on the new pages. For that one can choose theme of its choice from theme tab and then apply it.
Step 11: Adding Headings, Paragraphs and Tables and Columns on new page
Zoho Sites also provides drag and drop facility for adding new Headings, Paragraphs and Tables and Columns on new page. For adding new Headings, Paragraphs and Tables and Columns on new page one has just drag &drop the required tab to page and it will added automatically to the page.

Step 12: Publishing the Site
Once all new pages with are added as per requirements, now it's time to publish the site, Zoho Sites allows publishing websites in a single click. For publishing site one has to click publish tab, here Zoho Sites also provides option of previewing site, I do recommended to always preview site before publishing site.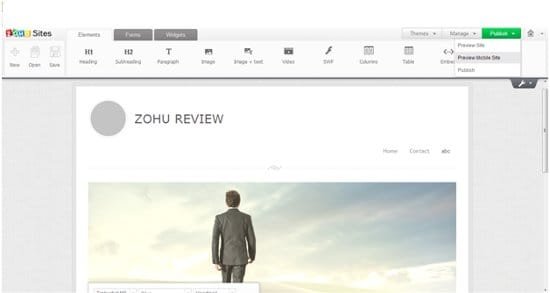 Step 13: Publishing Website for Specific Domain
A feature for getting registered at specific domain is provided at the end. Like registering a .com, .net domain, etc has been provided on Zoho Sites. By using these Feature users can register website on specific domain . It does allow paid and free sub-domain subscription. Before Publishing don't forget to choose the name of domain.

Feature needed that are required to added:
Zoho has to add video feature on site, which guides and explains why one should require website for business, they will attract further more users to Zoho Sites.
Sites needs to add more user friendly and responsive material on site, managing new pages and then navigating them requires some technical assistance. Zoho should provide online Guide video on site page for helping users getting technically registered.
Site link on the pages not prominent it should more prominent in the start of the page.
Conclusion
I have used most of the prominent site builder sites but I have found Zoho Sites most users friendly. It has creative designed themes, specially Drag and Drop options are really attractive, importantly the site supports all major tools like flash etc. I would recommend Zoho Sites for users who want something different and unique for their business and want to take their business to next level.