32 Creative Free Image Slider Designs in PSD
Image slider is become the most noticeable elements of web design today not only for portfolio websites, but are also often used on personal blog, ecommerce and corporate website. A slider can make your gallery more attractive, besides that slider is also great for showing off your favorite or popular posts, website navigation and images or compacting a product feature tour.
Below, we have collected 32 best free image slider designs in PSD. The design is very creative and it very helpful to save your time when you're working on a webdesign project.
TN3 Gallery (Featured jQuery Slider and Image Gallery Plugin)

by TN3 Gallery
A jQuery slideshow plugin, TN3 Gallery is a full fledged HTML based customizable image gallery with slideshow, transitions and multiple album options. Compatible with all modern desktop and mobile browsers.
Features:
– Multiple transitions/effects
– Slideshow options
– CSS Skinning
– Full-screen option
– See all features
Image Slider Controls
by Orman Clark
A sweet and simple image slider controls, if you're looking to create a 'self contained' slider then overlaying the controls is a good idea.
Simple Thumbnail Carousel (PSD)

by Orman Clark
A super awesome thumbnail slider or carousel if you prefer. Slip your images in, add a description and let your users scroll through your work.
Simple Thumbnail Slider
by Orman Clark
A very simple, yet very usable, thumbnail slider. Download it and show off your stuff.
Stitched Fabric Horizontal Accordion

by Orman Clark
A stitched fabric SlideDeck skin. Perfect for a horizontal accordion or slider with more than a little pazazz!
Clean & Simple Image Slider
by Orman Clark
Yet another addition to the clean and simple club – an elegant image slider. If you've into web deign, then you're into sliders.. probably.
Horizontal Accordion / Slider GUI

by Orman Clark
A fully editable PSD of a horizontal accordion (or slider) interface. Very nice indeed.
Photo.Dark Slider
by Jack Whiting
A beautiful dark image slider, support for video and featured sidebar title and description.
Modern Web Slider

by sadat
An awesome image slider design featured image thumbnail and small description.
Dark Slider with Featured Ribbon
by Vin Thomas
A simple image slider with featured ribbon, very nice.
Slider

by pascalg
A very creative image slider design, with unique navigation style.
Image Gallery Widget PSD
by Farzad Ban
A gallery slider with very nice navigational arrow design and 3d effect image if hover.
Image Slider

by Benjamin Nathan
A nifty not-so-little image slider. If you've been with us for a while, you'll notice a standard version of the navigational arrows have been posted on here previously.
A Simplistic Image Slider
by Paul Mackenzie
An image slider that could be used to display a slideshow of pictures.
A Striking Image Slider

by Edi Gil
Another very creative image slider design, hope you'll like it.
Portfolio Slider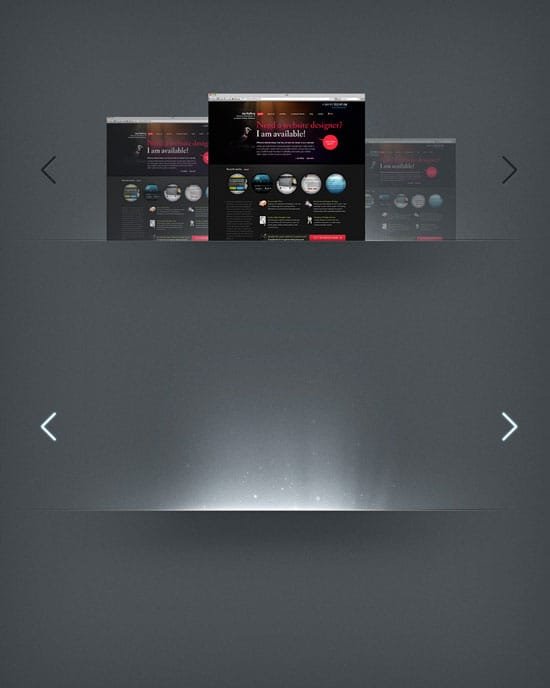 by Jay Hafling
An image slider for your portfolio, very nice design with blur effect.
Classic Image Slider

by Blaz
This nifty little Image slider is a great way to display your work, photos or content! With minimal controls and design it will fit into almost any design style.
Modern Image Slider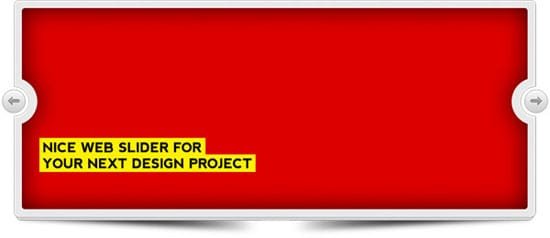 by Rafi
A clean, modern web slider in Photoshop format. Will be perfect for your next modern and professional web design project.
4 Excellent Content Sliders

by Rafi
Content sliders are a great way to display textual information, graphics, popular posts, featured products in a defined area. They are generally used to pull the attention of visitors to browse through the content.
Simple Dark Slider
by Richard Fang
A dark color scheme which will be fit best for showcasing portfolios, it makes the artworks more standout.
Dark Slideshow

by Richard Tabor
A nasty cool dark themed slideshow set PSD thingy.
A Simple PSD Slider
by Richard Tabor
If you're in the mood for nice, simplistic design, then go right on ahead and download this neato slider.
Slider Showcase

by WillyEpp
A very simple image slider with nice navigational arrow and small magnifying glass button.
PSD/HTML sliders vol.1
by elemis
A freebie pack includes 3 minimalist web sliders with PSD and HTML templates.
Slider Design

by aleso
A slider design with clean layout, well organized, minimal and simple design with a modern touch.
Custom Slideshow
by Pixelentity
A custom design for a slideshow or slider, perfect for the homepage or portfolio page of your next project.
Simple Slider PSD

by Graham
A nice simple slider in PSD
Accordion Horizontal Slider Image Edition
by Daniel
This multidimensional slider shows a big image with right side caption. With this slider type you can create a great slideshow for your website.
Accordion Horizontal Slider Product Edition

by Daniel
With this slider type you are able to show your product with a lot of useful information. For example: your product's price or the featured products.
Accordion Vertical FAQ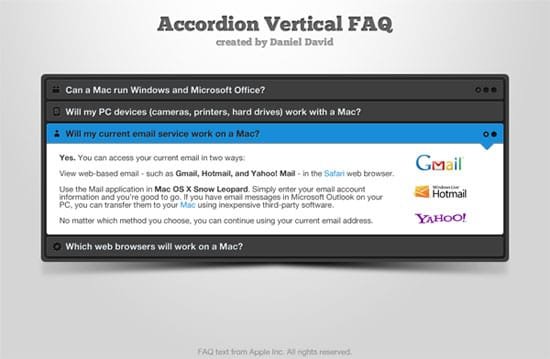 by Daniel
Help to your visitors with this awesome frequently asked question slider. The tabs help you to display the related contents in intuitive form.
Minimal Slider

by Daniel
This slider is excellent for the minimal white websites.
Simple Slider
by Daniel
Simple, sophisticated design to show discretely your content to your visitors.
Juicy Tabbed Slider

by Brandon Jones
Download the free creative image slider and learn how to create your own "juicy tabbed slider". This is a great way to add some extra depth and dimensionality to your own designs – and it's the perfect solution for an image slider!
[afiliasipixelkit]
I hope you enjoyed this slider collection and get some inspiration for your coming projects. If you have another great free PSD slider designs, do share with us in the comment below. Thanks 🙂