10 Types of Logos and How to Use Them
From a simple clothing brand to a subway shop, you see logos everywhere. It might just look like a mere symbol. However, that is not the case. Logos are more complex and meaningful than just being a simple image of a business.
A logo is n images that make a distinguished identity of a business. Just as a name is important to recognise a person, a logo is important to recognise a business. There are ten different types of logos that can be used to represent your brand. Although all these different types of logos are a combination of images and typographic letters, but each brand mark, you see portrays a different meaning and look.
Since it is the first thing that they'll see t make an impression, you don't want it to be ruined by having a mediocre design or your logo. So here is the list of ten amazing logotypes that you can explore to choose the best one for your business.
Ten Types of Logos
1. Letter Marks

As the name suggests, these logos consist of the initials of the brand name. Take the example of some of the renowned names such as HP, IBM, HBO and more; they are all initials of the company names. These are all brands that companies hardly forget about. They are simple and memorable and easy to identify.
This logo type is all about having a minimalistic design. The focus of the audience is now on the initials of the brand, instead of the entire name. Therefore it is highly important to pay attention to the font style you choose for design. However, if you want your design to have a custom type face, you can always use different logo generators to create your own unique logo design as they are easy to need and doesn't require any artistic expertise to create the design.
2. Word Marks
There is no difference in a word mark and a letter mark except that a word mark uses the logo using the entire word, and the letter mark only uses the initials of the entire name. Many big names including Pepsi, Coca-Cola, Google and more have embraced the idea of the word mark and have benefitted from it.
A wordmark simply works when the company has an attractive name. The name combined with the typographic element of the logotype helps in creating a unique brand identity for a business. Since the name of the business is going to be in the spotlight, I need to have a unique and attractive typeface to be attractive for the viewers as well.
3. Symbolic Images

An icon or a symbol representing the business is one of the common logotypes used in history. Some of the renowned brands, such as Apple, Nike, Twitter, target and more use symbolic logos instead of name to depict the symbolic representation of the brand. Many gaming companies and mobile app development companies find symbol more suitable to represent their business as it can have a unique look to it and help a company get recognised.
The most challenging part that a designer must overcome in designing a symbolic logo is to choose a suitable image to represent the business. You must consider the implications of the symbol of your brand to make sure that the image is able to make the right impression on the audience about your business.
4. Abstract Designs
These logotypes also use pictures an images that avoid literal representation of the business. You can use geometric forms and shapes to represent your company. Some renowned businesses having are abstract design Adidas flower, the divided circle of Pepsi and more.
Like every other logo design, abstract logos can also be the pictorial representation of your business. Instead of using a single image, abstract designs use custom images to represent your business.
5. Combination Mark

Combination marks on its core is a combination of wordmark and symbol to create a unique design. Think about designs of brands such a burger king, Doritos, mail chimp and more; they use symbols and typography in there design making it a symbol of their unique identity.
This form of logo helps your audience to link your brand name with the symbol providing it with a distinct image to connect with.
6. Mascot Logos
As the name suggests, mascot logos are symbols containing illustrated characters which can be cartoonish, vibrant and fun. If you want something unique for your brand, mascot logos can be fun to work with.
A mascot logo design can work as the ambassador for your brand. How so? Well, these logos familiarises your brand to your audience. Companies are selling food brands, service computes, or sports goods are consumers of these types of logos.
7. Emblem Logos

Some of the oldest types of logos, emblem logos include symbols with seals, badges or crests. Emblem logos are the first choice of companies belonging to the auto industry, schools, government agencies and more.
Companies don't just use this traditional form of design, but they tweak it to have a modern look. For example, the logo of Starbucks has a mermaid emblem with a name written analogue. The same goes for the Harley Davidson crest logo design and the NFL's badge design.
As for thee designs can be complicated, they prove to be a little less resourceful than other types of logos discussed above. It is not easier for a designer to include every aspect of branding in the design, and it can sometimes get difficult to have it printed as the design may be scaled down and won't be understood.
8. Letter Forms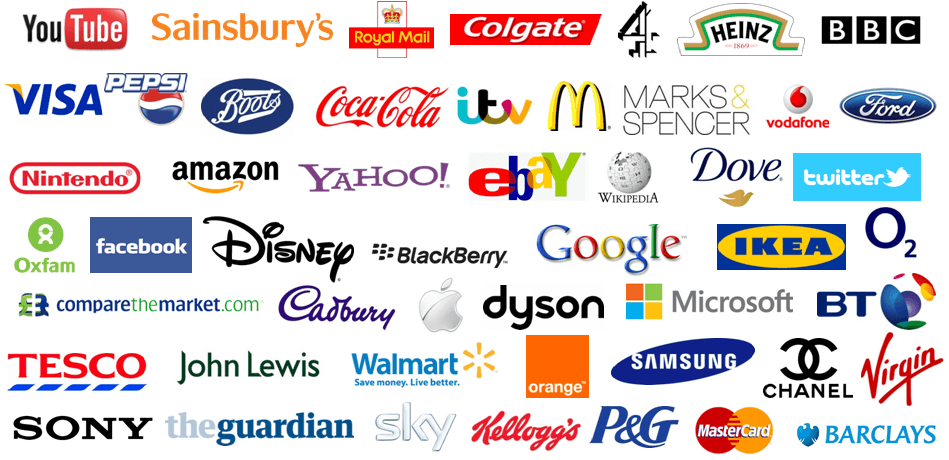 The eve minimalistic version of the letter marks, letter form logo type needs to be bold and attractive for the customers to notice. This is the most challenging part of designing a logo, so you need the help of a professional to design a perfect logo design for you. 6these types of logos can work best for a mobile app development company or an online channel such as Netflix.
Letter logos are scalable and can be used on various platforms and printed materials without losing its integrity. However, as the logo contains only a single letter, it needs to be uniquely designed or else it will be of no use. You can use a funky typeface with exciting colours and popped out letters but make sure that the design you choose resonates with your brand.
9. Font In Shape

These logos usually have their name in a shape like a square or a rectangle. You may find many renowned names having such logos, some of which are a ford, Levi's, MasterCard and more.
10. Slime Style
You all must remember the logo of the child's favourite channel, Nickelodeon. It is more of the21st-century innovation in logo designs to give it a cartoonish context. Instead of having a simple shape or typeface, it uses a slime inspired element in the design. It is more suitable for a business selling kids products and toys or owning a TV show for children.
Conclusion
When it comes to designing a logo, the sky is the limit to make it unique, imaginative and outstanding logos. Choose the best design that suits your business and hire a professional to make sure you have the best design.
About the Author!
Andrew Russell is a passionate blogger and tech savvy. He has written many blogs on the benefits of technology and its uses in marketing. He has served as a business management executive at TheApptivity a Mobile App Development Company. Andrew is a graduate from the University of California and holds a degree in marketing. He is a passionate blogger and has many followers.