30 Best jQuery Image Gallery Plugins for your Portfolio Website
To create an effective portfolio website and help you get more job, a classic portfolio design is not enough. You can add more jQuery effect on your portfolio website to enhance the visitors. Previously we have collected the best jQuery Slider Tutorials and today we have 30 unique jQuery Javascript solutions for beautiful image galleries and great ways to display your images with light code.
In this article we provide the best free and premium image gallery plugins. Please click download button for more details and demo button to see the plugins in action. Enjoy!
TN3 Gallery – jQuery Slider and Image Gallery

by TN3 Gallery
A jQuery slideshow plugin, TN3 Gallery is a full fledged HTML based customizable image gallery with slideshow, transitions and multiple album options. Compatible with all modern desktop and mobile browsers.
Features:
– Multiple transitions/effects
– Slideshow options
– CSS Skinning
– Full-screen option
– See all features
RoyalSlider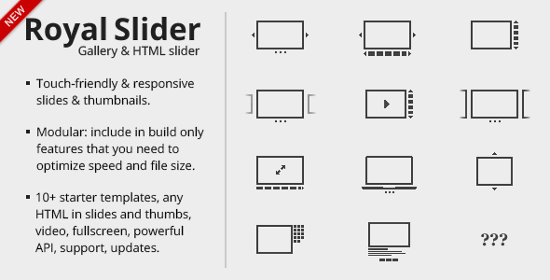 by Dmitry Semenov
RoyalSlider is a jQuery image gallery and content slider plugin. It's completely responsive, touch-friendly and has modular architecture that allows you include only features that you need to optimize file size and performance.
AD Gallery – a jQuery gallery plugin

by Andy – The Coffeescripter
A highly customizable gallery/showcase plugin for jQuery.
Galleriffic
by Trent
Galleriffic is a jQuery plugin that provides a rich, post-back free experience optimized to handle high volumes of photos while conserving bandwidth.
Tonic Gallery – jQuery XML Portfolio Gallery | $6

by pexeto
Tonic Gallery is a jQuery XML Portfolio Gallery that allows you to create very easily a portfolio gallery with some nice effects and flexible customization settings.
Galleria

by Aino
Galleria is a JavaScript image gallery framework built on top of the jQuery library. The aim is to simplify the process of creating professional image galleries for the web and mobile devices.
Ken Burns Media Gallery / Slideshow | $7
by ZoomIt
jQuery Ken Burns Slideshowis the perfect way to showcase your pictures/ads in style. Each item has a separate slideshow time and you can edit their link, target and many other individual settings just by modifying the HTML.
jQuery Panel Gallery

by CatchMyFame
The other day I went looking for a simple way using jQuery to fade between a set of images on a page. So, being a coder, I set out to create my own plugin.
Smooth Div Scroll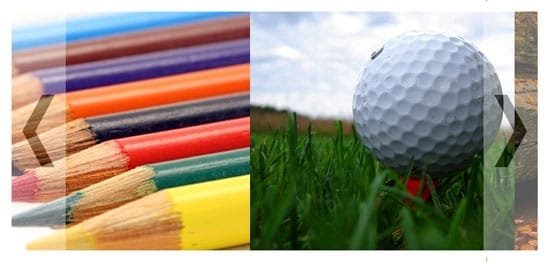 by Thomas Kahn
Smooth Div Scroll is a jQuery plugin that scrolls content horizontally left or right. Apart from many of the other scrolling plugins that have been written for jQuery, Smooth Div Scroll does not limit the scrolling to distinct steps.
Grid Accordion | $8

by bqworks
Grid Accordion combines the functionality of a thumbnail grid and an accordion panel, offering you an interesting method to display your portfolio. You have the option to use either XML or HTML . The powerful API will allow to further enhance the functionality of this jQuery plugin and make it possible to easily integrate it into your own application.
minishowcase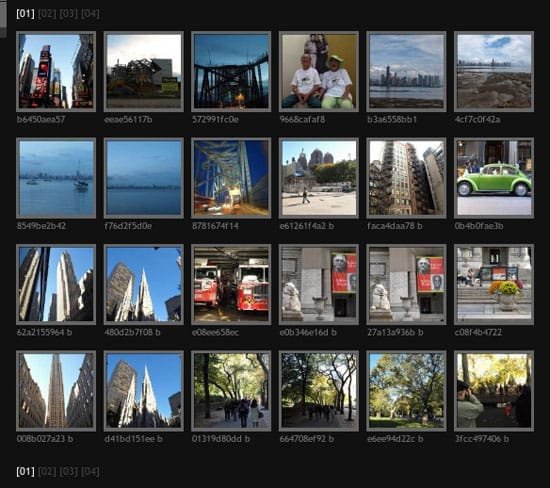 by Victor Zambrano – frwrd.net
Minishowcase is a small and simple php/javascript online photo gallery, powered by AJAX that allows you to easily show your images online, without complex databases or coding, allowing to have an up-and-running gallery in a few minutes.
My Video Channel | $6
by DenonStudio
My Video Channel is a jQuery based script which makes it possible to display a list of YouTube videos from a specific user and play them in your own website. The reason behind the development of this script is really simple. It's difficult to maintain videos on private servers because they take up too much space and are difficult to maintain. Through this script you could host your videos on the popular YouTube service and make them available on your own website.
EOGallery

by Caspar David Friedrich
EOGallery is a web animated slideshow gallery made with jQuery. It only uses basic jQuery functions and Cody Lindley's Thickbox to display larger pictures.
jQuery Multimedia Portfolio

by Arnault Pachot
A multi-format carousel for jQuery, Non obstrusive and accessible portfolio supporting multiple media : photos, video (flv), audio (mp3). This plugin for jQuery will automatically detect the extension of each media and apply the adapted player.
The Wall – Media Gallery – jQuery powered | $5

by ZoomIt
"The Wall" is the ultimate interactive media gallery for your site presentation.
Spacegallery – jQuery plugin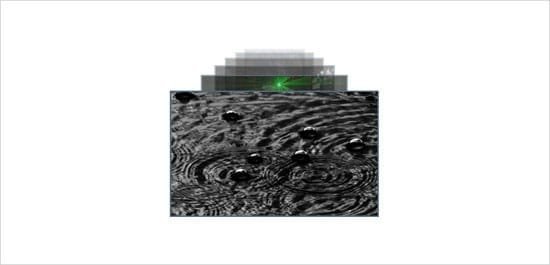 by Stefan Petre
Another image gallery plugin with space effect, very light and simple plugin.
Flickr Import | $5

by Teevio
Flickr Import is an extremely lightweight, quick and robust tool to display photos from Flickr onto your website.
jmFullWall

by Moreno Di Domenico
jmFullWall is a jQuery plugin for the creation of an impressive portfolio.
Mosaiqy
by Fabrizio Calderan
Mosaiqy is a jQuery plugin for viewing and zooming photo working on Opera 9+, Firefox 3.6+, Safari 3.2+, Chrome and IE7+. Photos are retrieved from a JSON/JSONP data structure and randomly moved inside the grid. All expensive animations are taken over by your GPU on recent browsers using CSS3 transitions, minimizing the CPU overhead.
PhotoMosaic | $4

by makfak
PhotoMosaic transforms your photo gallery into a visually-striking design piece by giving it a fresh mansonry layout worthy of your favorite design blog.
Micro Image Gallery: A jQuery Plugin

by Cody
The following jQuery plugin transforms a set of images into a tiny gallery with several options. The Micro Image Gallery allows to switch between a grid view which shows a preview of the images as thumbnails and a single view showing one image only.
VION – jQuery Image Gallery Plugin | $7
by lydian
VION is a jQuery plugin for creating good looking and easy to use image galleries. It provides a continuous and uninterrupted experience to present your photos. Its minimalist design lets you focus on content and not UI. VION can be styled through CSS to match your target design. You don't like the background color or fonts? Change them. Almost anything that you see here can be customized to better suit your needs.
SIDEWAYS jQuery fullscreen image gallery

by Malihu
A simple, yet elegant fullscreen image gallery created with the jQuery framework and some simple CSS.
ShineTime – A Kick-Ass New jQuery & CSS3 Gallery With Animated Shine Effects
by Addy Osmani
This effect is useful in making your user interface elements look like they're a real polaroid photo (or made of glass) and the best part is, it's not that difficult to achieve.
Simple jQuery fullscreen image gallery

by Maliho
A fullscreen image gallery made with jQuery and CSS.
Wall/Grid Gallery (jQuery Plugin / XML) | $6

by MariusCristianDonea
A very customizable jQuery Plugin Gallery, that can be edited from a XML file. The gallery is completely resizable and is compatible with all browsers and devices (iPhone, iPad and Android smartphones).
jQuery morphing gallery
by Codeassembly
A gallery that "morphs" images between transitions
ppGallery – Lightbox Gallery

by Jphamac
Showcase your gallery in style with ppGallery, an advanced lightbox photo gallery plugin built with the jQuery Framework. It is lightweight, unobtrusive and installs with ease.
DZS Scroller Gallery – cool jQuery media gallery | $5

by ZoomIt
DZS Scroller Gallery is the ultimate media gallery that you can use for showcasing your portfolio, photographs or even video shots. The ga
jQuery Gallery Plugin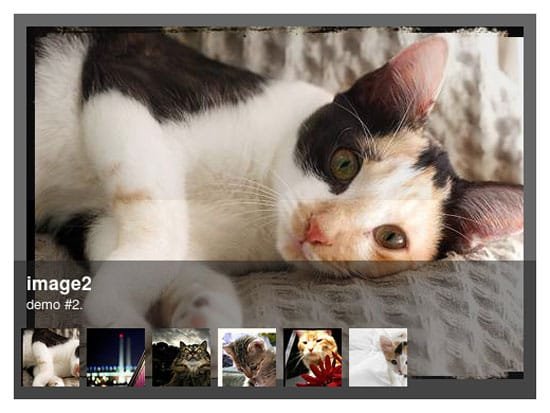 by Mudaimemo
jQuery Gallery Plugin take a grouping of images and turn it into an flash-like image/photo gallery.
Digicrafts Thumbnail Gallery

by Digicrafts
A beautiful gallery with thumbnail and auto slideshow.