26 Amazing LinkedIn Infographics
A social networks for professional, LinkedIn is founded by Reid Hoffman in 2002 and today they has grown to 161 million professional worldwide. In this article we have collected 26 awesome LinkedIn infographics that fill with awesome statistics, data and useful knowledge.
We believe you'll learn a lot from these infographics, whether you're looking to raise marketing awareness or drive sales and look for guidance from the LinkedIn team. Enjoy!
[afiliasiinfographicsdeal]

LinkedIn Bootcamp: Basic Training For The Personal Marketer
by Colin Dobrin [source]


More…
How LinkedIn Works
by InfographicLabs [source]

More…
Can You Afford to Ignore Linkedin Stats & Facts
by BIZMETH SOCIAL PROFITS [source]

The Value of Being LinkedIn
by OnlineMBA [source]


More…
The LinkedIn Profile
by Lab42 [source]

Portrait of a LinkedIn user
by Power Formula [source]

LinkedIn by the Numbers
by Roshni Mirchandani [source]


Courtesy of: HubSpot Blog
LinkedIn Passes 100 Million Members
by TechCrunch [source]
Hoe LinkedIn in het Nederlands te installeren?
by The Marketing Factory [source]

Who Really Uses LinkedIn?
by Business Insider [source]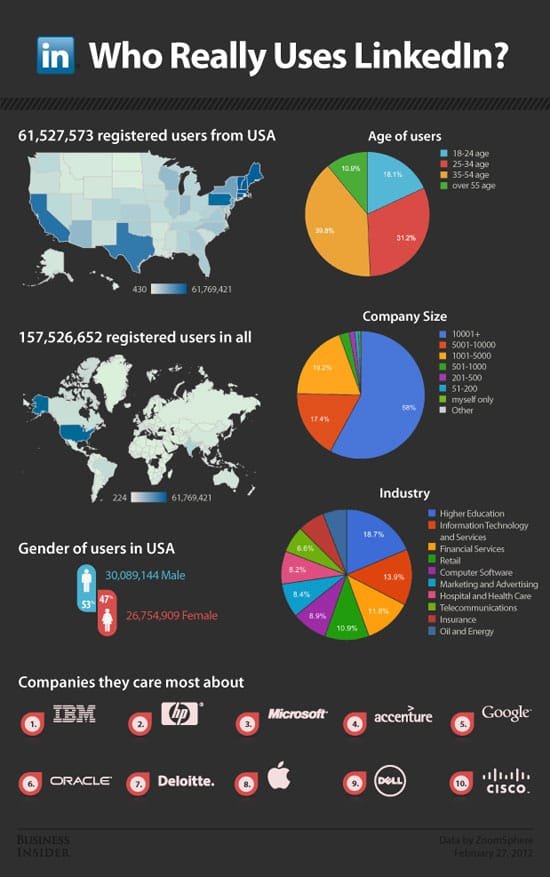 LinkedIn's Road to IPO
by Mashable [source]

Latest LinkedIn Statistics at a Glance
by Lefty G Balogh [source]
Sequencing the Startup DNA on LinkedIn
by LinkedIn Blog [source]

[afiliasiinfographicsdeal]

Per Fare Carriera Ecco Cosa Gli Italiani Pensano E Fanno!
by MEGAMODO [source]
LinkedIn for B2B Marketers
by LeadFormix [source]

LinkedIn Identity
by gigya [source]
How to Be the Man (or Woman) on LinkedIn
by SocialMediaSonar [source]

Exprimiendo LinkedIn
by massocialmedia [source]
The Gender Divide: Are Men better than Women at Social Networking?
by LinkedIn Blog [source]

4.7 Million LinkedIn Users Are Employed by Small Businesses
by Mashable [source]


More…
B2B Marketing: LinkedIn vs Facebook
by BOP Design [source]

LinkedIn Celebrates APAC
by LinkedIn Blog [source]
LinkedIn feiten & cijfers 2011 Nederland
by Recruit2 – Jacco Valkenburg [source]

The State of LinkedIn
by Vincos Blog [source]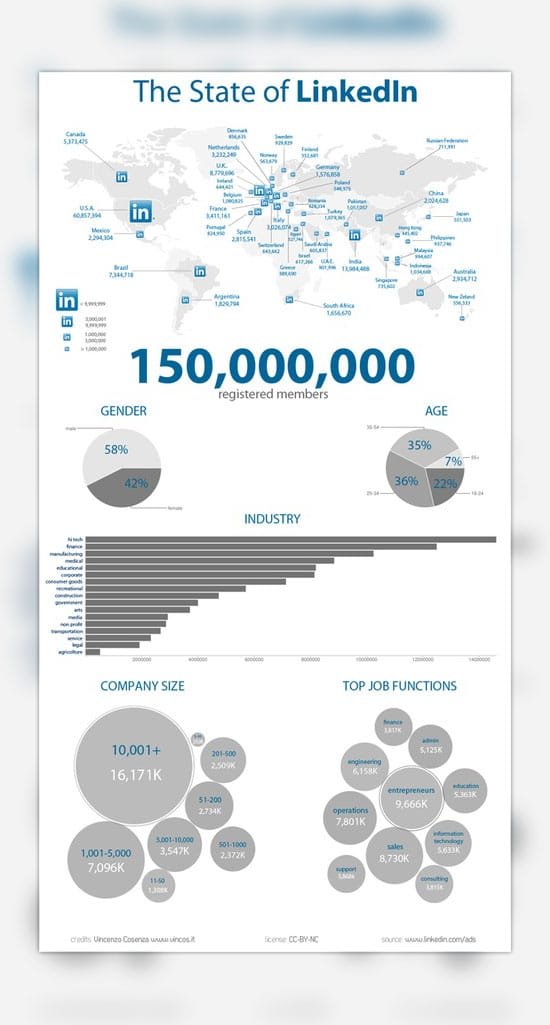 Pro-sitivons avec LinkedIn! Chiffres et avantages…
by Etre Unique [source]

LinkedIn Audience in The US
by LinkedIn Marketing [source]