26 Best Brand and Business Tips Articles of June 2011
This is our monthly series were we share useful brand and business tips articles all from the previous month. We hope this series can help you in building your brand and growing your business.
If you would like to be kept up to date with brand and business resources, you can follow us on Twitter or by subscribing to our RSS feed.
How to design a logo in 30 seconds


by Jacob Cass
An Atlanta-based brand, Malcolm Fontier, who produce "modern carryalls for work and travel" recently shared this video with me; it shows how they came to create their "double rectangle" logo within 30 seconds, poking a stick at the usually drawn out logo design process.
Standard Trends in New-Age Minimalist Logo Designs

by Jake Rocheleau
Below I've examined some of the new-age trends emerging with logo design. Hopefully these ideas can inspire a new generation of designers to pick up the trade.
VideoGamer.com Logo Redesign Case Study


by Jacob Cass
VideoGamer.com approached me in early May after finding my work on Dribbble. They had been through a number of designers trying to update & refine their logo for their new site redesign but unfortunately, they were not satisfied with the results.
Effective Ways of Presenting a Logo Design

by Ronald Bien
What should you do to impress your client? What should you do to be sure that your designs will be accepted? Here are some tips that may help you in presenting a logo to your client
Branding Lesson: Going from Writer to Business Maven


by Melanie Brooks
Starting a successful business is about more than hard work—it's also about timing. Here's the story of how one woman in the far northeast corner of the U.S. turned her weekly newspaper column into a retail store through the power of branding.
Outsourcing Your Own Brand: Pros and Cons

by Joshua Johnson
Today we're going to attempt to look at both sides of this issue and explore the good and the bad of letting another designer define your digital identity.
9 Lessons From Successful Brands on Twitter


by Dave Kerpen
Below are nine brands that have found success on Twitter along with takeaway lessons on what they do right and how you can emulate their success.
Why Honesty Matters … for Blogs and Brands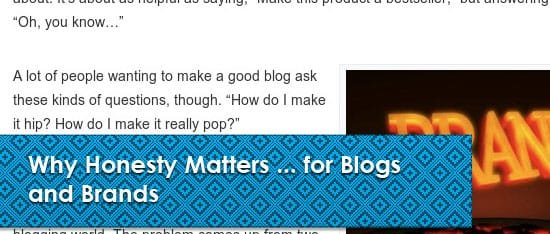 by Enzo F. Cesario
The first problem lies in the nature of modern branding and advertising itself. A blog is very much about creating a brand image—specifically, branding yourself and the way you have with words.
Why Brands Need a Digital Customer Experience Strategy To Stay Competitive


by Ron Rogowski
At the end of the 20th Century, the Internet opened up content distribution, but lately there has been a shift in focus. Companies still need to build innovative products and get them to market, but as the differences in many of those products become more subtle, companies need a new way to differentiate. In this new era, companies expect experience to be that new differentiator.
Why Top Brands Are Investing So Much Time In a Social Media Leaderboard

by Jesse Thomas
We spoke to some top brands and power users to figure out what all the fuss is about.
The Differently Same Twitter Brand Experience


by Scrivs
When I asked the question if web design should be a poster, I envisioned sites that offer unique pages, but consistent experiences across them. These sites usually have design teams that put design at the forefront of their mission. It is rare for it to happen, but sites such as MailChimp, Campaign Monitor and Carsonified. Nobody does it better though than Twitter in my opinion.
4 Tips to Maximize Your Twitter Marketing

by Charlene Kingston
Here are four tips to help you focus your Twitter efforts to get the maximum benefits for your business.
5 Proven Twitter Marketing Strategies


by Todd Wasserman
Seeking to take Twitter beyond a social phenomenon, its founders have lately set their sights on making it business-friendly as well. For marketers, this means new opportunities are opening up all the time.
6 Easy Ways To Reward Your Twitter Followers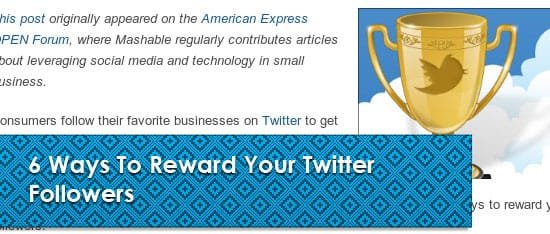 by Lauren Drell
Consumers follow their favorite businesses on Twitter to get an inside look at the business, to find out about new products, earn discounts and be a part of a community. Businesses have the potential to turn these fans into brand ambassadors by making their followers feel special and appreciated. Here are 6 ways to reward your Twitter followers.
4 Facebook Marketing Tips for Entertainment Brands


by Leyl Master Black
But even for the most popular entertainers, creating a robust fan base on Facebook requires more than just creating a Page and posting content. Here are four ways entertainment brands can accelerate their Facebook success.
The five rules of Facebook marketing

by Marcus Whitney
Marcus Whitney, co-founder of social commerce platform Moontoast, lists the rules you need to know to grow your brand on Facebook, look after your fanbase and make some money along the way.
Why Marketing Hurts Your Growth and What to Do About It


by Michael Stelzner
As a marketer or business owner, what in the world can you do to grow to your business? I've struggled with these very issues.
I've got good news and bad news for you. The good news: You really can rapidly grow a loyal following. The bad news: You may need to rethink the way you market your business. If you're ready for change, keep reading.
Email Marketing: Tips to Do it Well

by Arfa Mirza
A well planned effective email marketing campaign can help your business products and services gain maximum visibility and recognition, not only locally but all over the world. With this direct marketing procedure you start getting quick response once your email reaches your targeted customers.
Viral Contents of a Business Card


by Ronald Bien
So, before thinking of your business card concept that would stand out from the rest, make sure you will be able to include the following in your business card:
Five important lessons Mark Zuckerberg taught us about business

by James Mowery
You don't get to 600 million friends without doing something spectacular. Mark Zuckerberg knows this more than anyone. But I wonder: do we have any hope of achieving similar success? So let's steal a few pages from Mark Zuckerberg's school of business.
3 Ways to Prepare Your Business for Social Search


by Jeff Korhan
Is your business ready for social search? In this article I'll reveal what you need to know and what you need to do to prepare for social search.
Outsourcing and Your Design Business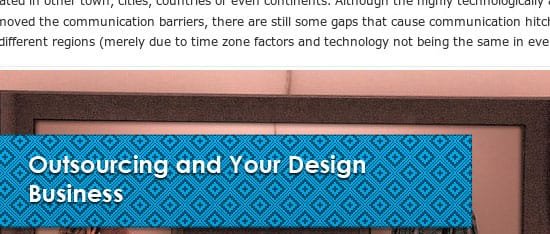 by Arfa Mirza
This article refers to some important aspects of outsourcing, its advantages and disadvantages and how does it impact your design business.
5 Web Design Blunders of Small Businesses


by Mike Barbre
Before your company can reap the rewards of releasing a new website, you should take time to consider some of the key factors that lead to a more visible and customer friendly website. Here are a five major design blunders and what to do about them.
How to Grow Your Graphic Design Business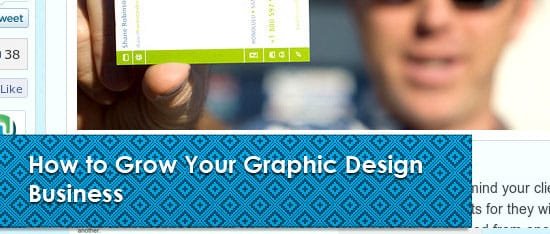 by Kareen Liez
No one would want to have a business which remains the same from the start. There will always be growth if you do the right thing. In this article, we will give you 11 tips to help you grow your design business:
5 Clever Ways to Get a Job Using Social Media


by Dan Schawbel
More and more companies are recruiting using social media, and 40% of young professionals are using social media to get jobs, reports Elance. You can have a successful job search by following these five new ways to get a job using social media.
30 Important Rules for Professors on Facebook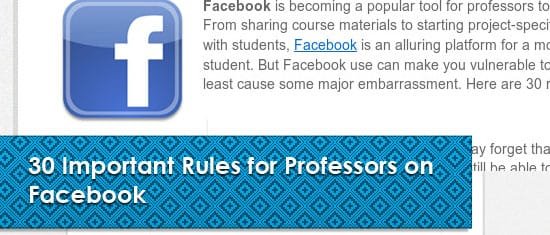 by Online Colleges
Facebook is becoming a popular tool for professors to use as a supplement to their in-class or online lectures. From sharing course materials to starting project-specific pages to building a more comfortable relationship with students. Here are 30 rules for professors to follow on Facebook.