11 Creative Single Page Portfolio Templates
The best solution for those of you who like simplicity in showcasing your portfolio online is single page portfolio site. Single page portfolio is certainly unconventional because all or most of its content are compress and organized into one single page. Visitors just need to navigate within the single page without the need to load another second page and this is awesome. And single page portfolio is also an effective way to deliver a wow-factor portfolio.
In this article, we have collected 11 creative single page templates with exceptional designs for your portfolio.
Single Page Portfolio – WordPress Themes
ShapeShifter – One Page, Infinite Possibilities


by epicera
This is easily the most fun I've ever had working on a WordPress theme to date! ShapeShifter is a single-page WordPress template that has been designed to be just about the simplest theme you could possibly use. This theme is lean, mean, and ready for you to install in minutes.
Screenshot

Locus One Page – WordPress


by elemis
Features:
2 different slider options (3D, Nivo, Cycle)
Working contact form with jQuery Form Validation
Thorough Help Documentation (with videos)
Automatic thumbnails in portfolio
Lightbox media formats: Vimeo, YouTube, .flv, .swf, .mov, .mp3, .mp4
More features, here
Screenshot

Auzora – One Page Portfolio and Business theme


by webinpixels
Auzora is One Page Portfolio WordPress Theme. Comes with massive admin features. Are you tired to see a lot of one page wordpress theme use scrollable effect when change the page?
Auzora has extremely different effect when change the page.
Screenshot

Creative Zodiac – Portfolio & Blog WordPress Theme


by freshface
Creative Zodiac is a WordPress theme preloaded with JQuery. This is the only one fully JQuery powered WordPress theme on Theme Forest and probably on the whole internet too. It's not just a simple minisite, it's a fullblown WordPress experience with all the bells and whistles. Please take your time and explore every corner of this theme because it's really filled up with unexpected features. I would even call it as my master-piece because I really tried to do my best here.
Screenshot


ExcelsiorWP – One Page Portofolio Theme

by Brankic1979
Excelsior is a clean and professional one page template, perfect for all types of business, companies and personal web sites. This template is tested in all common browsers: Firefox, Chrome, Safari, Opera, IE7 and IE8.
Screenshot


Single Page Portfolio – HTML/CSS Templates
Hypax – One Page Portfolio

by rascals
Hypax is a premium one page HTML /CSS site template and it is great for portfolio and personal websites. This theme utilizes jQuery to scroll to different parts of the website. It also includes a jQuery image slider and Ajax contact form.
Screenshot


Minimo – A minimal one page portfolio theme

by Pixelcraft
Minimo is a simple and attractive one page portfolio showcase theme. This theme is built using the 960.gs grid system framework, giving it a structured and professional look and features custom designed icons. Included is a form mail script, so the entire site works out of the box, simply add your destination email address…
Screenshot


Folio Nº1 – One page creative portfolio

by VanKarWai
Folio Nº1 is a simple, practical and usable template designed with HTML5 + CSS3 , Microfomats to increase the semantic content and its relevance to the major search engines and also uses jQuery to enhance user experience.
It also includes a variety of scheme colors (more than 100 possibilities) so you can customize as you like. All in a very easy way through its "theme switcher" that lets you see changes in "real time".
Screenshot


Temptation – a Single Page Template

by jezh
Temptation is a single page portfolio template with a minimal and clean design with strong typography, well suited for personal and proffesional use.
If you're in need for a template with emphasis on content with strong and bold typography, this is the template for you.
Screenshot


Enfolio – premium one page HTML template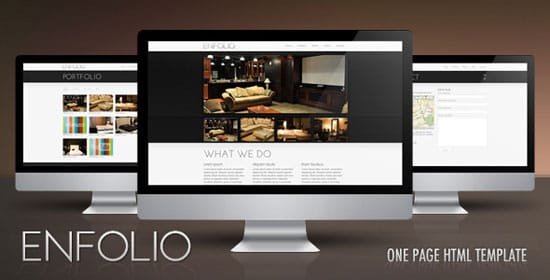 by Cepreu
Enfolio is clean designed professional one page portfolio HTML template. The template is a perfect choice for small business and any people who don't want heavy website with a lot of pages.
This template contains home section, portfolio section, styles section, about section and contact us section. Styles section is an example I made just to show you how you can order information into columns…
Screenshot


TonicSense – One Page Site Template

by pexeto
TonicSense is a premium one page HTML /CSS site template and it is great for portfolio and personal websites. It comes with lots of amazing jQuery powered functionalities such as inspiring portfolio animations with pagination and graceful news previewer. This template is very easy to customize, as the most complex functionalities are XML powered and inserting the content will be much easier, since the content is inserted in well organized XML files.
Screenshot