7 Best Customer Support Tools to Create & Manage Your Online Branding
Image by Serj Marco on Dribbble
Imagine a situation where you have a great business in place and your products are in high demand. Your customers are happy with their quality. What's more, you get to see more conversions than ever.
All this sounds like an amazing scenario for a business. But what if you can't sustain this position for eternity? Yes, such a situation can arise unless you do something to nail your branding and customer experience.
To build a complete and awesome experience with your brand, you need to excel at providing the best customer support solutions.
As customer experience is becoming a deciding factor for customers to stick with a brand, it is said that at one point it will overtake price and product as the key brand differentiator. This translates into your profits going down unless you put your focus where it should have been in the first place – your product and price.
Having said that, CX on its own is redundant if there is no branding in place to inform your customers about it.
Customer experience is generally an overview of your business as perceived by your consumers in the way that you treat them. If your tactics and strategies fall into place, it creates a positive image of your brand, and the revenue increases, which is showcased in the numbers.
But there are opportunities when you can get your calculation of CX completely off track. The result – your bottom line is severely impacted.
Shortlisting Your Preferred Customer Support Platforms
You may have tons of customer support systems in place, but the soul of unique customer experience is branding your business. It can set you apart from your competition and give you the edge that you need to be the best in the market.
It can be an overwhelming feeling to choose amongst hundreds of customer support tools for online branding that is available. You can start by doing some research on the types of customer support tools and shortlist the ones that suit your business requirements.
It is a considerable investment and commitment when you select an online customer support software for your business. Over and above the immediate cost of the software, you also need to take into account the transfer of existing data, integrations to your website, and providing training to your support teams.
Best Customer Support Tools to Create & Manage Your Online Branding
Take a look at some of the best customer support tools that can help you create and manage the online branding for your business.

ProProfs offers a range of tools that help business owners train their employees and build awesome support experience effectively. With multiple SaaS-based products, your brand gets a comprehensive suite of online branding tools and each of them takes less than five minutes to get installed.
The company offers a wide range of customer support tools that include live chat software, knowledge base, help desk, and survey maker. Each tool comes with its own set of integrations that allow an organization to build the complete support suite they need to create a delightful experience and manage their online branding.
Here's how you can customize each tool to match your business branding successfully:
Add white-label, customize existing chat widget theme, and integrate it on pages that are more likely to convert to boost conversions and build a strong branding for your business.
Create a knowledge repository that specifically answers questions related to your product and service to help customers find instant support. This will help customers relate to your brand instantly and encourage them to return to your website every time.
Capture customer feedback with survey maker to learn whether customers enjoyed their experience with your operators or would they like to make any suggestions to further improve your services or products. This helps you to improve your online presence as a service provider and invest effectively in brand loyals.
Implementation of the ProProfs customer support tool helps businesses to reduce their customer tickets by up to 80% and increase leads by up to 200% with the help of their customer service chat software. Their customer support tools come with a free trial and some with forever free plans too. However, their paid plans start from $8/month, if you choose to bill annually.
The HubSpot Service Hub has all the tools that you require to offer your customers a delightful experience. With extraordinary efficiency through the implementation of this intelligent tool, your customers will be able to help themselves in resolving key concerns.
You can connect with your customers, expand the business, exceed their expectations, and convert them in promoters for your brand.
To ensure that you carry on with your online branding through HubSpot's Service Hub tools, here's what you can do:
Customize the company logo, default colors, and company information that display on meetings links, sales documents, and quotes
Personalize your pages by choosing from a wide range of ready to use templates from HubSpot
Use your company branding on your HubSpot forms that can be connected to your website
Integrating the Service Hub with HubSpot's other offerings like Marketing and Sales Hub helps in managing online branding for your business. This makes HubSpot one of the strongest customer support platforms accessible to businesses.

SolarWinds is a cloud-based platform that businesses can use as a unified and modern customer support tool and make their online branding a stronger proposition.
The platform offers an integrated support channel through its service desk. The backend works by adapting to the dynamic requirements of the business and the customer base that it serves. The basic feature of the service desk by SolarWinds is to restore the productivity to the end-user. This can be achieved by assisting them in the resolution of their concerns.
To match the requirements of your business branding, here is what you can do with SolarWinds:
You can add your business logo on the web help desk console
You can also customize your service portal by altering the name and overall color scheme
Finish by adding a logo and favicon and possibly insert a custom-designed announcement bar too
In the broader context, the function of the service desk is integral and complex, driving the success of the business as a whole.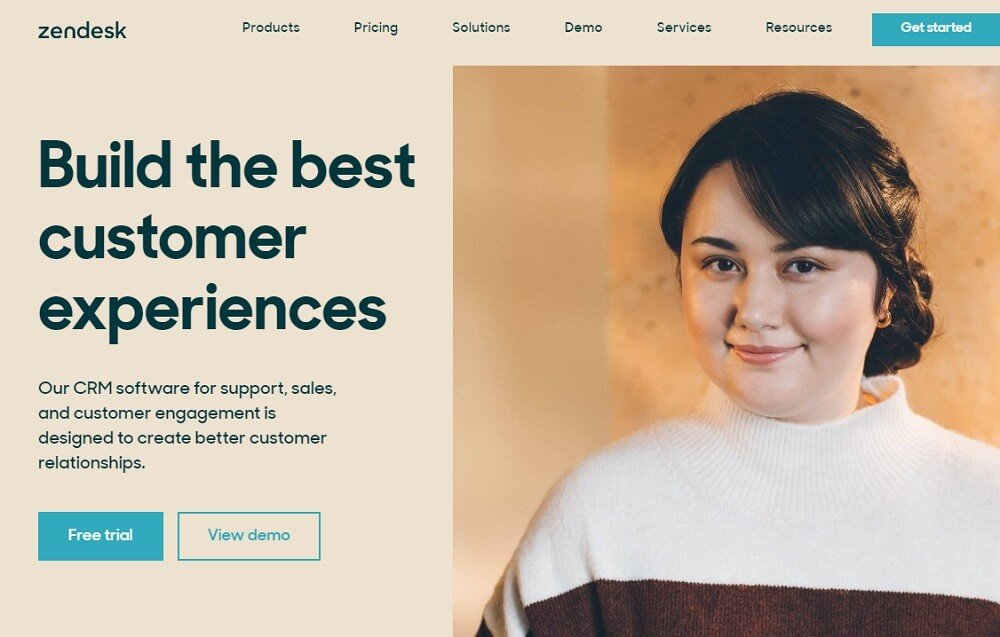 A multifaceted customer support platform, Zendesk combines the functionalities of a knowledge base with smart self-service with live chat and messaging, plus a call center software.
Here's how you can customize the Zendesk tool to match your business branding:
Personalize the theme of your Zendesk service page to make it feel like a natural extension of your brand by adding a present theme, adding your logo, colors, and fonts
Set your favicon and preferences for how the help center will appear on smaller devices like smartphones
Customize your chat window, add a logo, or change the way it behaves with third-party tools with the help of a Web SDK
Frictionless customer experience is what Zendesk's omnichannel support offers to businesses. The product design improves efficiency and assists in flowing customer conversations across channels seamlessly. This paves the way to implement online branding for your business smoothly.
The set-up process is quite easy, where you can just pretty much start working right out of the box. The platform has been developed to expand and scale, which makes it a perfect fit for businesses of any size.

Intercom combines the best what customer support tools for online branding has to offer. It includes solutions for lead generation, customer engagement, along with customer support.
It offers the following customizations that will help drive your online branding initiatives:
It offers a business messaging suite that can be completely personalized to push business growth and every stage of your customer lifecycle
Customize the bots to offer accurate responses 24/7 especially when the teams are otherwise occupied
Tailor your message for your customers as soon as they visit your website
With Intercom's Business Manager, you can automatically capture lead information and chat with your visitors as they browse through your website. Moreover, you can send targeted messages to your visitors via apps, website or even email to trigger conversations and convert them into sales.
With the Team Inbox, these leads can be routed to the right Sales Representative automatically, who then appropriately respond to them. In addition to that, opportunities like leads in the pipeline and deals can be won for specific members or for your team in its entirety.
Freshworks has simplified and redefined customer support where conversations are made easier and collaborations are made stronger.
The software allows for complete customization capabilities which include:
Personalization of your customer support portal in terms of the look and layout
Ticket forms can be custom-designed too y adding and modifying fields in the ticket form
Lastly, the custom URL for the support website offers a more seamless experience for the customer
With its SLA Management System, you can now set deadlines for your ticket responses. This resolves customer queries promptly by dividing them into categories and business hours. By checking the custom ticket status, the support team can channelize the workflow and identify the stage of the ticket.
Agent Collision Detection ensures that the same agents do not end up working on the same ticket. With all of these functionalities in place, your customer support and online branding could be completely reinvented for your business.

Ideal for small customer support teams, Olark's live chat tool in combination with customer insights helps businesses to learn and improve their customer experience through every individual interaction.
It has become a trustworthy tool for both businesses and customers as it allows for customization for their online branding too. Here's how you can get it done:
Choose from a selection of holiday themes that can be put on top of a regular chat box along with your customary business logo
You can even remove the 'Powered by Olark' branding from your chat window by purchasing a non-branded chatbox powerup
You can use various templates and color options along with custom CSS edits to personalize the theme and style of your service page to fit in with your overall brand tone
The tool itself is quite simple and easy to use which can be integrated with your business site in just a few minutes. You can use a third-party instant messenger or web-based chat console with Olark making it so much more user-friendly for customer support teams.
The Hummingbird feature optimizes the chat window for website visitors on mobile devices and creates transcripts for each customer conversation. Tracking and live analytics give you access to real-time customer engagements that can help them reach greater standards in CX.
Which Customer Support Tool Should You Opt For?
The answer to that, of course, depends on your business needs and your budget.
That said, you can get a feel of the platforms by trying them out on a 'free trial' basis or possibly request a demo. Once you've had the chance to actually go through the entire motion of the software, get some hands-on experience with each platform, your selection will automatically become easy.
Given the fact that customer support is an essential component towards creating and managing your online branding, it's worth investing some time into learning as much as you can about a platform before adding it to your site.
About the Author!
David is a customer service expert. As a customer service strategist and execution expert, he has offered unique strategies to website owners who wish to learn deeply about Customer Support Software to build a delightful experience. Follow David @Davidmiller4312 or connect on LinkedIn.