15 Best WordPress eCommerce Themes in 2012
Today, WordPress is not only a powerful tool for blogging, WordPress is for Apps. It's for Platforms. It's for online games. It's for eCommerce. It's for corporate microsites. It's for large companies who want to maximize their web presence, and want the simplest solution possible. So by using WordPress you can create any website design. And in this list, I have collected the best Premium WordPress eCommerce Themes in 2012 for you.
I hope the list below, can help you to create your own WordPress shop. Don't forget to share the post and use the comment form to let us know which is your favorite theme.
[iBrandStudio's note: If you like this article, you might be interested in some of our Website Template collection on Minimal Portfolio Website Templates, One Page Website Template for Brand, Mobile Website Templates and creative web templates for business.]
eStore eCommerce WordPress Theme


by Elegant Themes
eStore provides an elegant solution for those looking to sell products online. The theme is easy to configure, and offers integration options with some of the most popular (and free) ecommerce plugins, including eShop and Simple PayPal Shopping cart. Also, due to the open-ended nature of the design, adding support for additional shopping carts won't cause a headache. If you are ready to bring your business online, then get started today with eStore!
→ Download all of ElegantThemes – 80 themes for only $39! That's just $.49 per theme!
Screenshot

MayaShop – A Flexible Responsive e-Commerce Theme


by Sara_p
MayaShop is a fresh WordPress theme that utilises the powerful JigoShop and Woo Commerce plugins to create a versatile WordPress powered shop, with unlimited layout options and unlimited skins. Make this theme your own.
Screenshot

Blanco – Responsive WordPress E-Commerce Theme


by 8theme
Blanco is clear, easy to customize WordPress template. Many new features such as powerful admin module, slideshow, new products display on homepage, extra links and blocks and so on. This WordPress template is one of the most powerful and flexible templates at WordPress store.
Screenshot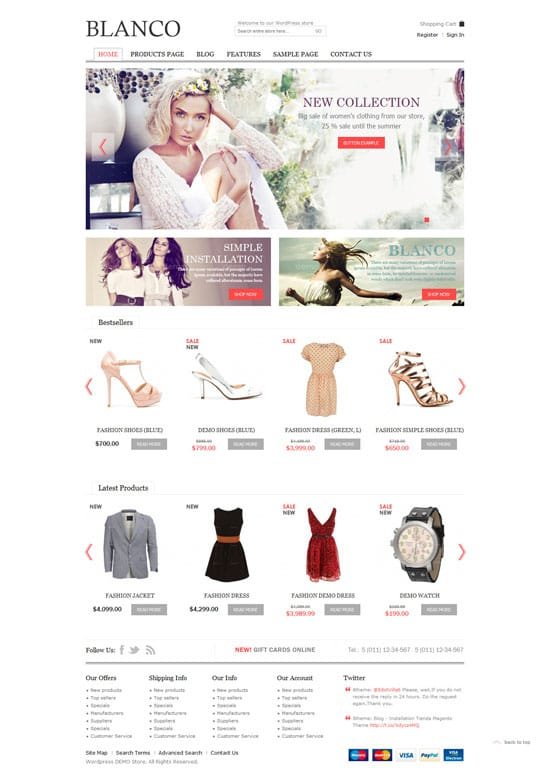 WP Flexishop 2 – A Flexible WooCommerce Theme


by PrimaThemes
Primathemes has returned with its second theme in the re-brandable Flexishop series. Flexishop 2 is quite simply the last wordpress e-commerce theme you will ever need. It features a huge array of color, font, and layout options which let you change just about anything on the site, it even includes 3 different layouts for that unique look.
Screenshot

Pinshop – WordPress eCommerce Themes


by Themify.me
Pinshop is an ecommerce theme that is inspired by the Pinterest site and our popular Pinboard theme. The products load infinitely as you scroll down the page. Not only does it look fantastic, but it also provides a great user experience. Buyers can take a complete overview of all products without having to jump around the pages.
→ Special offer: Get all Themify.me themes for only $69.
Screenshot

Kinetico – Responsive WordPress E-Commerce


by XiaoThemes
An awesome wordpress ecommerce themes, now you have a definitive solution to your ecommerce, with this flexible and powerful ecommerce theme.
Infinite Colors schemes, Backgrounds (pattern or full), WordPress 3.4+, Layout Builder, Admin Panel, Slider Manager, Unlimited Sidebars are only few things that this theme has!
Screenshot

The Builder – Multipurpose WordPress Theme


by webinpixels
The Builder is a Premium WordPress theme that comes with massive and flexible features. Focused on bringing easiest system for user to build and modify their own site, both on content and layout/design!
Create an ecommerce, business or personal site with your own style!
Screenshot

Organic Shop – Responsive WooCommerce Theme


by quitenicestuff
Organic Shop is an Ecommerce WordPress theme designed for online shops selling thrifty, organic, spa & beauty related products.
Screenshot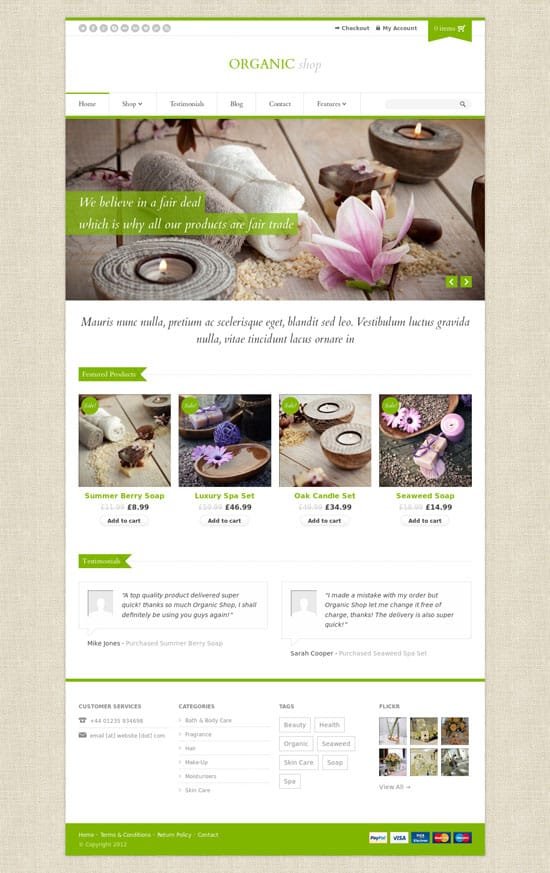 Cheope Shop – Flexible e-Commerce Theme


by Sara_p
Cheope is a clean and brandable theme that utilises the powerful Woo Commerce plugin to create a versatile WordPress powered shop, with unlimited layout options and a lot of features.
Screenshot

Camp – Responsive eCommerce Theme


by ProgressionStudios
Show off your work with this easy-to-customize and fully featured eCommerce WordPress Theme. When purchasing this theme, you will receive a detailed help file along with additional features like an eCommerce Ready Shop and Responsive Layout.
Screenshot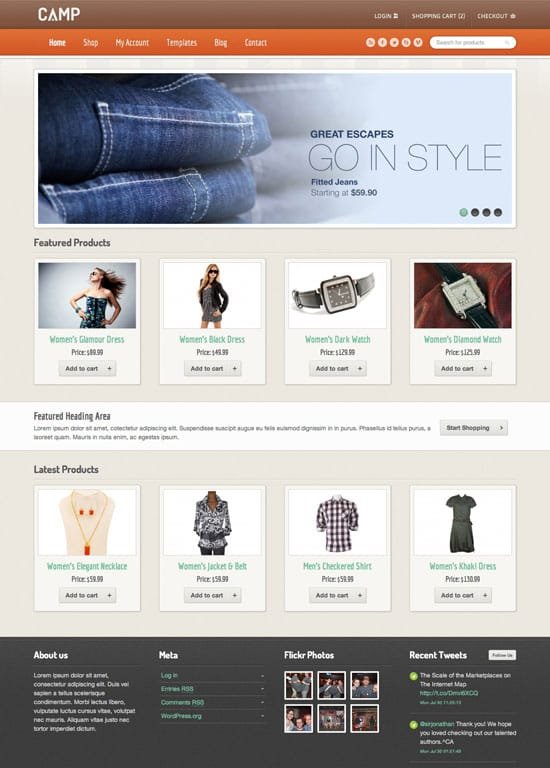 Kauri – responsive theme for WP e-Commerce


by aligatorstudio
A responsive theme for WooCommerce and WP eCommerce. Responsive layout makes it adaptable to various screen sizes, from iPhones, smartphones and tablets to laptop and desktop computers. This theme will look great on any screen. The elegant design of Kauri Theme is customizable with plenty of design options and shortcodes. Choose between 4 skins and customize it with unlimited color options, Google fonts, custom backgrounds and 2 slider styles.
Screenshot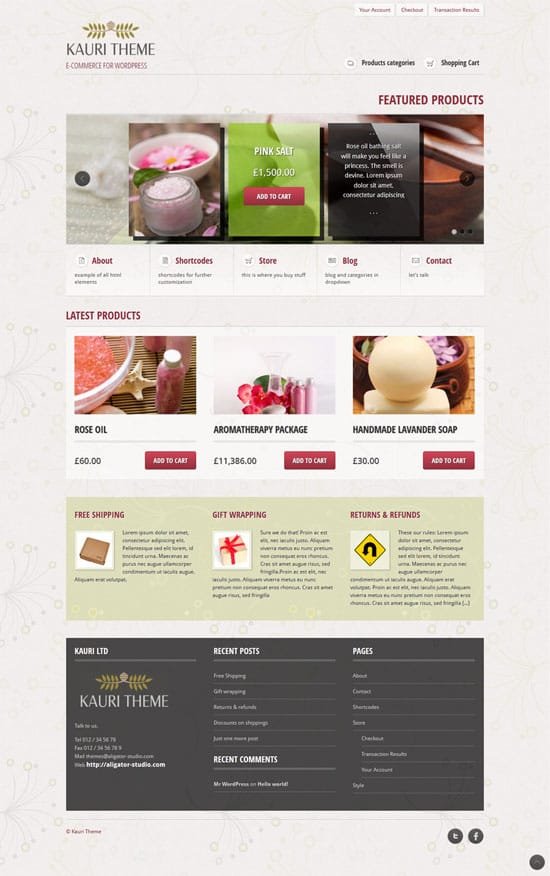 Shopo – WordPress eCommerce Theme


by Themify.me
Shopo is an eCommerce theme designed for larger shops with large selection of products. It has many promotional areas: duel navigations in the header, welcome message, feature slider and product slider. Unlike the traditional shopping cart experience, the ajax shopping cart built in this theme allows your customers to add/remove items from the cart without redirecting the page. And of course it is responsive! The layout automatically adapts to user's viewport area beautifully. It works on desktop and mobile devices such as iPhone, iPad, Blackberry, and Android.
→ Special offer: Get all Themify.me themes for only $69.
Screenshot

Handmade – WordPress eCommerce Theme


by obox
Features:
Beautiful Galleries
Unique Home Page
Social Sharing
Sales analytics
Shipping & Tax
Create & Sell all kinds of Products
Automatic Image Resizing
Ajax Comments
and more…
Screenshot

Replete e-Commerce and Business


by Kriesi
Replete is a responsive WordPress Theme (try resizing your browser), suited for e-Commerce & business websites. Whether you want to sell clothes, electronics, digital items like prints or songs, this Theme might just be for you. In addition to that, if you like the design and want it to use for a completely different purpose without e-Commerce functionality you can do so as well.
Screenshot

Storefront Echo: Responsive, BuddyPress eCommerce


by storefrontthemes
Features:
Storefront Echo works perfectly with WP e-Commerce, WooCommerce and JigoShop and takes advantage of the unique features offered in each platform.
What do you get when you combine WordPress eCommerce with BuddyPress? A uniquely tailored social platform to sell your products on!
The site uses the columnal CSS system to provide a grid structure that is responsive and easy to work with. Every page has has been made to work great with mobile devices and large screens alike.
We've implemented our "Unified Search" feature like never before…your pages, blog posts and products get their own unique layouts – all on the same page!
The checkout page looks gorgeous, the blog is clean and simple, and we've added a featured image feature to pages that you will want to take advantage of.
And more…
Screenshot