15 Best WordPress Magazine Themes for 2017
Magazine themes are a genre of themes that deal with updating daily dose of information in the layout that is more presentable and has an overall increased content impact. This is established mainly with the grid-based layout that seamlessly integrates content in a way that is more accessible and pleasing to look at. The other thing that makes magazine themes awesome is their full responsiveness, which simply means that the theme gives your website the power to adapt to any device and screen resolution that is used to view it from.
Fortunately, there are plenty of Magazine WordPress themes available online, but this very abundance becomes a con too because there are just so many of such themes that only promise to do so much without actually delivering on the made promises. Therefore, there are many ways to Shortlist magazine WordPress themes, and in this post, we have done the trimming by magazine themes that carry all the future deign and functional elements making them great for 2017.
After going thoroughly through a long list of magazine themes we have come up with a comprehensive list of only 15 Best WordPress Magazine Themes for 2017, one of which we are sure you will sure find great enough to glorify your website in 2017.
1. MagXP
MagXP is first on our list because it is probably one of the best Magazine WordPress Themes in this list with all its functional and design features that are bound to attract visitors and then keep them coming back for more. With four homepage layouts and an options panel that lets you control every element of your website, this theme promises to help you weave your website just the way you always wanted.

2. Cool
Eye-catching design and uber cool style are only some of the features that make this theme stand out from the rest of the crowd. The theme offers tons of features and customizations that can be done right from the options panel, making everything that much easier to handle. Its plug and play solution makes it effective for stylish website creation. While the easy monetization helps you make more money simultaneously.
3. ColorMag
ColorMag combines the beauty of two most beautiful elements, bold colors and magazine style and blends them perfectly to give you a theme that acts as a traffic magnet. The theme takes all the great features of 2016 and then wraps them with a layer of all the glitter of 2017 to help you build an elegant website for news, newspaper, magazine, publishing, business and any other type of website for that matter.

4. Doberman
This one besides taking a cue from the awesomeness of a magazine layout also has elements that are made to boost viral traffic. Both these features combine with its other unique features to help your website reach its full potential.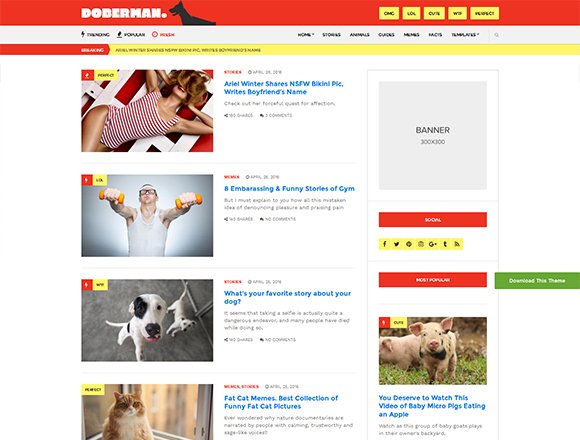 5. Newsanchor Pro
An extremely easy to use magazine styled theme that works particularly great for News websites. The theme will present your content strategically so that your content reaches maximum impact while your website gets a fresh and modern 2017 based look. Some of the other features that come bundled with the theme include pre-built widgets, color options, easy access to over 650 Google fonts and much more.

6. Extra
Take advantage of the post-based modules with this theme that also offers a drag-and-drop builder to help you customize your homepage in a way that is unique and attractive. You can also post content across wide categories easily while the Divi Builder framework takes care of the rest for you.
7. WordPlus
If you are running a magazine website with the main focus on technology and tech-related news, then WordPlus might just be the one for you. The theme has easy monetization options that allow you to place advertisements with varied spaces in different locations. These are features that will essentially help you make more money instantly.

8. SociallyViral
The online market has changed its peculiarities over a past couple of years from accessing information from search engine to indulging in viral content through social media. SociallyViral takes both of these nuances and converts theme into something impeccable that is bound to attract visitors and retain traffic. Socially Viral is one of the Top WordPress Blog Themes containing all the next gen features. The theme comes with features precisely made to increase social sharing without compromising on the traffic from search engines.
9. FlyMag Pro
If you are running a creative agency and want something equally creative for your website, the FlyMag Pro might just be the one for you. With all subtle and functional features, this theme combines the manageability of magazine theme and fluidity of responsive design to help you achieve any target you embark on.

10. Khobari
Khobari is best described as a minimalistic and elegant theme designed meticulously to showcase your content effortlessly in a timeless manner. The social media integration with famous social media website like Instagram, Twitter and more helps your content reach out to the readers who are interested in what you have to offer.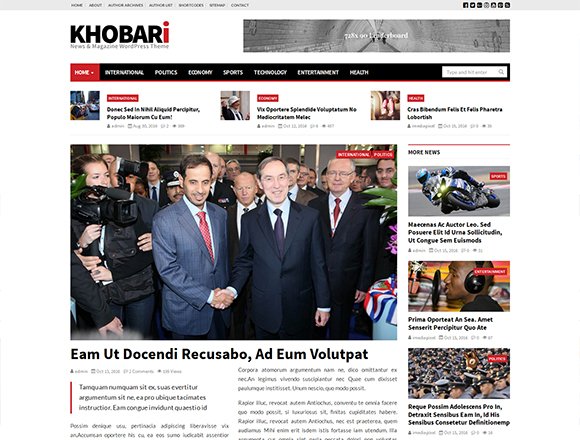 11. Nexus
There are many features that make Nexus one of a kind, some of them being a strict grid, typographical hierarchy and a clean layout that gives each element just enough room to breathe while maintaining a subtle vibe. The custom widgets and content modules further flexibility by giving you control over your pages and allowing you to customize them just the way you want.

12. Noozbeat
Noozbeat is a beautiful and fully responsive WordPress theme designed for magazine and news websites. Easy to use while carrying unique layout options.
13. ColorNews Pro
A well-organized magazine look and feel is the strongest forte of ColorNews Pro. In addition to that, the theme creatively plays with colors that are bound to keep a lasting impression on your visitors. It goes without saying that the theme is fully responsive and able to adapt to any device and screen resolution.

14. WordX
If you deal with rich content that is often laced with high-quality images and wants to give equal attention to both then, WordX has got you covered. The theme in addition to allowing your content to shine with HD images is also fully responsive making your content look crispier on any device, including tablets and smartphones.
15. MoneyFlow
We all have to agree that any business with an online presence has to think about monetization at some point and when it comes to that, nothing does it better than MoneyFlow. The theme will help you attain your money making goals with its advanced and easy monetization features on top of the dynamic and appealing layout. Some of the many ways by which the theme does so include search engine optimization, AdSense Integration, and WooCommerce support.