15 Helpful Resume Writing Tips Articles
Some benefits from a resume is beside to find a job, it can also help you get freelance gigs and it offer a quick profile so potential clients can assess you. But how to make your resume fully representative of your experience and also stand out among thousands of other applicants?
In these articles below, you'll learn how to, tips, tricks and rules in writing a creative resume – all with the goal of helping job seekers write the best resumes possible.
And if you need the expert for your web contents, SEO Content Writing Services by Globexwritingservices will help you.
Helpful Resume Writing Tips Articles
Get Creative with Your Resume


by Cameron Chapman
The key in creating a great resume is to make it unique. Your resume should reflect you: your skills, your personality, and your experience. Combining those in a way that will catch the eye of whoever is in charge of hiring is what this article will teach you!
Give Your Resume a Creative Boost

by Charlotte
There are plenty of resume writing resources on the web, but I'd like to highlight a few important ones with this post. You will be surprised to see the significant improvements to your resume just by applying these easy fixes below.
Give a Touch of Creativity to Your Resume


by Dzinepress
The main essence of your resume is in its content so you need to make sure that its main emphasis is on showing your skills, experience and also your personality.
10 Tips for a CV That Gets You the Job

by Maria Nemenman
There are some things that will make you look good, and other things that will make you look bad. You should be aware of the positive and the negative so that you know both how to improve, and the traps that are out there. Here are our ten top tips:
11 Skills Learned From Running a Small Business That Will Improve Your Resume


by James
It is essential to highlight all the skills you have acquired from running your own business. Here are a few of them that you might highlight.
Tips For A Successful Resume That Will Help You Get The Job You Want

by Corina Ciripitca
There are certain things you might want to know before writing your CV, you know in order to write a good one. There are experts out there that share really good tips on how to be successful in this, so I did some research and found some info.
How to Write a Killer Resume and Get an Awesome Job!


by Andy Crofford
In all seriousness, I have been very successful at creating resumes that get me the ever important interview and I would like to share with you some of what I learned.
How to Make your Resume Standout

by AddToDesign
As I am sure you know, having an up to date carefully crafted resumé is an essential part of your career. Everybody in every profession must have one for themselves outlining the details of their experience, skills, and education. Here are a few tips on making your resumé stand out from the rest.
6 Words That Make Your Resume Suck


by Fox
So how do you write a wicked resume without the suck? How do you turn the wrong words into right? To help you land the job interview, here's how to spin the 6 sucky resume words into skills that sizzle.
6 Action Words That Make Your Resume Rock

by Fox
It's time to activate your resume with some action words. Action words, or verbs, ignite an otherwise dull resume by setting your skills on fire – giving your credentials authority and power.
Thinking Outside of the Box


by SensationalJobs
When you are trying to stand out among thousands of applicants for a great job, you have to think beyond proper formatting for your résumé and spell check for your cover letter.
If you want to have any hopes of standing out, you have to think outside the box.
10 Tips for Writing a Remarkable Resume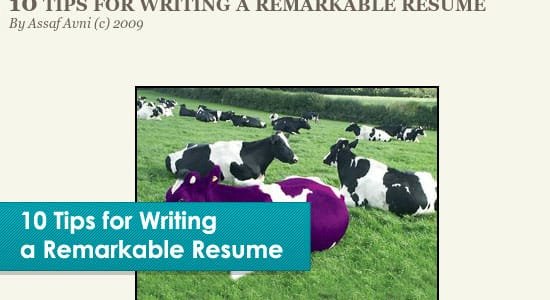 by Assaf Avni
Most people think the purpose of a resume is to get you a job. Wrong. The purpose of a resume is to get you an interview. Similarly, most people think the purpose of an interview is to get you the job. Wrong again.
Give your résumé a face lift


by Chanpory Rith
Even if you can't hire a fancy designer and are stuck with Microsoft Word, a few tweaks can turn your blasé résumé into an elegant and functional showpiece.
How to write a Masterpiece of a Resume

by Rockport Institute
A 6 part guide article that make you write a masterpiece of resume.
How To Make a Cool Facebook Resume in 5 Easy Steps


by Claudio Nader
The Do-It-Yourself Facebook Resume Kit in 5 easy steps. The best way to show off your resume on Facebook.
5 Clean and Professional Resume Templates
3-Piece Swiss Style Resume set | $4

by ilopqda
Swiss Style Resume Set projects a modern and trendy look & feel with a minimalist approach. This set includes the following:
Resume, Cover Letter & Resume (available in black & white, and blue)
2 different variants for the resume page (one includes work/play section & the other one awards section) – so you can have options to choose from
2 different sets of vector icons included
US Letter Sized
CS5 and CS4 InDesign file, CS3 InDesign INX file -IDM markup file (Open in All CS Version)
Files grouped in different layers (easy to find, modify and customize the information included)
PDF Previews included
High resolution
300 DPI
CMYK color mode
3-piece Elegant Resume set | $5


by jaeisix
This elegant 3 piece resume set only utilizes grid and typography, the foundations of design, for both readability and legibility.
Consists of -1 page resume, 1 page references, 1 page cover letter -US Letter sized -CS4 InDesign file -CS3 InDesign INX file -IDML markup file -Sample PDF
Slick + Stylish Resume (InDesign CS3) | $5

by dvocreative
Slick + Stylish Resume (InDesign CS3 +)
Fluid and fully implemented and easy to edit character, table and cell styles.
Fonts: Myriad Pro
8.5×11 and A4 Included
Resume Pack – 3 Clean and Professional CV Layouts | $6


by bitpub
Features:
Clean and professional cv / resume layout available in 3 alternative layouts
A4 page size
300 dpi, CMYK
paragraph styles included
all shapes and colors are editable right in InDesign
Get Minimal – Resume 02 | $4

by silenceplease
It's time to get minimal! Completely editable AI document, you can change colors, positions and typefaces.