Web designers and developers benefit a lot by using the best web tools and services on the market. They can easily save time, money and win many new projects by having on their side the right tools. Creating a brilliant logo design for a new brand, a landing page that looks and converts great are easy tasks that can be easily done with budget-friendly solutions.
We have handpicked 31 different tools and services that will greatly help you in your projects. Having the right solutions is a must in the last years when competition touched its maximum level. Share your opinions and let us know what you think about.
#1. Tailor Social – The Smarter Social Media Management Tool

Tailor Social helps you get your next web development project off the ground and into the public's awareness faster and more effectively. The company's tools are designed to simplify the process of building your social media presence, populating your calendar with social posts across several networks, as well as letting you easily construct new posts to match your needs at any time.
When you first link your social media accounts, Tailor Social will ask some questions about your project, as well as different types of posts that you would like to include. Once you complete this step, the platform's AI will automatically generate a ready-made calendar that has posts set to start uploading instantly.
Moreover, you can dive into your accounts' analytics to visualize the impact of each post and determine which are most effectively reaching your audience. This way, you can constantly fine tune and optimize your strategies. If you're looking to launch several projects for yourself or clients, you can use one of the company's different plans to manage multiple accounts simultaneously.
Tailor Social is offered in several tiers including their Basic plan, which is accompanied by 2 accounts, for $10 a month; their Professional, which handles up to 7 accounts for $15 a month; or a Corporate plan for $50 that gives you up to 30 accounts.
Hotjar is probably the best solution on the market to understand what, why and how people interact on your website. This tool should be mandatory for all sites, businesses and any type of website. It is already used by more than 210,000 companies, from startups to Fortune 500.
This powerful solution is packed with all the features you need. The Heatmaps will show you on the spot what your website visitors do on your website including clicks, taps, and scrolling.
There are the Recordings that do the same as above but in a video that you can rewatch to understand and decide what improvements you will do to the website.
Conversion Funnels will let you know where your customers are dropping off, on which page and on which step. It is extremely important to understand that. Is it the price? Or your website functionalities?
All of these are only a part of what Hotjar can do for you.
Start with the free plan upgrade anytime you need. On the pricing page, you will find lots of information and plans for everybody: a free forever plan, for startups, companies and agencies.

Landingi is a powerful landing page builder that is a perfect fit for designers, developers, and marketers who are looking to have better conversions. Landing pages can be quickly made in hours and days, not weeks or more, for a budget-friendly pricing and without having any special knowledge.
There are over 200 gorgeous templates to choose from, 5,000 free images and 800 Google fonts to use. Everything you need can be made with Landingi, including a YouTube or Vimeo video background, set up an automated email to respond to each lead that fills out a form, so they get an immediate, 24/7 response. The features don't stop here. It can be integrated with MailChimp, SalesForce, Hubspot and many others.
Every step in the configuration will be made with the drag-and-drop builder that is easy and enjoyable to use. No coding skills require.
Start the 14-free day trial. Pricing starts at $39 per month.
Orion is a huge icon library that is offering for free 6,014 custom crafted vector icons. Using their powerful web application, you can do lots of things. Modify the colors of the icons, save them in PNG or SVG format, add personal tags, create SVG sprites with an easy HTML how to use file and much more. You can upgrade to the PRO version and get 2,599 new gorgeous icons, access to the design source files, unlimited downloads, and other cool things. The pricing starts at $5 per month.
They also have a fall deal with an exclusive 68% discount for the forever Pro version:
https://orioniconlibrary.com/falldeal
#5. Indy Invoice

The Indy Invoice uses the industry's most trusted online payment solutions, and clients are one click away from paying using the method of their choice. Indy is an all-in-one management software that helps self-employed people and small businesses easily manage their invoices.
Invoice templates include all the info your clients need and give you the ability to add your personal branding. You can link working hours directly to an invoice using the Time Tracker tool and save yourself time.
WP Page Builder is a powerful website builder that is very simple to use and lightning fast. It is 100% free to use and there is no need to have any previous experience or coding skills. Create yourself a premium website for zero cost with this complete solution.

Every website needs a real-time monitoring service that will indicate the status of it and of the online services. No software installation and maintenance is required: the AppBeat Monitoring servers continuously monitor your services via the internet and periodically checks are easily managed from your web browser. Pricing starts at $4.99 per month and you will have included 15 monitors and up to 21,600 checks per day.
Designers and developers need a reliable cross-browser testing solution and BrowseEmAll is one of the best on the market. You choose between manual browser testing where you can run the browsers your customers use for quick and painless testing or you can go for the automated browser testing where you quickly record and play automates tests against all major desktop and mobile browser or point your existing Selenium test suite against the integrated Selenium Grid. Everything runs on premise for easy testing of internal pages or staging environments.
Schedule a demo and understand better how BrowseEmAll can help you.

Trusted by lots of companies including huge corporations like Xerox, AT&T, and Accenture, MultiBrowser is a very easy to use cross-browser testing service. Among its features, you will find standalone desktop web browsers, mobile browsers emulators, responsive design screenshots, automated functionality tester and many others.
If you are installing MultiBrowser for the first time, you will have access to all the features in the Professional edition for 14 days. After that, you will need to purchase a MultiBrowser license to continue using the MultiBrowser testing software.
Codester is one of the best marketplaces on the market for web designers, developers, and freelancers. Here there buy and even sell for an additional income PHP scripts, website templates (Joomla, WordPress, HTML etc), gorgeous graphics, app templates, plugins and more.
Browse Codester marketplace and pick what you need, the prices are very good.

Visme is more than just a flyer maker – it's a content creation tool that finally does NOT require you to have years of design experience under your belt. With countless flyer templates to choose from, it's also the perfect tool for creating everything from presentations to eBooks to Infographics and beyond.
Looking for a gorgeous but affordable logo design and time is pressing you? 48HoursLogo is one of the best logo design contest platforms in the field to obtain a professional logo while spending a couple of tens of dollars. Give it a try and let multiple designers compete for your logo.

DesignHooks is a brilliant free resources website dedicated to web designers and developers, but everybody can find an useful product here. The website is very well organized and easy to use. There are several categories packed with hundreds or even more products: PSD Mockups, Sketch, HTML templates, WordPress themes and more. Browse it and pick for 0 cost what you need.
With MailMunch everybody can create highly converting landing pages without having any special knowledge or coding skills. They have included a powerful and easy to use drag-and-drop builder that makes the process very enjoyable and fast. Everything can be created in minutes with this budget-friendly solution.
Do you need to build your email subscribers database? Using the dedicated squeeze pages made in minutes with MailMunch, this is by far the fastest and easiest way.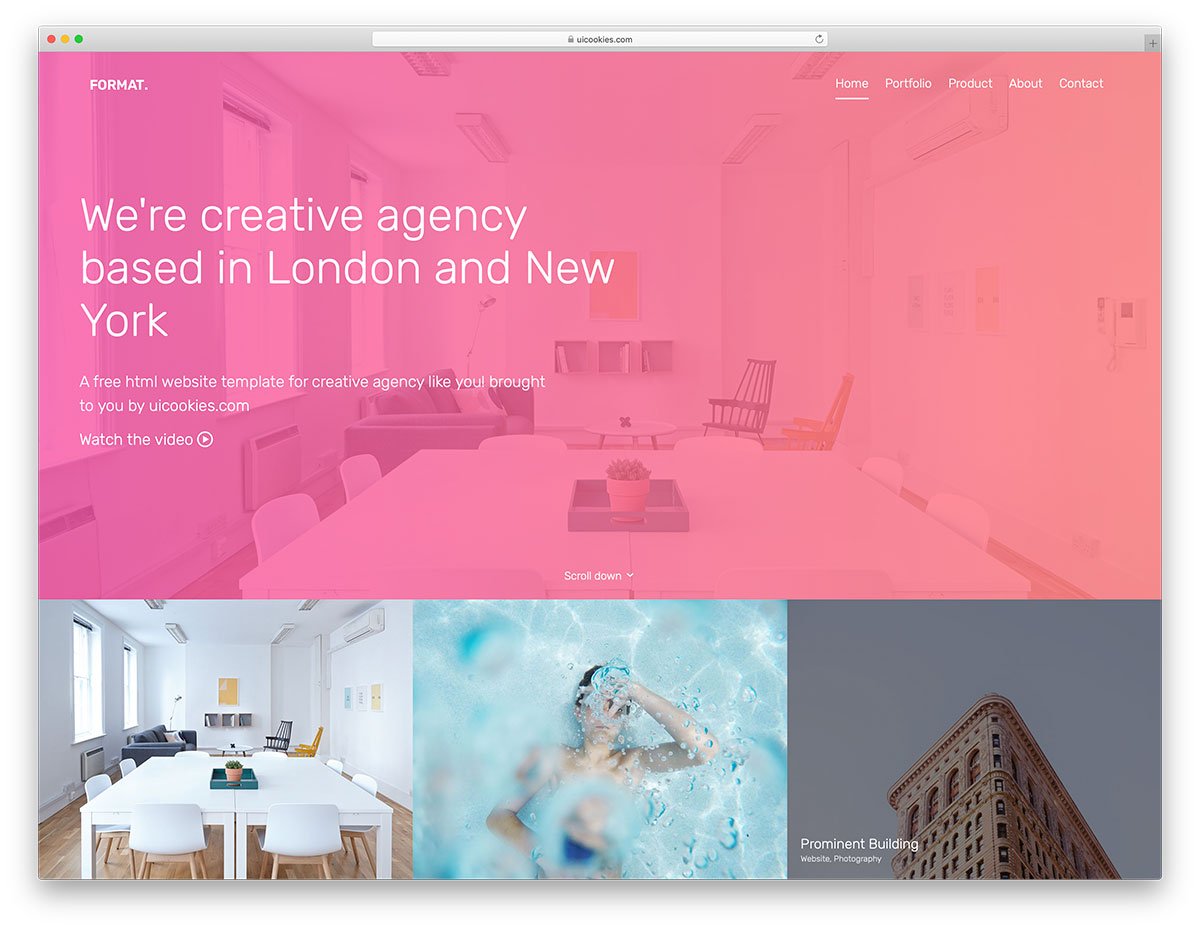 Format is a brilliant free to use website template that freelancers, designers, agencies, studios and many others can use to create a gorgeous portfolio. Format is packed with lots of features that normally can be found in premium, expensive themes like pop up video, smooth overlay for portfolio, and animation upon scrolling.
Unlayer is one of the best email editors and page builder for SaaS on the market. Built with React, this solution is packed with tons of powerful features. There is an excellent drag-and-drop builder, Mobile responsive content, Merge Tags and much more.
Let your customers create beautiful mobile-ready emails or landing pages right from your app.

Used by all kind of companies, including huge corporations like Vodafone, PingPong is a great service to conduct effortless user research, remotely. You start by recruiting testers from all over the world, you schedule the discussions, you have video interviews with the app built-in function and in the end, you analyze and compensate the picked testers.
It is very simple to use and very efficient service.
Racks is a gorgeous, complete and free to use free software company website template that is packed with a feature that normally can be found on premium, expensive themes. It is fully responsive, working perfectly on iOS, Android devices and looks great in any browser you are using: Safari, Chrome, and Firefox.
Download it and built yourself a new company website for free.

With Controlio you can easily monitor employees PC activity from any place you are. You will find lots of great features: Real-time surveillance (what user desktop live – check who is active), Continuous screen recording (watch the video when you can and make an activity report), Web filtering, Key Logging and many other great functions.
Track active and idle time per app and website and get rid of bottlenecks in your workflow.
With Brizy everybody can create a stunning website without skill or effort. The powerful drag-and-drop builder combined with the 150+ premade blocks make the process enjoyable and super fast.
Check out the video tutorials on their website and build a professional website in less than 30 minutes.

MeridianThemes has beautiful and functional WordPress themes that are packed with the latest technologies, normally found on very expansive templates. All of them are SEO friendly, easy to customize, fast and are a perfect fit for any kind of project.
Whenever you need a professional logo design and you need a budget-friendly solution, Freelance Logo Design is the place to visit. Let 3 logo designers compete and send you 6 custom logos to choose from, everything happening in less than 60 minutes.

actiTIME is a powerful software for time tracking and project management. Record time spent on tasks, create detailed reports, generate invoices with ease. Streamline your work process. Start using it today. Sign up for a free online trial or install absolutely free basic version.
MediaLoot is a huge marketplace packed with thousands of free and premium fonts, icons, templates and much more cool stuff. The quality of the products is remarkable and it will help you make improvements to your projects.

Create a logo for your next project like a professional. Logoshi's flexible logo maker creates five-star logos in a flash. Logoshi takes the guesswork out of making your own logo. Boost your next project with a logo from Logoshi. Try Logoshi absolutely free.
Pixpa is a powerful portfolio website builder where you can integrate e-commerce, client proofing, and blogging tools without having any coding skills or previous experience. The powerful drag-and-drop builder combined with the gorgeous themes make the process very enjoyable and fast. Try it for free for 15 days, no credit card required.

RankMath is the fastest and most powerful WordPress SEO plugin on the market. The huge advantages of this plugin are that it configures itself, it has a clean and simple to user interface and it will receive soon powerful features like Google Webmaster Central Integration and Keyword Comparison & Google Trends Tool.
On their website, you can compare with its competition, check it.
Goodie is a premium web development service that is perfect for designers looking to have a reliable developer on their side, for small and local businesses looking to amplify their online presence, or for 1-10 page modern websites WordPress websites. Pricing starts from $999 per website.
Inspectlet is a powerful tool that will help you understand what your visitors do on your website. You can record and playback your visitor's actions, including seeing their mouse movements with eye-tracking heat maps. Stop guessing what your visitors want and improve the conversion rate.

Userfeel lets you see your website from your visitor's eyes, it is an excellent and professional solution where real testers will tell you in a video exactly how they see and feel your website. What they like or not, if they understand what is your website or landing page about and so on. It's the real-life test.
You can use screener questions to filter the testing panel in more detail. For example, you can create a screener question that asks whether the testers have recently bought products for your industry and allow them to take your test only if they have.
It's an all-in-one service, try it.
Bonsai is the best invoicing platform freelancers, with more than 100,000 happy users and numbers go up. Creating and fully customizing invoices takes seconds and you can even auto-create them from proposals or contracts that you are receiving. Track activity and payments, automate your reminders, and much more, it is a perfect fit for designers, developers, writers, subscribers, photographers and others.
Try it for free.