When we talk about internet browsers, Google Chrome is certainly the king. More than 50 percent of internet users today prefer Google Chrome. There are chances that you are reading this article on Google Chrome itself.
Moreover, if you use Google Chrome, then you must be aware of the Chrome Extensions too. Chrome extensions are tiny plug-ins that can be seen sitting in the top right corner of your browser's window and are used for different purposes.
Especially if you are a social media marketer, then chrome extensions are very necessary for you. They will make your work a lot easier. Using various chrome extensions, you can do things faster, a lot better, and with fun. Further, you will get to know about the 15 best Chrome Extensions for Social Media Marketers.

It often happens that while doing our work, we get distracted on the internet, and instead of completing the task, we end up spending hours on irrelevant things. Now, if something like that happens to you often, you really should check out StayFocusd.
It is a Google Chrome extension used for productivity. It restricts the amount of time you spend on unnecessary websites and helps you to focus on your work. This Extension is great for people who tend to procrastinate and hence are not able to complete their tasks or complete their work in low quality.
As soon as we wake up, our mind starts getting occupied with different thoughts. Therefore, to relax your mind, Momentum shows you something beautiful every time you open a tab in your browser; a beautiful picture, an inspiring quote.
You can also write the goal of your day or the tasks you would want to complete. This way, you start your day with a positive attitude and good planning.

When you are a social media marketer, it becomes really important that you keep an eye on your competitors. With the help of Open in SpyFu tracking your competitors become extremely easy. It peeks and analyzes your competitors' data and provides you with the information, which includes competitors' appearance on Google over the past nine years.
You can also export the keywords you desire into your AdWords account using Open in SpyFu. It also provides SEO tools and software that will help you to compare organic search results to your competitors. It can check your performance and also the areas for improvement.
While working with various tabs, it is very likely that we encounter various ads, and it becomes extremely annoying. Therefore, you can use Ghostery; it is designed for blocking ads and trackers.
You can also use Ghostery to find out the trackers that are on your competitors' sites that they might be using for the users' engagement and conversion.

It is very common to make spelling and grammar errors when you are a social media marketer. And it's really difficult and time-consuming to keep on checking for grammatical errors now and then. Don't worry; this problem can be eradicated using another amazing Google Chrome Extension that is Grammarly.
This Extension will catch your grammar and spelling errors and will suggest you the correction, and you will just have to review and then accept or reject the changes it suggests. While you are typing or once you are finished typing, just hit the button and open the Grammarly editor, and it will make sure you are writing with correct grammar.
If you are a social media manager, and it's not necessary to have clients just from your own country. You might have clients that belong to a different country having different time zone. Therefore, keeping track of all those time zones is hard. You ought to make a mistake and lose your client because of the time zone problem.
Therefore, if you are someone who works with people all around the globe, Figure it Out Chrome Extension will be the best for you. With the help of this Extension, you can schedule your meetings according to various time zones. You can add up to 10 time zones and also check the correct, current times for all the locations, and schedule accordingly.

When you work on various websites, it's hard to remember all the passwords. It often happens that we forget our passwords and hence are unable to reach a certain account. Therefore, in such a case, you need to have a password manager like LastPass. It saves all your passwords, credit card information, addresses, etc., in a safe vault with just a master password.
You just have to remember one master password, and LastPass will allow you to access your different accounts by automatically filling in your information whenever you need it. You can also fill in various forms within minutes since LastPass has your addresses, and it will automatically fill them for you.
All your data will be secured, and whatever you save on one of your devices will be synced to all your other devices. It also protects you from breaches, and it will tell you whether your passwords are weak or reused. It also keeps on alerting you if, by any chance, your information is at risk. You just have to worry about your master password, and everything else is secured.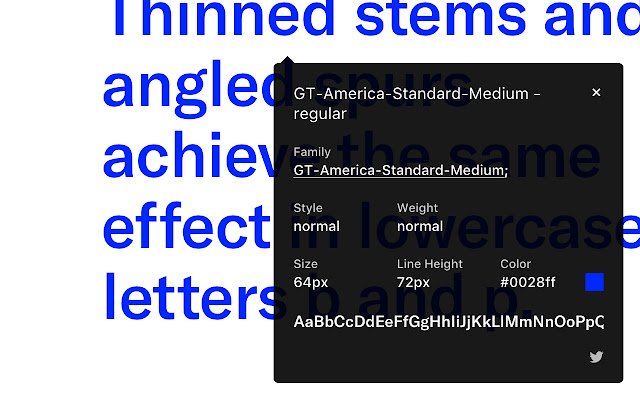 When you are a social media marketer, you see various fonts every day. But there are chances that sometimes you see a certain font you want to use, but since you don't know what font it is, you are unable to use it. If you relate to this problem, then you need to check out the WhatFont Google Chrome extension.
Using WhatFont, you can easily find out the font name, color, family, style, size, and position. This way, you can design web pages quickly. All you need is a simple click to identify the font you like and then select the same without searching for a suitable one for hours.

Finding a beautiful high-resolution picture for every other social media marketing strategy is a very tedious task. You have to spend so much time just for that one perfect picture and say you can find it then comes the picture quality issue.
Most pictures on the internet are not of high quality. So, where to find high-quality images for your post? The answer is Unsplash Instant. Here, you can find all kinds of images, from flowers to skies to portraits. Just search it and use them for free.
There are times when you are busy researching your marketing campaign, strategy, or posts, and you see something eye-catchy and interesting, but you don't have the time to see or read about it at that time, and you have to move forward with your work. Later, you are unable to remember where you saw that interesting visual.
To solve this problem, you can use the Pinterest Save Button extension, and this allows you to save that page just by clicking the save button and keep moving forward with your work. It will save your favorite ideas, and you can come back easily to check them. It makes the organizing and saving of the ideas so much easier.

Being a social media marketer, you might be well aware of the importance of hashtags. There are times when you make a post and are just unable to come up with suitable hashtags to use. A good hashtag will add so much value to your posts; therefore, you can use RiteTag for generating a suitable hashtag for your post, whether it's a text or image for different sites like Facebook, Instagram, Pinterest, Twitter, etc.
It also tells about the strength of your hashtags. Use Green hashtag to be seen immediately, Blue to be seen over time. If your hashtag is Red, then don't use it. Your post will disappear in the crowd, and if your hashtag is gray, then don't use it either. It is not followed by many people.
They say "a picture's worth a thousand words," now talk about a moving picture or popularly known as a gif. Gifs make your message look more exciting and interesting. Posts with gifs certainly get more attention.
However, searching for a perfect gif for your post can take up a lot of time. No worries there, you just need another Chrome extension Giphy to search for amazing gifs without leaving your browser.

SEO is one of the important parts of digital marketing strategies. If you are new to SEO, you should check out MozBar and get information about various websites. With just one click, you can easily find ranking and link coding information about various search results.
Social media marketers have to read a lot of web pages to get the relevant information. But, everything that is written on a web page might not be that important. Hence, you can use Yellow Highlighter Pen for highlighting just the critical parts of the web page.

There are times you need some inspiration for your next task. Muzli gives you various visuals of the latest and excellent designs of the day; you can get great ideas with its help.
Conclusion
These were some of the most useful Chrome Extensions that you can use if you are a social media marketer. You might already be using some of these extensions, but we hope you found some new interesting and useful ones too.
About the Author!
Bhavik Soni is a Creative Writer at Auto Monkey. We provide an original analysis of the latest happenings in the social media industry. Connect with Latest Social Media Trends and News plus tips on Twitter, Facebook and other social tools on the web.