Six Important Tips to Keep In Mind When Designing Business Cards
We are living in the digital era and none can deny this situation. Undoubtedly, it's not something unknown for you, but it's amazing how the things are going into making everything more discrete, simpler…in fact "more digital". Few years ago, the Internet was accessible just in front of a computer while nowadays we have handheld devices that allow accessing the Internet via wireless connections and everyone may keep their files into the clouds.
SEE Also: Create a Molten Chocolate Business Card in Photoshop
In this context has print design any chance to resist? Should the designers abandon any design work that is "material"? It's a very complex situation and only someone that can travel into the future and come back may have an answer for this dilemma. My humble opinion is that print design will resist even in 2222 or more. Definitely, it will represent a small percentage from the digital design. The arguments in the favour of print design are many but I will present one that seems the strongest. As long as people will socialize (and it will happen until the end of world), they will need to make new connections and it is the realm of the business cards. A small piece of paper has the potential to create miracles and it will be never abandoned. In a more metaphoric way, a business card is at the crossroads of design, business and socialisation; this position reveals the importance of a business card.
To conclude, print design will never die, but it's extremely improbable to bloom as it was in the past. There are items, as business cards that will remain unchangeable, even if there are countless online solutions ready to substitute it. Here I made up a list of very important tips to keep in mind when designing a business card; don't worry, surely will exist clients that would need an impressive one!
Each tip from here isn't only a plain recommendation, these are presented using a logical enhancement and it will be way easier to understand the process of creating a business card.
#1. Pay attention to the size of it
Few designers know that the size of a business card is different across the world. The huge majority of designers know that in USA the agreed size is 88.9 × 50.8 mm/ 3.5×2 inches while in Europe is 85mm x 54mm/ 3.346 × 2.165 inches.
The situation is a little bit different: the Japans prefer 91 × 55 mm/ 3.582 × 2.165, Chinese designers use 90 × 54 mm/ 3.543 × 2.125 inches while and people based in Russia, Eastern Europe and Latin America use 90x 55 mm/ 3.543 × 1.968 inches format.
The differences aren't very important, but in the eventuality of working with clients living in various countries it's capital to satisfy their requirements.
#2. Delimitate the space used
The business cards are kept into a wallet or into a card holder, are shared from hand to hand and all these mean that business cards may be easily damaged. The borders are the most sensible to human touch and it's highly recommended to avoid placing information near borders. The designers consider that is better to add everything in the safe area- in this way any danger as bad trimming is avoided. See the image below to fully understand the principle.

#3. Add the information
As I previously mentioned, everything has a clear logic. Firstly, the designer determines the size of the business card, then delimitates the space where the information is added. As you guessed, the next step is to add the information. As the name itself is saying, a business card is an item to promote a business/business owner. In conclusion, the information added on a business card should be strictly related to the business. The next business cards are interesting examples of presenting the data and the contact possibilities.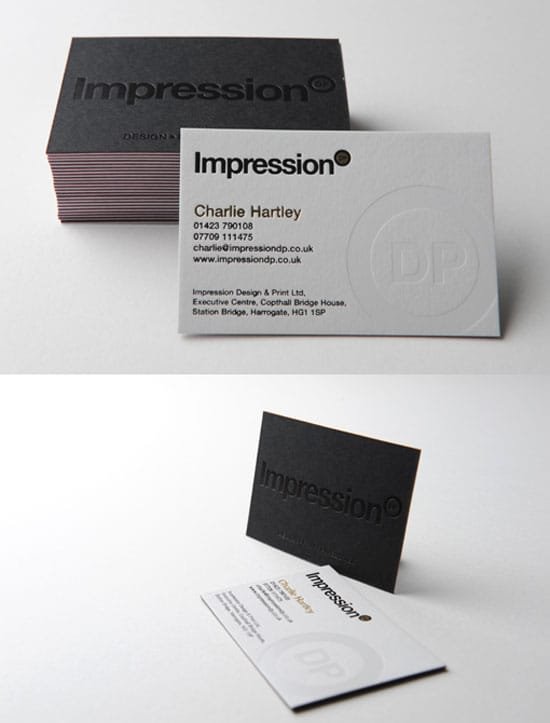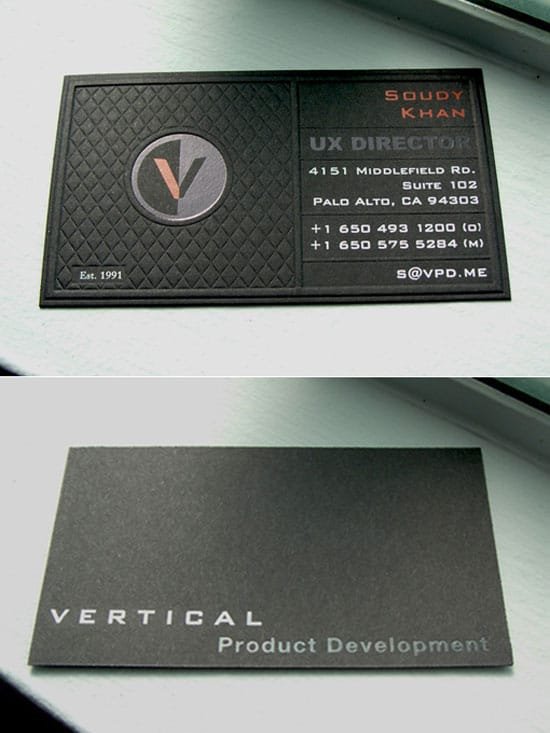 #4. Create a design that is matching to the owner
People have the tendency of associating the quality with coherence & consistency. A good old practice in design is to use a common pattern in any promoting product. Much more, this pattern should match to the type of business. It becomes obvious that the style of a business card should match to the profile of the owner.
#5. Readability and usability are capital (you are bored with this idea, isn't it?)
Let's suppose that a business card is extremely beautiful. It's normally to believe that it will impress positively the viewers, but there is still an aspect that should be presented here. A business card should be readable and usable. It's in vain to have a beautiful design if the font used is hard to decipher. It's enough to have a single digit easily to confuse with another one and the phone number is wrongly interpreted. It's useless to mention which will be the opinion of a potential client when the information printed on a business card isn't clear.
#6. A good design is the best advocate for your business
Let's give to Caesar what Caesar deserves…a good design is mandatory for a successful business card. It's true, it's a very superficial mentality, but it's very common, people judge others according to the aspect of a business card. An interesting design creates the feeling that also the owner is an interesting person. A plain design, having nothing appealing is the guaranty that the business card will stay in card holder for years.
I hope that these tips will help the designers to create only top quality business cards. No matter that a designer reads tons of theoretical tips, he must practice in order to become a good expert in business card design. In conclusion, work, work and work! If you feel uninspired, I highly recommend checking our business card showcases to get your daily dose of inspiration. Do you want more articles about business cards? We are waiting for your reply to satisfy all the demands of our loyal readers…as usual, the comment form is for you!
– Written by Daniel –