Every company has a history to be proud of. Every brand has a story to share with the world. If you want to build a strong brand using Instagram, you should master the art of storytelling. You should learn how to turn ordinary social media posts into short chapters of the fascinating novel devoted to your company.
Using the power of storytelling, you can turn your Instagram followers into brand advocated and lead your company to success.
Read this article to learn how to create share-worthy stories and how to get the most out of Instagram.
#1. Tell your secrets
If you want to build a strong brand, you should be honest with your Instagram followers. You shouldn't try to hide any information related to your company. You need to share your business' insights openly.
Your followers are curious about where you find inspiration to create new products, how you come up with innovative ideas, and what helps you to make important decisions. Satisfy the curiosity of your target audience, and you will be rewarded with higher brand loyalty.
Here is an example of business storytelling. Swarovski uses Instagram to explain to its customers what inspires designers to create new collections. Posts like this help the jewelry brand to grab the audience's attention and boost brand loyalty.

#2. Praise the founders
Why it's important to share stories of the company's founders? Firstly, because buyers want to know who started your company and why. And they want to understand what values your brand promotes.
Secondly, if you make your Instagram followers admire the founders, it will drive brand loyalty.
The loyalty to a company's founder and loyalty to the brand are interrelated. And here is proof. People who admire Elon Mask are more loyal to the Tesla brand than other customers. People who still hero-worship Steve Jobs more likely buy the iPhone 11.
Take a look at the following post. It shows how a famous fashion brand uses the name of its founder to boost customer loyalty. A video collage devoted to Gabriel Chanel reminds buyers why they should choose Chanel products over other choices.
#3. Share stories of your employees
The founders of your company are not the only people who are leading your brand to success, right? Marketers, HR analysts, financial managers, and other employees also contribute to your company's growth. So it's a good idea to praise their achievements as well.
Introduce your key employees to your target audience, tell their stories, and you will be amazed by how it will impact your business. Customers tend to be more loyal to brands that value their employees. It means that your team members' stories can help you to make your Instagram followers emotionally attached to your brand.
If you don't know where to start – talk to your employees, and get the answers to the following questions:
Why did your employees choose your company and your industry?
What do they love the most about their jobs?
When they were children, what did they dream about?
What goals and plans do your employees currently have?
How do they support the values your company promotes?
What are they proud of?

#4. Share behind-the-scenes
People do love behind-the-scenes photos and videos even more than you can imagine. Your customers want to know how you pack your products and how you run photoshoots. They are eager to see how your new product looks like, and what CEO of your company will wear for a social event.
If your share behind-the-scenes on the main feed and Stories regularly, you will keep your Instagram followers engaged. New customers will get more interested in following your brand and learning more about the products you sell.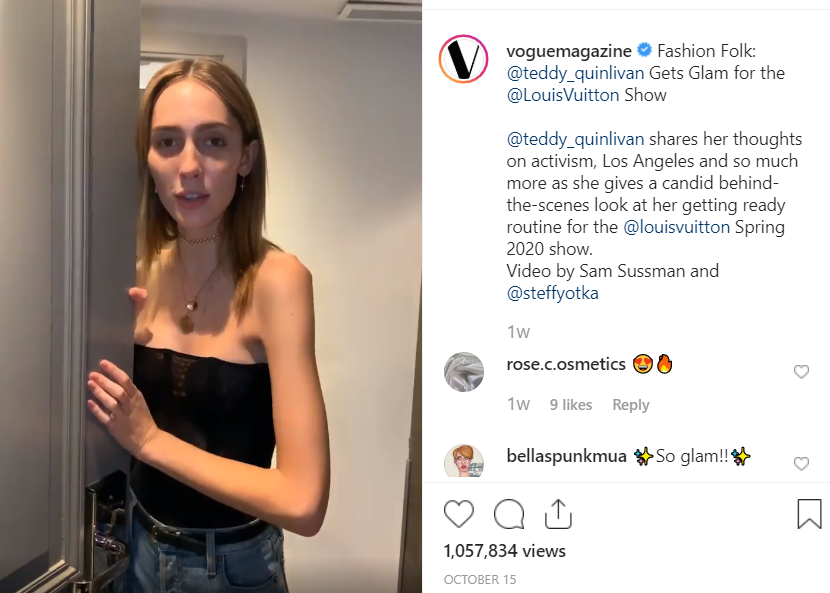 #5. Partner with influencers
Have you started your company not so far ago and have just a few hundred followers on Instagram? Well, it will be extremely challenging for you to promote your brand using your Instagram business account.
If you want to boost your marketing efforts, you should collaborate with influencers. This approach to business storytelling will help you to increase reach and engagement and get your brand noticed.
If you don't know how to find the right influencer on Instagram, apply the following tips:
Set the budget for your influencer marketing campaign and decide whether you should collaborate with macro- or micro-influencers
Find the top 20 influencers in your niche using influencer marketing tools and analyze accounts of chosen influencers in detail
Choose from two to five the most authentic influencers, whom your customers see as experts and leaders in the niche
Ensure that the posts of chosen influencers generate high engagement rate
Make sure that chosen influencers have never collaborated with brands that have a dubious reputation

#6. Take advantage of user-generated content
The best way to build your brand using Instagram is to use stories of your happy customers.
In 2019, buyers use Instagram as a platform to express their opinions about the products and services they use. If you want to get the most of your branding campaign, you should track positive and negative reviews on this social media app. Once you discover a well-written positive review, you should ask the author's permission to share it.
Here is an example of the user-generated post that works better than any paid ad. It's a story of a mom and her little son who love to stay at Holiday Inn Express when they are on the road and vacationing.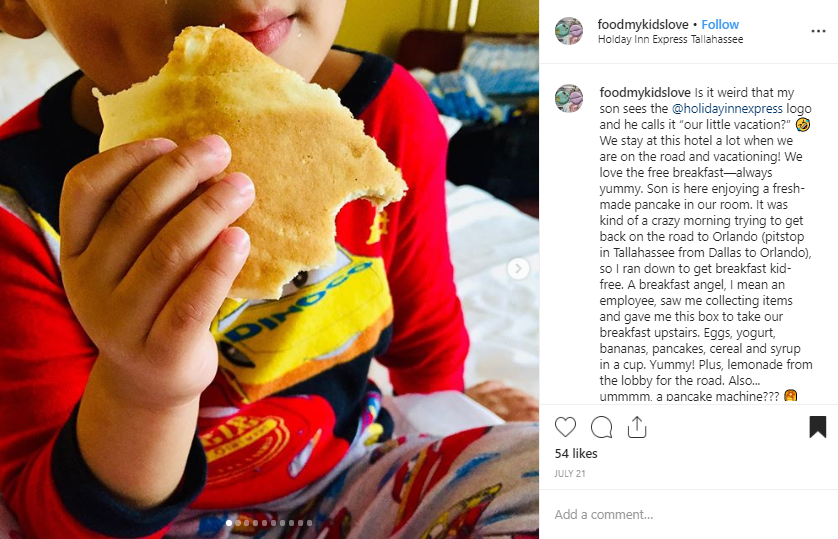 To encourage your customers to write more reviews on Instagram and get more user-generated content, do the following:
Create your branded hashtag and ask your customers to use it
Ask your customers to tag your company on Instagram
Run a giveaway or a challenge to motivate customers to publish more content
Like and comment on customers' Instagram posts and Stories related to your brand
Use content curation tools to find all the posts published by your customers
#7. Bare your brand's soul
Do you want more customers to support and advocate your brand? Prove that you do really care about people: your customers, your employees, local communities, etc. Share the stories that will melt your followers' hearts.
American Airlines published a video of how they helped Shantell "Shannie" Pooser, who has a respiratory disease and Down syndrome, to accomplish her dream and become a flight attendant. The video went viral online and helped the company to drive customer loyalty.

Is your company involved in charity? Does your brand support local foundations and orphanages? If yes, you can use that to your advantage. Tell your customers about how you help others, and you will easily draw attention to your brand.
#8. Create video content
Video content is king. And if you want to boost the effectiveness of your business storytelling, you should create more videos for Instagram. If you craft a share-worthy video story, it will go viral and make people talk about your brand.
Here are a few tips on how to create remarkable video content for Instagram:
Keep your video short and concise. Short-form videos work more effectively on social media.
Use subtitles. Mobile videos are often watched without audio, so it's important to ensure that viewers will understand what your story is all about.
Make sure that the two first seconds of the video are catchy enough to get followers to stop scrolling.
#9. Use Instagram Stories and IGTV
According to statistics, Instagram users tend to check Stories more often than they check the news feed. So when it comes to business storytelling, it's important to create not only ordinary posts but also Instagram Stories.
Using Instagram Stories, you can interact with your followers to boost engagement. For instance, you can use a quiz sticker to entertain your followers or poll sticker to collect the feedback.
If you want to upload a video that is longer than 60 seconds, you should use IGTV. This new video application by Instagram allows you to increase reach and boost the effectiveness of storytelling.
#10. Track your results
To maximize your efforts, you should find out what kind of stories appeal to your target audience the most. You should analyze the statistics to figure out what works for your brand the best: content generated by you, by influencers, or by your happy customers. It will help you to adjust your content strategy in the right way and achieve the goals you set.
Final Thoughts
There are more than 50 billion photos on Instagram. And it is challenging to surprise Instagram users with something new. But if you want your company to succeed, you should try.
You should master the art of business storytelling to make your content stand out. It's the only right way to draw the customers' attention to your brand and to facilitate business growth.
About the Author!
Kristin Savage nourishes, sparks and empowers using the magic of a word. Along with pursuing her degree in Creative Writing, Kristin was gaining experience in the publishing industry, with expertise in marketing strategy for publishers and authors. Now she works as a freelance writer at TrustMyPaper and Studicus, Kristin also some editing work for SupremeDissertations.