10 Clever Ways to Use Your Email Signature to Support Your Marketing Campaigns
Email marketing looks easy. But it isn't.
If you're a seasoned email marketer, we know you're nodding your head as you read this. And if you're only exploring the field, we bet there's a big question mark on your head. We know you're asking: is it, really? All I have to do is write a compelling message. No?
Well, true. That's exactly what you have to do. But that's not all. Writing a compelling message is only an attribute or quality that you've to incorporate in a successful email. It is not the recipe for an impactful email.
Ideally, an email should have a structure divided into three parts. These include:
As evident as it may already be, each of these three parts require that compelling and intriguing factor. And so, you've got to pick your words carefully for each part. It's a complete science, and you can learn more about it in this guide to choosing the right words for emails.
With that said, here in this post, we will provide you with an in-depth insight into making the most of your footer, which comprises the heart of your email, i.e., the email signature.
We'll reveal ten tried and tested formulas that are sure to inspire action. But again, you cannot use them effectively until you have a clear idea of what an email signature is.
So, let's begin with the basics.
What is an email signature?
By definition, an email signature is synonymous with the footer of your email. Primarily, it delivers the contact information to your recipient. Most email marketers consider the following as essential components of any email signature:
Name
Company
Position
Company logo/Your picture or avatar
Phone number or address
When the idea of an email signature first originated, it served the purpose of revealing your contact information to the recipient since it's a work email. It makes communication more reliable and professional.
However, with time, email marketers have enhanced this section of the email for marketing purposes. They came up with unique and innovative ways to inspire action from your audience.
Today, email signatures aim to kill two birds with one stone, i.e., delivering your contact information and marketing your business (generating leads).
How so – we'll demonstrate in the next section. You'll be reading about ten diverse and super impactful approaches to craft an email signature that supports your marketing campaigns along with some email signature examples!
Note that when we mention the term email signature examples, we do not refer to the type of impression that your email signature casts. For example, these email signature examples are all about the overall look that the footer of your email gives. It could be modern, professional, elegant, creative, etc.
But here in this post, we'll share email signature examples according to the different purposes they deliver. They'll differ not only in terms of composition but also in terms of the action they inspire.
Let's evaluate these to get a better understanding.
#1. Invite them to the website
You need people to visit your website to know who you are and what you can do for them. A 250-word email may not fully convey your usefulness to them, and you cannot land in their inbox with the information they never asked for (i.e., who you are).
So, an intelligent approach to address this is to send them an email, speaking of their interests and concerns and incorporating the link to your website with the email signature. Check out this example, for instance:

Now, remember, no one will click on the link unless you provide them a reason to do so. For example, if you're crafting an email with an email signature similar to the image, inform your recipient about an ongoing discount on your consultancy services.
Or mention one of your creative ideas that recently went viral, and they can check it out on your website. This approach works best for first-time receivers.
#2. Personalize & get connected on socials
These days almost every email signature contains a link to socials. And although it's great to provide as much accessibility to your existing or potential clientele, it renders your efforts useless if you pointlessly include them.
Now, what do we mean by that? Well, if your intent isn't to acquaint them with the recent activity of your business or to have them follow you, it's pointless to include it. It overcrowds your email signature. Consider the same example:
You have the link to your website's homepage.
You have the link to your socials.
You have your email as well as your phone number.
Altogether, you have four call-to-actions, and your email body will most likely support only one. Your reader will end up taking no action at all. It may lead them to check these out later. And they may never return to the mail.
So, it's best to opt for only 1-2 connecting links since your socials will already have 2-3 redirecting links. It's best to get connected on LinkedIn and Instagram by the rule of thumb. But you can also include Twitter, Pinterest, or any other known social platform if it's relevant to your field.
#3. Let them know they're missing out on a big event without spelling it out!
If you tell your audience that you're hosting an event (be it a conference, webinar, or anything else), it's effective to include something like this:

In case your reader lost interest by the time you signed off or if he only skimmed your email, including this reminder will keep your email from going down the drain.
If you make this graphic a bit more compelling by including how many people or what influential figures will be attending the event, you can make it more compelling. Be a bit more creative with the button. You can go for "Register Now" or "Sign up for Free."
#4. Offer a quick blog-read
When you've to generate more traffic to your blog, you should sum up your latest blog and offer the gist in the email. But don't give it all away. Craft the email in a way that delivers loads of information, but it holds back an essential piece of information.
Encourage them to find this missing puzzle in the original blog post. You can link this in the email body. And for a reminder, link it in your email signature as well. The link to a blog post is very much similar to your website's link.
#5. Include a Free Book
Everyone welcomes freebies. You know that, right? Well, if you did not, check out how Elise Darma got 53837 leads into her email list using freebies only.
Cool. No?
Well, you can do the same – apply the strategy. But of course, we're here to tell you how to do it cleverly.
Study this image first: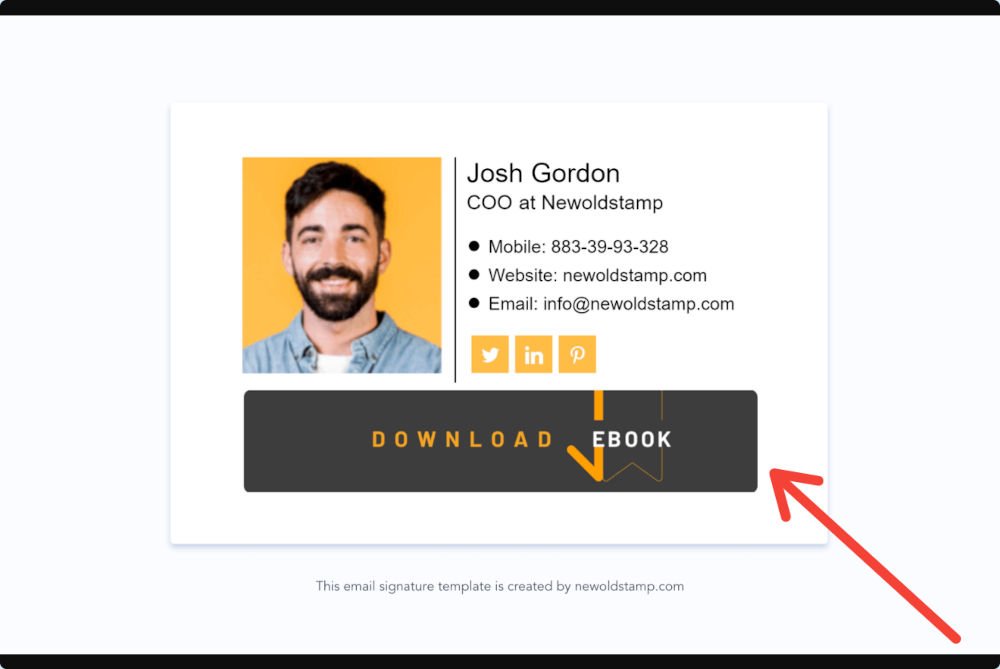 Now, focus on the copy for the button to make it more impactful. Don't tell to just go with "Download eBook" here. Instead, create urgency. Tell them that the link expires soon or mention the title of your book along with "Download your free copy here."
Another key factor here is the color of your button. Study color psychology and opt for an inviting and relevant color.
#6. Introduce them to a free tool
As we mentioned earlier, everyone loves freebies. And they love it even more if the freebie is ready to use, i.e., it can generate immediate results.
If you happen to be marketing online, this strategy can work best for you. Write an email introducing a new feature in your tool or inform them how your tool can make their life easy. You can also precisely narrate how you are benefitting from the tool and why'd you feel the need to share.
Towards the end of your email body, ask them to try it out. If it's direct, you can include a link to the tool right there. But if you're writing an email indirectly (i.e., it doesn't directly talk about your tool), you can hyperlink it in your email signature with a button.
#7. Refer to a supporting & useful case study
If Elsie Darma's case study had you thinking "Cool – how did she do that?" – we hope you see what we mean when we say case studies are always a subject of interest.
If you're a B2B marketer, you can include the link to your recent research or case study (only if it's beneficial to your audience) in your email signature. It is linked in the same way as an eBook.
The marketing gain you get here is that the reader views you as an authority. It builds your credibility. They may turn to you whenever they need authentic and reliable information.
#8. Link a video
Wordstream says 90 percent of marketing professionals include videos in their marketing campaigns. The Super office reports that including the word video can increase the open rates by six percent.
Well, we think that screams for a video placement in your email signature. Just make sure that the video you include either develops your email and takes your reader further into your marketing funnel or it prompts a subsequent action.
#9. Go for a very specific "Try a Demo"
If you offer services or a tool, you can include a demo button in your email signature. Again, similar to the eBook strategy, be creative with your copy for the button and colors. Also, don't forget to add relevance to the email body.
Here's an example:

#10. Give them the numbers
Numbers seem to have some incredible magic on readers. Whether you include them in subject lines, blog post titles, your email body, or even your email footer – you're likely to get more clicks. Also, note that this tactic usually comes in handy for B2B marketers.
Final Thoughts
So, here's our last exclusive tip for you: Keep it precise & friendly.
Often, email marketers end up crafting email signatures that only push the readers away. They choose dull colors, dull copy, and an overcrowded layout. Of course, their intent is to keep it professional, neat, and super helpful.
But that's where they mess up. You can be both friendly and professional. Plus, it's best to keep your signature super precise. Be very direct. If you want an idea, you can check out these email signature examples.