6 Content Strategies That'll Bring Higher Organic Traffic to Your Business Website
Illustration by Karolina Niedbalo via Dribbble
Content. Traffic. ROI.
These three are the most critical aspects of website performance.
The good news is that they are interdependent.
Quality content helps drive traffic that further attracts quality leads and boosts conversions. That's not all. Content can also help build and cement relationships with customers, opening the doorways to recurring ROI.
No wonder, 70 percent of digital marketers trust content marketing for their success.
So, whether you are an SMB or a multinational giant, creating engaging and well-optimized content should be your priority.
In this post, we have shared six content strategies that will help you create engaging content to reach your target audience and build online credibility.
Top Content Strategies to Boost Your Business Website Traffic
1. Optimize Website Content
The existing content on your website is crucial to building strong online visibility.
With greater visibility, you can gain maximum traction.
So, begin the journey by optimizing your existing website content. Identify the gaps in your content and include all the vital SEO elements. It will help you get a better ranking on search engine results pages.
Here are the simple steps to help you get started with content optimization.
Find the Right Word Counts and Keywords
The word count of your content and its keywords helps Google crawl and gain information about it. But, there is no ideal range for word count.
For instance, some topics may need in-depth research and 2500+ words to address the users' queries. Others may need less than 1000 words to bring home the point.
Both approaches are correct.
Keyword addition to optimizing your content is critical to boosting its visibility in the SERPs.
Every piece of content should include the target keywords in your niche.
Tools like ClickFlow can help identify the SEO-specific gaps in your content. This unique tool analyzes whether the keywords and word count suffice. With detailed insights, creating value-driven content that attracts relevant traffic becomes easy.

Draft Optimized Meta Descriptions
Google doesn't give rankings based on meta descriptions. But that doesn't mean they aren't vital.
A compelling meta description can help the target audience understand your services and products. So, make sure they are crisp, actionable, and relevant to your services and products.
Keeping their length between 50 to 160 characters is a good practice. This tactic will help boost your CTR and generate high traffic.
Identify Top and Worse Ranking Pages
Page rankings define the engagement level of a brand with users.
Pages with top rankings are well-optimized and serve users' queries. A poor ranking states the need for optimization.
Use Google Search Console to identify the performance of your pages. Notice the following screenshot that highlights how GSC analyzes pages' performances.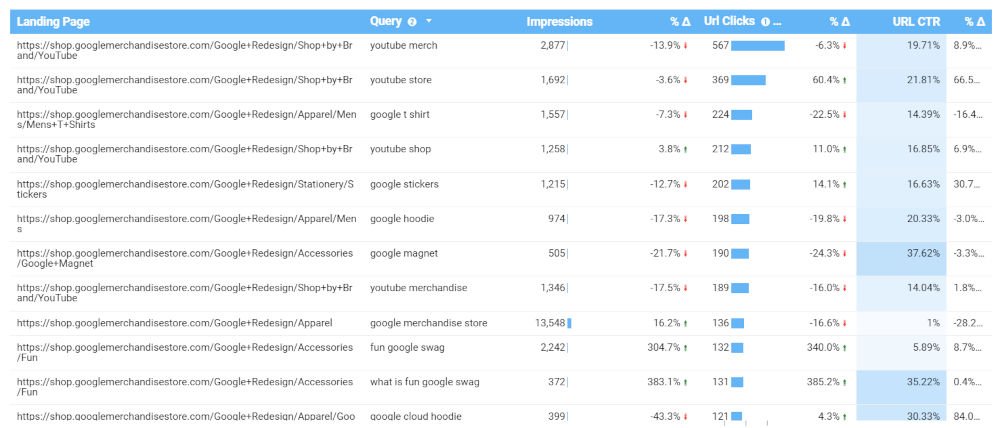 Analyze this data and work on pages with poor optimization.
Cover FAQs to Align with Search Intent
Search intent signifies the purpose of users' online searches.
Creating content that meets the expectations of users can pull in massive traffic.
An easy way to analyze the users' intent is by running a Google search. For instance, notice the following screenshot of a Google search. Observe the "People also ask" section that appears with the Google search.

Adding these questions to your content in the form of FAQs or aligning them in your blogs can boost your traffic.
Repurpose Content
Repurposing or recycling content is one of the best strategies to consider. It involves editing and using the already published content in different forms.
For instance, look at how Ahrefs converted their infographics into a tweet.
This tweet garnered 500+ retweets and 800+ likes.
It's evident how repurposing content saves effort and boosts traffic.
Update Old Content
Updating old content is yet another simple and effective tactic to boost traffic.
It helps the content to perform better in organic searches.
Here's how you can do it:
Choose an old blog, article, or any other content.
Update the heading tag with the current year.
Update meta tags, meta descriptions, and more.
Add FAQs to improve the quality of content.
Add internal blog links.
2. Engage in Guest Posting
Although guest posting isn't new, it surely isn't dead.
It helps brands enhance their reach and reputation in their niche.
Getting guest posts published on authoritative websites creates thought leadership, gaining quality backlinks.
But with the strict and ever-evolving guidelines of Google, guest posting for authoritative websites has become difficult.
For instance, consider the following screenshot. It shows the guest blogging rules of HubSpot.

Observe how they have put forth their guest posting standards. Guest bloggers need to abide by their rules to get their posts published.
Here's are some actionable tips to excel at guest posting and get your content published on authority websites
Research and find authoritative websites for your niche.
Note down the contact information of the publishers.
Brainstorm and find evergreen topics to keep the flow of traffic coming in years to come. Here's a screenshot that shows a study by Backlinko. The results depict that several topics formats have greater chances of becoming evergreen.

Pitch helpful and relevant topics to the publisher.
Follow their guidelines while writing the posts.
Create high-quality posts keeping in mind the SEO aspects. Moreover, ensure your content follows the E-A-T (Expertise, Authoritativeness, and Trustworthiness) guidelines.
The golden rule of success is offering valuable content to the readers.
Don't write to gain only the backlinks. Focus on helping the readers by sharing accurate information that can benefit them.
3. Promote Content on Relevant Social Channels
Almost 4.48 billion of the global population uses social media.
Social media promotion can, thus, get brands massive exposure.
Still, many brands fail at acing the social promotion game due to a lack of solid strategies.
Every social media platform is unique and has a specific set of audiences. There's no one-size-fits-all tactic.
Here's are some quick tips that'll help you leverage the power of social media channels:
Choose the most suitable social media platforms for your brand niche.
For instance, LinkedIn has a community of 800+ million professionals. So, companies in the B2B domain will hugely benefit from posting their content on LinkedIn.

Similarly, B2C and ecommerce companies are better off engaging their audience on visual channels like Instagram and Facebook. Facebook (2.91+ billion users) and Instagram (2 billion users) are ideal for sharing fun, educational, and generic content that's aimed at engaging followers.
Create unique and engaging captions for content promotion.
Add relevant and high-quality blog images, gifs, videos while publishing the post.
Use relevant and trending hashtags for social posts.
Tag the author for boosting the credibility of posts.
Optimize posting frequency timing. Posting once or twice a day should be enough. Speaking of the timings, here's what Hootsuite's study has revealed:

Facebook (Meta) – 8:00 AM to 12:00 PM on Tuesdays and Thursdays.
Instagram – 11:00 AM on Wednesdays.
Twitter – 8:00 AM on Mondays and Thursdays.
LinkedIn – 9:00 AM on Tuesdays and Wednesdays.

These are the best timings and days to help your content reach most target audiences.

Add CTAs to divert traffic to the website.
Here's a screenshot of a famous brand Food52. Observe how they evoke the emotions of cooking enthusiasts by putting a short and compelling CTA.
4. Create and Publish Podcasts
Podcasts have emerged as the hottest marketing channels.
They help brands engage new audiences and generate quality leads. Top brands like Drift and Shopify are reigning by producing unique podcasts.
But publishing podcasts is not an easy task.
Here's the checklist to make your podcasting experience hassle-free.
Look for Influencers or Subject Matter Experts: They are crucial to driving credibility and value. A podcast stands nowhere without a unique value proposition and expertise.
Have the Right Setup: Arranging the appropriate setup for recording the podcast is necessary. For this, you will need technical gadgets like laptops, headphones, microphones, audio interfaces, and more.
Invite Speakers: Research and find speakers that hold expertise in your niche. Reach out to industry experts via telephone or email. Request them to be a part of the conversation. Ensure their brand gets ample exposure by being a part of your podcast. The deal should offer mutual benefits.
Provide Quality Content to Target Audience: Ensure your podcasts speak of something unique every single time. Maintaining quality will help you build a loyal audience base in the long run.
An easy way to find topic ideas for your podcasts is through Google search!
For instance, notice the following screenshot that shows results for "top content marketing podcasts" on Google.

See the tons of ideas we got.
So, use Google to get started with podcast topic ideas. Refer to what your competitors are doing. Competitor research can also help you gain an edge.
Alternatively, you can engage in social listening to understand what your audiences are looking for. Quora is a great platform to determine trending queries and topics in a specific field.
Once you decide the topics and lock the speakers, share the news on social media platforms. Tag the guests in the social posts. Attach relevant blogs and website links in the caption to attract traffic to your website.
Publishing the podcasts in written format will further boost your effort.
5. Leverage the Power of Video Marketing
According to a survey by Biteable:
Around 74 percent of marketers agree that video marketing brings a high return on investment.
Nearly 49 percent experienced a better engagement rate.
Over 50 percent say videos can be effective for building trust among prospects.
What's more?
Video marketing proved to be the best content strategy for digital marketers in 2021.
This trend is not going anywhere soon.
No wonder, digital marketers are aggressively focusing on video marketing.
As a marketer or business owner, it's high time you invest in video marketing. This strategy will help you gain high traffic in no time.
Here's are a few video marketing tips for you to consider
Tip #1. Use Keywords:
Perform keyword research as it helps your video rank better in search results.
For instance, if you want to create a video for YouTube, try using its autocomplete feature. It offers relevant suggestions for videos.
Here's a screenshot of a YouTube search that will help you understand how it works.
Tip #2. Focus on Engagement:
Create engaging videos by keeping users' search intent in mind. Add a relevant and eye-grabbing caption for the video with trending hashtags.
Tip #3. Publish on Top Social Media Channels:
Share the videos across leading channels like YouTube, Instagram, TikTok, and more.
If creating new content for every video seems daunting, reuse old blog content to make videos.
6. Inject User Feedback into Your Content
Customers' data analysis tools help brands gain insights into their expectations.
But getting direct answers from customers can give more clarity.
Brands can ask for and record feedback on their websites, services, and products to their users.
The result?
It will help them build a better website experience, enhance customer satisfaction, boost engagement, and attract traffic.
The top ways to collect user feedback include
1. Surveys:
Decide your purpose and create simple-to-understand surveys that ask relevant questions to users.
Here's a screenshot of a survey by Shopify. Notice how they request users to share their valuable feedback.

2. Feedback Forms:
Create feedback forms that encourage users to share constructive inputs.
3. Emails:
Send emails asking for feedback on website improvement. Here's a screenshot of the feedback email by Airbnb.
Observe the subtle approach of Airbnb. They have even mentioned that it would take only 3 minutes to complete the feedback process.
4. Usability Tests:
Perform A/B testing to know what the users want. For instance, create two versions of website content. Try sharing them with a group of people that fall into your target audience category. Use their feedback to come up with something compelling.
Final Words
There's plenty of content out there on the web.
But not every content can pull quality and relevant users to your website.
Creating quality content that builds a successful organic traffic pipeline needs effective strategies. Implementing the shared tactics will help create value-driven content and achieve your goals.
So, go ahead and drive high traffic to your website!
About the Author!
Aanya Rachel is the Content Manager at The Address, a coworking space in Ahmedabad, Gujarat. She is passionate about sharing her knowledge, experience, and extensive research in this field. She writes on a wide range of topics related to coworking, the growth of remote workers, startups, and real estate.