There is no denying that the pandemic changed the nature of business events. Event marketing has gone digital, and one thing is for sure: virtual events aren't going anywhere any time soon.
However, some businesses are starting to dip their toe back into in-person event marketing, usually combining it with online events.

But no matter if businesses take the in-person, virtual, or hybrid approach for their events, the most effective way to promote them is through email marketing.
Why Are Emails Essential For Event Marketing?
With the plethora of digital marketing channels, it's only natural to get confused about which one to choose for your event marketing. So, you may ask why emails.
Email marketing is the most effective way to get the word out about upcoming events. Even more importantly, event marketing requires a holistic approach since it isn't about just sending out invitations.
Most brands make the mistake of limiting themselves in announcing their events. Best-case scenario, they'll send a reminder email a few days before. But this tactic is leaving money on the table.
That's because email service providers like CovertKit and the top ConvertKit alternatives offer countless opportunities for you to explore, and it would be a waste to ignore them. For instance, you could use the power of emails to:
Start early with early-bird tickets
Share exciting teaser videos
Combine invitations with exclusive offers
Include giveaway contests
Present the event hosts and showcase their expertise
Send reminders with countdown timers
Encourage recipients to share your event
Engage readers with follow-up emails
Ask your attendees for feedback through post-event surveys
Tease them about future events
As you can see, emails offer you the opportunity to engage your audience from start to finish while gathering insights on improving your event marketing.
Through a solid event email marketing strategy, you increase your email open and click-through rate while driving conversions.
In this guide, we share the most powerful event email marketing tips to help you unravel the full potential of event email marketing.
Event Email Marketing: 6 Best Practices to Build the Perfect Campaign
Certain factors may affect your event marketing efforts, from the budget at your disposal to the right time to host your event. And here comes the unpredictable factor: the attendees.
Fear not, though, since this article guides you through every step of creating the perfect event email campaign to give your attendees an experience they will remember for years to come.
1. Identify and segment your target audience
As with all marketing activities, you should identify your target audience before anything else. Who are you hosting your event for? Is there a specific demographic you need to target? Do you care for high-qualified attendees such as industry professionals, or do you want to reach a wider audience?
Before moving on with the email creation, you should know who you are writing to and what their specific needs are. That's the only way to focus your email message on the benefits that resonate with your subscribers.
That's not enough, though. You must also segment your email list and tweak your content to create tailored emails based on recipients' demographics, motivations, and levels of engagement.
For instance, new leads that haven't engaged with your brand will probably respond well to an email containing testimonial videos from past events. Sending relevant material shows you have done your research and increases each segment's engagement.
2. Create Eye-catching Email Subject Lines
Think of your email subject line as a book cover. Would anyone open a book whose cover is dull? We all know the answer to that.
Your recipients are tired of generic subject lines focusing on selling and could mark your email as spam just by seeing such a subject line.

Creating eye-catching email subject lines gets frustrating, especially if you want to dispatch different emails throughout your event promotion.
Here are some tried and tested strategies to write compelling subject lines for your event email campaigns:
Include relevant keywords so that recipients know beforehand what they will read. That way, your event email will stand out from promotional emails that go after the sale.
Capitalize on FOMO (Fear Of Missing Out). When individuals think they are being left out, they are prompted to take action immediately. Use phrasing that generates urgency, like "Last seats left", "X days/hours left to register", "Last chance to attend", etc. FOMO-driven subject lines make recipients open the email as soon as possible.
Use questions to grab readers' attention and have them think about the answer. Customers remember brands and marketing messages that got them wondering. Open-ended questions are even more likely to pique their interest, urging them to learn everything about your event.
Make them short, actionable, and value-packed. Short and helpful email subject lines have proven to bring better open rates. Your subscribers are busy people that want to read the bare minimum and earn value from doing so. Get to the point and leverage actionable words that clearly show how your event can be of value to them.
3. Tease enough to create excitement, but don't give up everything
Building excitement as days go by is crucial to succeeding in event email marketing. You want to share basic details about your event right from the start, such as the registration deadline, the location and date, or the speakers.
However, there is a mistake most event marketers make that you should avoid at all costs – and that's giving up everything at once.
Let's face it, no one wants to attend an event they know everything about beforehand. Your event email campaign should contain enough information to intrigue your audience.
But you should save the best for later to boost your event attendance and generate excitement. Keep some of the event magic to yourself and trickle out more information as the date gets closer.
When it approaches, tease them through short videos with relevant content, such as keynote speakers giving hints.
Email subject line: Maria, we're hosting a live event to celebrate Shakespeare!


This email from Harvey & Sons Fine Teas ticks all the boxes of a successful event email campaign. It shares all relevant information about when and where, introduces the host, and ends with a straightforward CTA that directs recipients to the event landing page.
The email subject line is simple, to the point, and attention-grabbing. After all, the name Shakespeare is reason enough for most tea lovers to open such an event email.
4. Opt for an interactive but clean email design
We have already discussed relevant and compelling email content. But what about email design? Event email marketing is about delivering an enhanced user experience rather than just delivering email content.
Adding interactive elements to your email design makes your emails more visually appealing while increasing engagement. Use interactive components like images, GIFs, videos, or exciting countdown timers.
Remember that there is a fine line between creating engaging emails and overdoing it, though. Clarity and simplicity are top priorities when designing your event emails.
Don't add too many elements, as this will make your message hard to read. Subscribers prefer an email that is clear and simple so they can figure out what your event is about and what action to take if they want in.
It's equally essential to include a strategically placed, bold, and straightforward CTA, which recipients won't have trouble finding and clicking.
5. Encourage registrants to share your event details
While emails set the grounds for your event promotion, combining event email marketing with social media could skyrocket your conversions.
One of the benefits of social media is that they can increase your event visibility. By including social media sharing links or buttons in your email footer, you get more chances of reaching a wider audience.
When your subscribers receive consistent messages about your event from different channels, you have multiple touchpoints to increase event awareness. Not only that, but you come off as a credible brand with a strong digital presence.
So, turn your attendees into your most trusted advertisers by encouraging them to share your event with their social media connections. Just make sure you don't overwhelm them or sound pushy.
Post-event Email Marketing Tips
A common mistake event marketers make is to think their work is done after the event comes to an end. Your event might be over, but your event email marketing shouldn't be.
So, let's see some post-event email marketing tips you should follow to engage your audience down the line.
Send a follow-up email campaign
Don't forget that an event isn't really one without attendees, so now is the time to thank them for joining. Trust us when we say that leads hate it when you forget all about them after your event – or any promotion, for that matter.
So, craft a compelling follow-up email to show your appreciation for their time. Ensure your follow-up email subject line is relevant and precise so that readers know why you are reaching out to them.
Offer attendees-only perks
Take your appreciation to a whole new level by offering event-related perks that only attendees can access. It could be behind-the-scenes material, funny video bloopers, downloadable guides, or a small branded gift.
And if your next event is just around the corner, consider giving exclusive discounts for early-bird registrations or teasers to warm them up.
Email subject line: Here's your treat!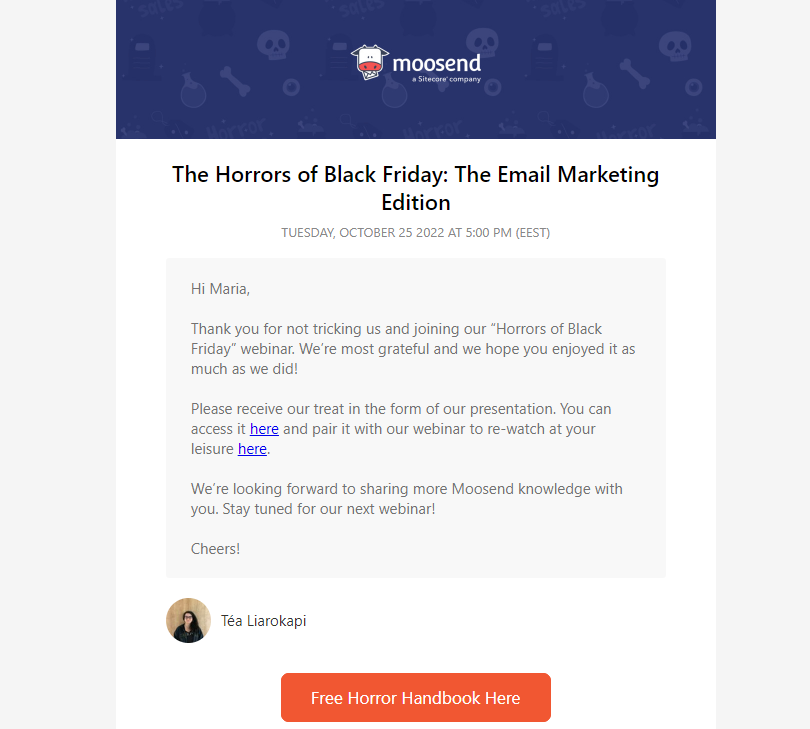 This webinar follow-up email from Moosend hits a soft spot from the subject line. Who doesn't love a post-event treat? The brand does more than thank attendees, offering an exclusive treat: the webinar presentation with visually appealing slides and helpful content.
The email copy is clever and full of Black Friday magic. Also, recipients can tell this isn't another generic email since it's signed by one of the hosts, adding a human touch to the message.
Ask participants for feedback
Event follow-up emails aren't just about thanking participants. They also offer an excellent opportunity to ask them for feedback. Create an email survey and include it in your email copy to gather insights about your event.
You may even ask for their ideas and preferences for future events. Soliciting this type of feedback engages them even after the event is over. Not only that, but it also makes them feel their opinion matters, building brand loyalty.
Monitor event performance
Attendees' feedback gives you valuable data on what works and what doesn't. Another critical factor in improving future events is keeping track of your event statistics.
By monitoring your event performance and key metrics, you have a clearer picture of what elements need to be optimized. The better you monitor your event performance, the better your chances of achieving excellent results in future event planning efforts.
Final Words
Email marketing is a must-have ingredient in successfully promoting your event. Event email campaigns are the most personal and fastest way for event marketers to get the best results possible.
The more effort you put into your event emails, the more you increase attendance and engagement. You are responsible for planning it carefully, considering all the essential aspects.
But we are responsible for helping with the execution part. This guide provides you with all the tips to run targeted event email campaigns.
Remember that your event email marketing goes beyond sending invitations, reminders, or event details, and take the time to engage attendees even after hosting a successful event.
Implement the above practices, but keep analyzing and optimizing your event emails to create memorable customer experiences.
About the Author!
Maria Fintanidou works as a Content Writer for email marketing automation software Moosend, having created the Help Articles (FAQs) and overseen the platform's translations in Greek and Spanish. She loves exploring new cultures and ways of thinking through traveling, reading, and language learning.