A resource page is a section of your website focusing on a specific topic and adding links to content expounding on the subject. You can link exclusively to your material, or you can offer ideas for related businesses.
Communicate with like-minded companies in your industry and find opportunities to collaborate and cross-link, increasing traffic and brand awareness. Resource pages where you recommend each other's businesses can also help build backlinks and expand your customer base.
There are approximately 3.5 billion searches on Google every day, or about 40,000 queries per second. Figuring out how to get some of that traffic to your site requires foresight and SEO savvy. You must understand your target audience's needs and how to meet them. A resource page lets you showcase your best content.
When you narrow the focus down to a pillar topic, it is much easier to compile all the data you have and share it with customers. Your site's customer experience will significantly improve when you create resource pages around a few central subjects.
8 Elements of Exelent Resource Page
Here are eight elements of an excellent resource page and how to implement the feature on your website.
#1. Look at Typical Questions
When building a cornerstone page, the best place to start is with typical customer questions. You can search through customer service logs, survey your buyers and seek information from search engines. What problems did you encounter when you initially started your business?
You can also dig a bit deeper to find related topics. For example, if potential customers often ask which size of your product to buy, create a page titled "What size product do I need?" Then, plug the search term into Google and other search engines. See what results pop up, and pay particular attention to the People Also Ask section for a clue about similar questions.
Your website analytics offer clues to why people visit your site. Look at where they come from and the most popular pages on your site. If you have a search feature, see what terms people type into it.

Qualtrics offers a resources section. You can filter the information by topics, such as customer experience. Included in the results are various studies, blog posts and e-books. By allowing the user to narrow search results, the resource page becomes highly useful for finding specific information.
#2. Include a Great Headline
Take special care in crafting your page titles. When someone searches for your topic, they see your headline on the search engine results page. You have a few seconds to make an impression as they scroll through the options.
Does your headline state what your resource page covers? Is it a bit different than the others, so it stands out? Try to include the keyword search in the page titles if possible, so the user knows you plan to solve their pain point.
#3. Choose a Few Pillars
Every business owner can name a few common questions their customers ask again and again. If you run a beauty salon, you may get questions about treating damaged hair, the best cut for different face shapes and how to reverse a bad dye job. Consider the top four or five questions you routinely get, and address those on your resource page or pages.
Once you have some topics in mind, do the search engine research described above. Think about people's natural language patterns. How do they bring up the subject? How might they word their question?
For example, instead of typing "best cut for different face shapes," the user is more likely to ask, "What is the best cut for my face shape?" or "What is the best cut for an oval face?" Once you enter those terms, see what search engine results you get and other questions people asked. Include these on your resource page and answer them with your content.
Chase Filters & Components does an excellent job of figuring out the primary topics their audience cares about. They offer four categories, including "Cleaning," "Marketing," "Oxygen" and "Training." Under each subcategory on their resources page, they link to documents to help answer people's primary questions. By meeting their users' needs, their resource page becomes extremely helpful to their audience.
#4. Answer the Why
Why does the content you share matter to your customers? Use your subheadings as a unique value proposition and explain to users why they should care about your resource pages' content. Why does this matter to them? How can the information help them? What problem does it solve?
Although it's tempting to use cutesy phrases and establish a unique theme for your pages, it is much better to keep language straightforward. Don't leave any room for confusion. Instead, show visitors what they get if they click on a link, so they know whether the content is the answer to their problem.
#5. Create Landing Page Content
When someone lands on one of your resource pages, you need to grab their attention. Don't include irrelevant or insignificant links. What was your methodology in choosing the pillar topic? How did you sort through the options to bring the user these links versus any other available choice? The site visitor should feel confident these are the absolute best assets on the subject.

Serious Eats knows they get many amateur cooks on their pages. By starting a How-To pillar page, they can break instructions into fundamental subtopics, such as cooking techniques, ingredient guides, equipment, kitchen tips and entertaining. These five topics cover almost anything a budding chef needs to know to create a delightful meal. The resources page links to blog posts and videos on each topic.
#6. Include Filtering
Whether you focus on one idea for each pillar page or include many subcategories, look for ways to let the user filter through the content. Put yourself in the shoes of the average person browsing on your site. People are busy. They don't have time to waste poking around for the exact answer they need. Make it easier for them to find a specific topic.
Filtering can occur through your navigational hierarchy as you add subcategories and sub-subcategories. You could also add a helpful filter picking up on keywords and tags in your content.
#7. Add Images
While you can create a text-only resource page, this style has a dated feel. Today's resource pages should include images and rich content, so the user sees what they are getting before clicking on it. People process images faster than text, so having a mix of both creates a great customer experience.
Many resource pages use a grid-style layout, featuring the main image from a post or video and the title and a short description of the topic. One without the other is more challenging for users to process.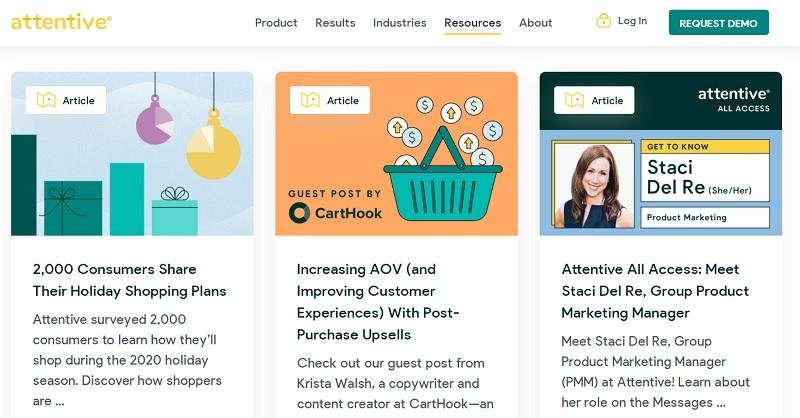 Attentive offers text messaging resources for businesses of all sizes. They have content on their resources page broken into different categories, such as articles, guides, webinars and FAQs. Note how they mark the resource type in the grid box for each topic. They then include a relevant image, the headline and some descriptive text to showcase what the user might learn by looking at this piece.
#8. Vary Types of Content
Your resource pages should be rich and unique. Instead of only publishing blog post-style articles, try to offer help documents and a knowledge hub with various types of content. Include a video, add a white paper, make an in-depth guide and host a webinar.
Look for experts you can bring in for additional input. If you have technicians working in the field, they may have ideas for helping customers even more. They deal directly with your audience every day. They understand people's issues and questions, and can readily answer with knowledgeable advice.
Use a Follow-Up Strategy
Creating resource pages drives traffic to your site, and makes you a go-to resource for users. Do your best to offer valuable content in exchange for someone's email. Once you have their contact information, you can send them follow-up messages. Inquire whether they have any more questions on the topic. Wrap up by offering to meet specific needs with your products and services.
Excellent content, combined with an intense follow-up plan, helps turn site visitors into potential customers. The more leads you gather, the more your business grows. Use your resource page as a tool to help others, while also marketing your business to them.
About the Author!
Lexie is a digital nomad and graphic designer. If she's not traveling to various parts of the country, you can find her at the local flea markets or hiking with her goldendoodle. Check out her design blog, Design Roast, and connect with her on Twitter @lexieludesigner.