Is Your Web Development Company Ready to Welcome Employees and Visitors Back?
Illustration by 👑 UIGO Design via Dribbble
Many government authorities are gradually opening up economies and industries that were put on pause over the last several months. In many cases, that means people are going back to physical offices after spending months away from them. The return to the office means an adjustment for all workers.
The nature of web development work means many professionals in that industry likely had an easier time than most when adapting to remote work. Whether they'll adapt back to the office as smoothly remains to be seen.
Now that you're ready to welcome them back on-site, here are some proactive things you can do to help them stay safe and productive, while easing the transition.
Follow Best Practices for Cleaning
Keeping your web development office clean is an excellent way to minimize the spread of any contagious disease. Public health guidance suggests that once-daily workplace cleaning is usually sufficient. Updated guidelines suggest the chances of catching COVID-19 from surfaces is slim.
However, there are other bugs still out there that may spread from contact, so it's still a good idea to keep everyone healthy by cleaning daily. Similarly, frequently shared surfaces, such as mice, keyboards, landline phones, and microwave keypads, could benefit from more frequent cleanings.

Since web developers rely on computers and tablets to get stuff done, it's essential to choose cleaning products that are safe for those items. Always read cleaning product labels and follow the associated instructions for the best results. Make sure whatever you choose has the right ingredients to kill coronaviruses.
Ensure Your Developers Have the Tools They Need to Succeed
Web developers have found themselves in especially heavy demand recently. Business owners quickly realized that creating an online presence could help them stay profitable, even with some physical locations closed.
Isolated at home, many people turned to apps to keep them on top of everything from banking to ordering groceries. Many common apps got new features and other brands started apps for the first time. With so much demand for app development, make sure your workers are up to par with frameworks and current trends.
As you prepare to bring your development team back into the office, make sure they have the tools and resources necessary to capitalize on the continued demand for online infrastructure. A recent study found that 40% of IT decision-makers had challenges related to giving developers the appropriate technology.
Another finding from the study showed 49% of those polled said their development teams had too many responsibilities and not enough time to accomplish them.
A possible solution is to ask developers what tasks take them the most time or are most prone to errors. Then explore whether automation or specialized tools could reduce those obstacles.
Make a list of the challenges your workers feel they'll face by returning to the office and strive to find proactive solutions before they return to full-time in your facility. You should also be understanding that some people love working from home and have no desire to return to the office.
Be prepared to offer flexibility, such as hybrid work schedules. Let those who want to come into the office for some things and work from home for others.
Understand the Link Between Room Acoustics and Productivity
Succeeding in web development typically requires ongoing concentration. A seemingly minor mistake in a line of code could break a site feature or mean something doesn't load as it should.
Some of your developers will probably feel a bit frazzled when they first return to the office, especially if they haven't worked around others for months.
You can help them stay focused by improving the room's acoustics. One option is to install soft panels that absorb sounds rather than reflecting them. That option works well for rooms that have too much echo or reverberation.
Alternatively, you may choose to soundproof the room where your developers spend the most time. That involves putting layers in the walls to separate the sound originating from inside and outside a room.
In short, it stops exterior noises from getting inside. Your developers will appreciate that you took steps to give them an environment that helps them work at their best.
Even small policy changes, such as allowing developers to wear sound canceling headphones can help people stay on task in a busy office environment.
The corporate world is moving away from open office space, but many facilities are still set up without walls. Creative solutions to reduce noise might be vital to getting through until more private spaces can be added.
Change the Office Layout to Support Social Distancing
As workplaces worldwide get used again, the people who run them will need to look at them with new perspectives. Organizations typically encourage collaboration and often have numerous people sharing relatively small spaces.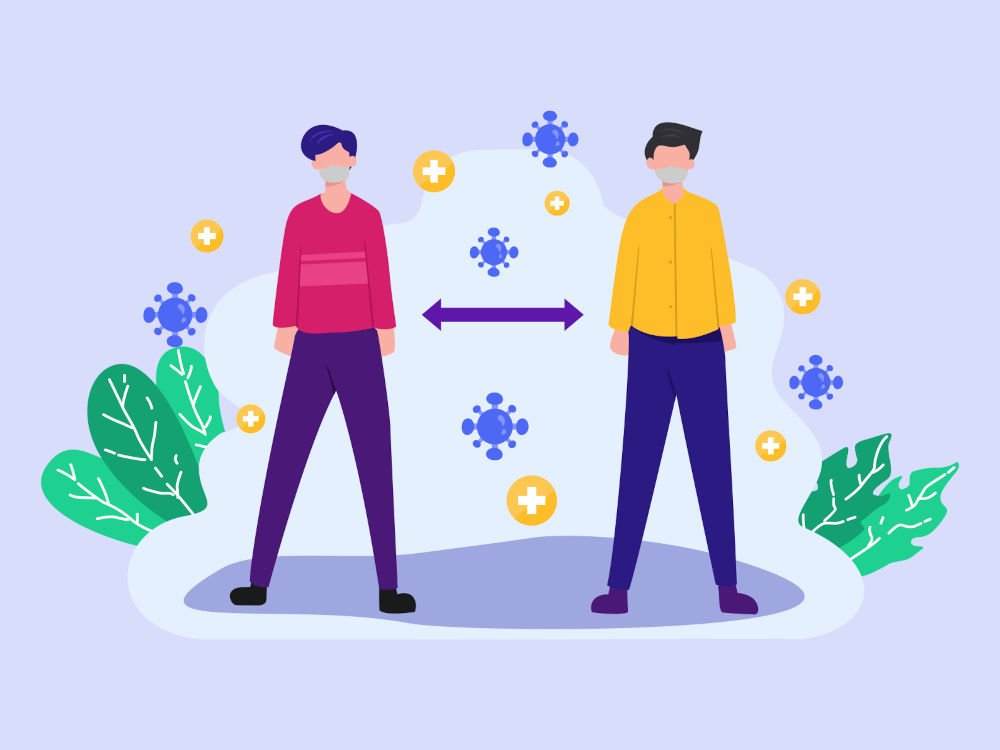 Developers can still work together in any landscape, even if they don't necessarily do it face-to-face. Start by shifting the office layout so everyone can practice responsible distancing. That may mean putting desks farther apart or removing chairs to keep people spaced out within a room.
Next, look at areas of your office where gathering might naturally happen, such as around the watercooler or time clock. Post reminders to maintain social distancing and do what you can to avoid making people come too close to each other. For example, moving furniture could help improve the traffic flow.
Consider a Ventilation Upgrade
A growing body of research suggests that fresh air is crucial in fighting communicable diseases. Germans use a specific word to refer to the practice of letting fresh air indoors — "Lüften."
Since your developers will likely spend all or most of their time indoors, now could be the ideal time to either purchase a better ventilation system or change how the one at your office functions.
Researchers at the University of Cambridge found that mask usage slows the momentum of exhaled droplets, reducing the spread of some of the deadliest illnesses.
However, they also suggested keeping more windows open. Understandably, it may not be easy to keep windows open and maintain comfort in the winter. Let your workers get outside and get some fresh air, not only to prevent the spread of disease but to center themselves for the rest of their work day.
If your office is in an area that gets cold in the winter, the next-best option is to prioritize displacement ventilation.
This involves using vents at the top and bottom of a room, creating a cooler lower zone and a warmer upper one. Warm air gets extracted through the top part of a room, along with people's breath, since it's also warm.
The researchers concluded that such setups could help exhaled droplets leave the room rather than causing cross-contamination.
Survey Your Customers
Are your customers comfortable coming into an office space for meetings? What works for your employees, who know one another and work together frequently, may not work for your clients. Each person has their own set of fears and health issues. Some may be reluctant to return to an office setting.

Find out what your customers need to feel okay coming in for a meeting. Should you have a straight path to an isolated meeting room? When meeting with clients, would they feel better if you all wore masks or do they prefer you don't? The only way to know what your buyers need is by talking to them and finding out.
Implement what makes sense for your brand and offer other alternatives if things seem too restrictive. For example, a team leader could meet with the client one-on-one in the comfort of that person's space. Or, you could offer a virtual meeting rather than a face-to-face one.
Keep an Eye on Numbers
The COVID-19 daily infection and death rate goes up and down as new variants emerge. The hope is that with time, it will continue to weaken and lesson.
However, you should keep an eye on the numbers and recent research, so you are informed enough to share data with your employees and make the difficult decisions to keep them safe.
Coding requires focus. For many developers, if they don't feel safe, it's impossible to spend hours pouring over a programming language and fixing errors. While some fears may be unfounded, others make sense to those who have them.
Know the facts, so you can share them with your employees. If you'd like, hold a daily scrum meeting and remind them you're keeping an eye on the data and making decisions to keep your talented staff safe.
Don't hesitate to scale things back and return to remote work if you feel the numbers rise at any point, a number of your employees grow ill or your workers just demand it. The highly skilled nature of web development employees means you want to keep your people happy.
Offering remote work, whether you want to or not, may be the difference between keeping a long-time worker and losing them to a competitor company that's gone fully remote.
Prioritize Safety as People Return
Besides following these specific tips, one of the best things you can do is show the workforce that you're doing everything possible to keep them safe and healthy
When developers see that you care about their well-being, they'll feel more eager and well-equipped to return to an in-person work environment.
About the Author!
Eleanor Hecks is editor-in-chief at Designerly Magazine. Eleanor was the creative director and occasional blog writer at a prominent digital marketing agency before becoming her own boss in 2018. She lives in Philadelphia with her husband and dog, Bear.