How many times have you heard, the customer is king?
Probably innumerable times!!!!
And why is it so?
As without customers, your business cannot earn revenue, make sales, and gain a stronghold in the market.
The current business world, needs companies that understand the requirements of their targeted customers and accordingly develop products to satisfy them. Organizations have to implement a customer-centric approach to sustain in the market.
When it comes to satisfying your existing customer, then the below adage fits the context:
'A bird in the hand is worth two in the bush'
You should reach out to your existing customer at the right time.

As per SEOHosting, it costs 5x more to attract a new customer than retaining the existing one.
A satisfied customer can further become a loyal customer. There is a significant benefit of having a loyal customer. With years of experience using your brand, they might become your brand advocates.
So, who is a brand advocate?
Most of the brand advocates are the existing customers who have been using your service or product and are happy with it. They promote it on social media sites or recommend it to their friends or relatives with personal experience.
So, isn't it, along with having a loyal customer, you are receiving a free advertising service?
You have to focus on converting your customers into brand advocates, that can give you an edge over competitors.
There are some simple ways through which you can improve customer satisfaction:
#1. Effectively listening to your customer
Many a time, customers subtly provide information about their needs, which you might overlook due to many reasons. As a marketer, talk to them, and when they speak, listen carefully as you might get a hint of their needs.
HundredX, an organization, that provides feedback and listening software, stated that as per a survey in which 500 clients were respondents, found that 94% of these clients believed in this statement, "Listening to customer's feedback is crucial for the bottom line.
You can even turn angry customers into brand advocates if effectively tackled.
#2. Providing the service as promised
When you do not provide the service as per your promotional messages, then customers are bound to get dissatisfied. As a marketer, practice ethical and honest practices to win the trust of your customer.
Provide the service which you promised when they approached you. Always craft the right marketing content and implement the right practice, which does not exaggerate the positive benefits of the product or service. This will give the right message to the customer.
Avoid false promises at any cost as the final result can be disastrous, leading to negative feedback of your service on different social media platforms. Think about the long-term benefits, not the short-term gains.
So, make a genuine effort and honest practice while promoting your service.
#3. Actively conversing with customers
Actively conversing does not mean that you only need to have a useful business conversation with your customers. It also means reaching out to them when they face any issue related to your service or product.
Reach out to them when they really need you, it helps to win their trust.
#4. Improving the response time
Patience is the key to nurture any relationship. You should have ample patience to help your customers in distress. There are scenarios where customers need your service to meet their professional deadlines.
If your service can help them to meet their deadline, you should respond at the earliest. This will not only help in improving customer satisfaction but also boost brand loyalty.
As per a SuperOffice report, 62% of the companies are known for not replying back to customer's emails. This should be avoided as it can only lead to customer dissatisfaction.
To meet the growing demand of customer queries, chatbots can be integrated into your customer service process so that the customers who have basic queries or issues and need service immediately can converse with the AI bots for the effective resolution.
#5. Providing multichannel support
With the introduction of many channels for communicating with the customer, it has become easy for marketers to have a good relationship with their customers. Platforms like social media, email,chat are some of the ways through which you can communicate with your customers efficiently.
You have to find out on which social media platform, your customers are most active, accordingly, you can plan the right approach to connect with them.
#6. Lowering the customer effort
You have to follow a strategy where you lower the effort of your customer in completely understanding and implementing your service. Most of the customers, have a tough time after purchasing a new product as they are not aware of its functions. In such cases, along with a user guide, you should be ready with a set of answers to the common queries which you think will be asked by many of the customers.
When you are prepared with the right answer, it will automatically lead to customer satisfaction.
#7. Using personalization technique
Personalization will never be out of fashion. You would have learned from your experience every customer is different, and you need to approach them with a unique message developed only for them. When you implement the right technique that gives your customer a positive vibe, then half of your job is done.
As per a statement by Marcus Buckingham, a British consultant:

Discover what is unique about each person and capitalize on it
#8. Measuring customer satisfaction

Have you ever thought of measuring the satisfaction level of your customers?
It might sound funny, but there are different types of a satisfied customer. You would be surprised, but there are some customers who would not be completely satisfied with your service but instead of complaining they just plan to move on to some other product or service.
To know how satisfied the customer is you have to conduct the survey, and for such customers, you can put questions as:
Are you satisfied with our service?
Very satisfied
Satisfied
Unsatisfied
Neutral
Very unsatisfied
This survey can help to capture the response of such customers and reach out to them to understand what went wrong. The first two options are the only indicators of a satisfied customer, with a second option indicating scope for improvement.
Just check the below example: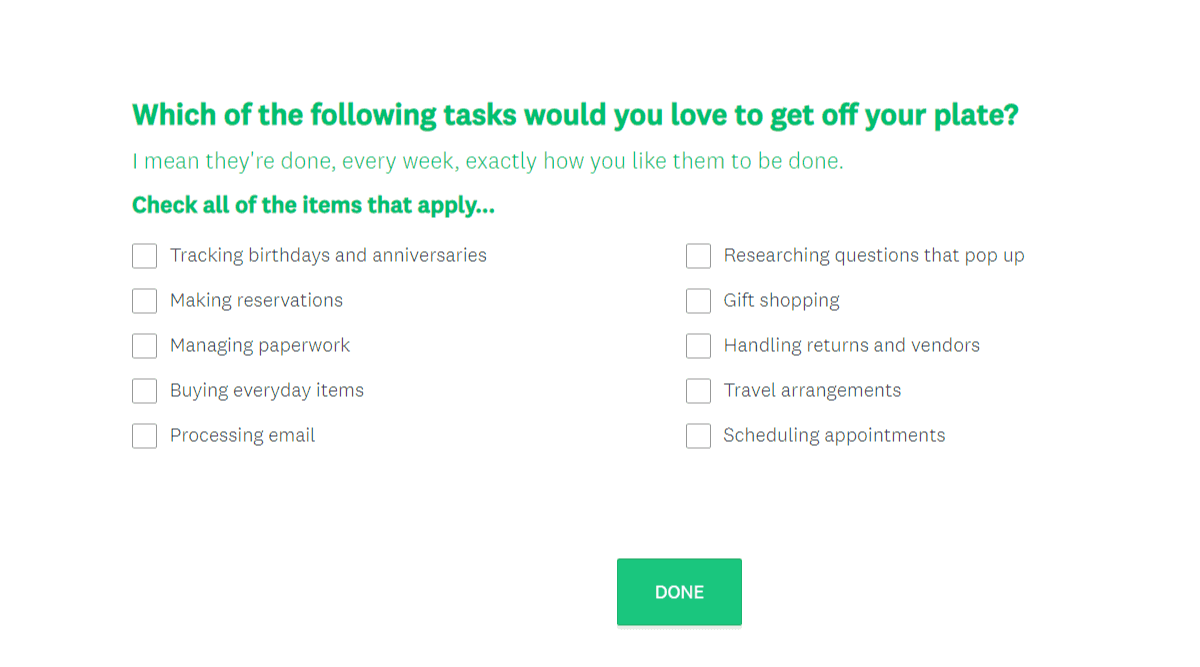 This example also provides many options to the customer, so that one can understand the customer.
You should ask some open-ended questions to get better insights into what is going inside the customer's mind. Many a time, in a survey, customers will never give honest answers while in open ended questions where they need to write answercan make them write their feelings and thoughts about your service.
You can ask questions such as:
Describe in your own words, the experience of using our service
How do you think we can further improve our service?
Any additional suggestions for us?
A net promoter score, which is checking the loyalty of a customer to a specific brand, is also an indicator of measuring customer satisfaction. The surveys here are easy to create, where you can ask demographic questions, about business, rating, etc. The quantitative questions give an idea, and make us arrive at a certain conclusion, while the qualitative questions that are more open-ended questions help you to understand the "why" behind that answer.
NPS questions are designed in a specific pattern where the first question acts as an ice-breaker, which later leads to questions related to service, whether the customer is going to recommend the service to their friends, relatives, etc. The flow of the questions and answers helps to understand the customer genuinely.
#9. Having empathy
Have empathy for your customers and analyze the scenario by getting into their shoes. It becomes easy to understand their perspective when you see the scenario through their eyes.
Show you care for them and will try to resolve the issue at the earliest.
It should not always be about business, sometimes you need to show the human side for having a good relationship. Nurturing relationships the best way results in customer satisfaction and loyalty.
As per a finding by Forrester Consulting, 65% of marketersface the challenge of implementing emotional marketing.
You should not be among them.
#10. Having an organized process
Customer satisfaction is not the responsibility of only the sales, marketing, or customer service department. As the product that has to be delivered to the customer ,should be of quality one, the production and the development department are equally responsible for customer satisfaction.
Following an organized process that makes all the departments work together can help in providing ultimate customer satisfaction.
#11. Keeping your employees satisfied
The tactic to make a customer happy is through developing a happy office culture. Your customer service or sales employee are the frontline workers who directly interact with the customers. So, it becomes the responsibility of the organization as a whole to keep these employees happy so that they promote your brand effectively.
#12. Become a customer of your top competitors
This is one of the best tactics. When you become a customer of your top competitors, then you understand the special service they are providing to include it in yours in the future.You can even ask their customer service department the special service they are providing. Later you can choose the best one in your service to please the customer. Regular usage and monitoring of your competitor's service will also expose you to unexplored opportunities that you can utilize for your benefit.
Become a mystery shopper and visit your competitor's site to check how they promote their products, their display pattern, pricing, and everything that you think can be implemented in your promotional activities.
As per a quote by Mark Cuban, American entrepreneur:

Make your product easier to buy than your competition, or you will find your customers buying from them, not you.
#13. Capitalize on uniqueness
Every brand has a unique feature. You should capitalize on the uniqueness of your product by promoting the special feature on different platforms. Customers like to purchase a product that provides something special. So, find the unique thing in your service; if it is not there, develop the uniqueness and promote it to your customers. It is guaranteed that the product or service will be appreciated.
#14. Learning from both negative and positive feedback
It is a usual perception that one can learn from negative feedback, but you can also learn from positive feedback as well. Negative feedback shows where you are lacking and need to work to improve satisfaction, while positive feedback gives you the motivation that you are on the right track but still have to keep learning to improvise your service.
So, do not have a mindset that you have learned everything, as it will stop your reception to new things. With an open mind, listen to your customer as with a billion population across the world, you will surely learn new things about every customer.

Conclusion
As a marketer, you should always value your customers as they are the source of your business revenue. Train your mind to understand them better, make an extra effort to reach out to them when they need your assistance. Your every extra effort will make them appreciate your service and trust your brand, and increase loyalty.
As said by Jeffrey Gitomer:

You don't earn loyalty in a day. You earn loyalty day-by-day.
The above blog discusses different ways through which one can improve customer satisfaction, you can implement some of the tactics while finding an innovative one yourself aligned with your service and organization.
About the Author!
Kristin Mortis is a Marketing Manager with 7+ years of experience at TDInsights based out of Plano, Texas. She helps businesses deliver the strongest marketing turnaround with cutting-edge digital strategies and tools. She writes about Marketing, big data, enterprise mobility, artificial intelligence, and other technological innovations. Connect with Kristin on Twitter to learn about the emerging practices being implemented in the B2B segment.