Facebook is the world's largest social networking site, with over 2.4 billion active monthly users. For that reason alone, business owners simply cannot afford to ignore it as a promotional platform. It is the third most visited website in the world (after Google and Youtube).
Did you know that, according to emarketer, Facebook is responsible for 80.4% of all social referrals to ecommerce sites in America?

The writing is on the wall: ecommerce marketers need to get serious about Facebook. Over the years I've been in digital marketing, I've learned some valuable lessons on selling through the king of social media platforms.
Important Things to Remember When Selling on Facebook
Read on to learn a few of the most important things you need to remember if you want to sell products or services on Facebook.
Content is Still King
People use social media for a variety of different reasons. However, by far the most common reasons are to be entertained, fill spare time, keep in touch with friends and family, and stay up-to-date on current events: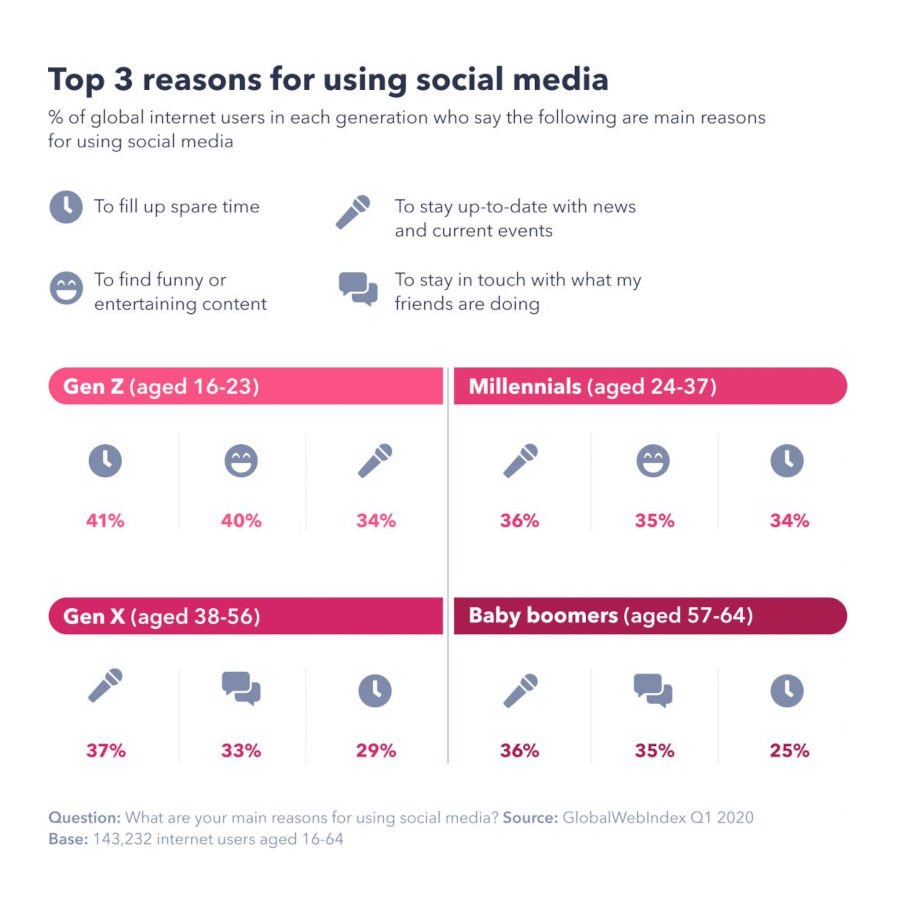 In other words, people expect to find valuable and entertaining content when they use social media. They do not want you to "hard sell" to them.
Therefore, if growing your ecommerce business's presence on Facebook is important to you (and it should be!), you must focus on content first. Each time you post something, ask yourself, "what value does this provide to my audience?" If the content is not informative, useful, or entertaining, skip it and do something else.
Facebook is a Passive Medium
One of the biggest mistakes social media marketers make is to replicate the same content for their social media channels that they use in their Google pay-per-click (PPC) ads. Why is this a mistake? Because PPC is an active medium, finely targeted towards people who are searching for exactly what you're selling. Social media, on the other hand, is a passive medium.
As we've established, most people do not go to social media for the purposes of seeking out products to buy. Users are far more likely to encounter your content while scrolling their feed than by actively looking for it.
In other words, successful Facebook selling relies on targeting these passive users. The best way to do that? Offer something that is compelling enough that they will stop scrolling long enough to see what you have to say.
Again, you'll need to offer something of value. Why not create an irresistible discount just for Facebook users, a relevant free downloadable resource, or a giveaway (more about giveaways a bit later)? Make sure the offer is genuinely compelling and enticing to your specific target audience.
You'll also need killer copy, eye catching visuals, and the perfect headline. Remember: you have only a second to grab someone's attention and get them to stop scrolling.
Here's how clothing retailer Modcloth did it recently:

Who can resist the words "25% of everything"? The use of "limited time" also creates a sense of urgency, encouraging customers to buy before the offer expires.
Retargeting Works
Retargeted advertising (also known as retargeting) works by serving ads to segments of your audience based on previous actions. For example, you might target people who have visited your store but not made a purchase, put items in their carts but not checked out, or even bought from you before.
Retargeting works on the premise that someone who is a least somewhat familiar with your brand is a stronger prospect than someone who has never heard of you. As a method of selling on Facebook, it's tremendously effective.
Retargeting works through a small piece of code called a tracking pixel. This keeps track of customers' browsing and shopping habits, and then serves them ads based on the retargeting parameters you set.
Here's an example of a retargeted ad:
This ad might be served to a customer who had browsed hotel deals on Expedia for the same day, but not ended up making a booking.
Here are my top retargeting tips for maximum success:
Use the Custom Audiences feature and define your parameters as specifically as you can.
Use different retargeted ads for existing customers, cart abandoners, and those who visited your site but didn't buy. Each group is at a different point in your marketing funnel and needs a different approach.
Use dynamic product ads to target customers based on their interactions with specific products in your store.
Offer a lead magnet or special offer to sweeten the deal and get customers to complete their purchase.
Retargeting is all about capturing those customers who are already somewhat interested in your offering, and nudging them along the sales funnel until they make a purchase.
Ad Engagement Matters
Have you ever had a Facebook ad get a lot of engagement, but a poor return rate as far as sales were concerned? Don't worry – it happens to everyone at some point if they advertise on Facebook for long enough.
Here's something you might not realize: ad engagements are an important metric by themselves. If people like your ad, tag their friends, share it, or write comments, two things will happen:
You'll reach a bigger audience organically
It will signal to Facebook that people like your ads. This can actually result in lower ad costs in the future.
Therefore, Facebook engagements matter and you should take high levels of engagement as a win. If you want to boost your ad's success, consider creating content that invites a response. For example, you might ask a question or ask your audience members to tag a friend.
Keep it Simple
Though I encourage you to get creative, your Facebook ad doesn't need to be complicated. In fact, simple is often the way forward. By keeping things simple, your message is clear and is placed front and center with nothing to distract from it.
Here's an example from photography company, Snapfish:

The ad is simple and to the point, telling the viewer exactly what benefit they'll get if they sign up for the app. As the expression goes, it does what it says on the tin! So don't panic about creating the most original and extraordinary ad ever to grace the internet. Instead, put your offer at the center, focus on the benefit your customers will get from shopping with you, and don't overcomplicate things.
Drive Traffic and Engagement with Giveaways
Everybody loves to get something for free. And as a retailer trying to use Facebook to make sales, one of the best things you can do to attract new customers is to run a giveaway.
Giveaways work in several ways:
They increase traffic to your website and social media channels.
They attract new followers, especially if you require people to follow you in order to enter.
They get your ad in front of a wider audience, especially if you ask people to tag a friend to enter.
They grow engagement with your existing audience in the form of Facebook likes, shares, and comments.
They build desire for the product you're giving away. At least some of those people who enter but don't win might end up buying the product anyway.
Giveaways are a great way to build excitement for a new product when you announce it on social media. Here's how gourmet sweet company, The Naked Marshmallow Co., did it when the company announced its 2018 advent release:
See those engagement figures? Giveaways work. You'll recoup the cost of giving away a prize many times over.
Monitor Everything
You might not get everything right with your Facebook ads the first time. That's to be expected, so don't panic if you don't get the results you wanted. It can take practice. In addition, not every strategy will work for every business. What works best for you will partially depend on your target audience and what you sell.
Fortunately, since you can see results with a relatively small spend on Facebook, you don't need to blow your entire advertising budget to try something out.
You'll need to monitor everything and keep track of your metrics as you experiment with selling on Facebook. If you don't track how you're doing, you will have no benchmarks to help you figure out what works and what doesn't. Therefore, keep an eye on your Facebook analytics including engagement rates, click through rates, and conversions.
Finally, don't be afraid to run A/B tests. This is a type of testing where you try out two different versions of something – in this case a Facebook ad – to see what works best. You can test different copy, different call to action (CTA) text variations, different images, and different audience parameters. As you learn what works for you, you can adapt accordingly to get better results with each new round of ads.
Conclusion
The numbers speak for themselves: Facebook advertising works. If you're new to selling on Facebook, it might all seem a bit daunting. But with a bit of know-how and a few easy tricks, you can use the world's biggest social media platform to increase engagement, build relationships with your customers, and make more sales than ever before.
What are you waiting for? We look forward to seeing what you do with your first campaign!
About the Author!
Matt Diggity is a search engine optimisation expert focused on affiliate marketing, client ranking, lead generation, and SEO services. He is the founder and CEO of Diggity Marketing, The Search Initiative, Authority Builders, LeadSpring LLC, and host of the Chiang Mai SEO Conference.