Technology Solutions to Empower Your Startup Business

Technology has become an indispensable element of the business realm. The world is constantly growing and going through a technological revolution. Technology has become an important part of keeping a company competitive. If you want to enhance or expand your business then technology is an imperative solution.
However, it's not an easy task to keep up with the exponential advances in science and technology, but this is what sets you apart from the stagnant businesses which have refused to acknowledge the importance of upgrading their business methodology and technical infrastructure.
There are plenty of technology solutions to make any small business owner's head spin. Henceforth, you will likely have to choose and stick to the decision you make for your business while making any changes will have a significant impact on it. As a small business owner, choosing any technology solutions for your business means you stand at a crossroads, whichever side you choose, must put your employees' and customers' needs foremost.
Business owners must thrive to adapt and learn how new technologies affect their strategies so they can transform their business into a technology managed services provider. If you are planning to implement technology for your business, try to analyze the type of business you have and how you wish to improve your company. If you wish to empower your startup business, start by going through all your processes to find out what areas can be integrated with technology and how it will give a push to your business.
How Can Technology Help Startup Businesses?
The startup businesses which are adopting new technologies to boost efficiency, improve performance, increase revenues, and drive growth, is increasing day by day. As per the market study, more than 75% of startups integrate technology as a valuable tool that helps them get better outcomes.
Things move fast, technology rapidly changes, and for startup businesses, the only choice is to embrace technological change and learn how to reap the benefits of various new technologies. To get started, here, in this article, we are curating some business technology solutions to empower your startup business.
#1. Cloud Computing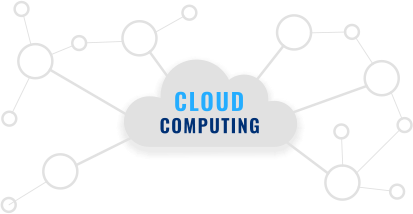 Cloud computing refers to the network of software and services that exist and functions on the Internet from anywhere. The popularity of cloud computing continues to rise among small businesses as it allows them to outsource their infrastructure. If you don't want to build complex IT infrastructures around your company, as a startup owner, you can utilize Cloud technologies to aid in email hosting, online backup and recovery, web hosting, and productivity solutions.
However, startup businesses may think that cloud computing is out of their league, or would not be compatible with their operations. But let us tell you, now, you are a startup, so do you really want to remain so forever? Surely not, right? Any startup business aims at growing, expanding and exploring; you need technology that will make your business more scalable and agile, and cloud computing can help you with that.
You can include any type of IT service that is delivered over a cloud network. Henceforth, you can develop software that could be delivered to users over the cloud and then charge them a membership fee for the ability to access it.
Additionally, the cloud would lower any costs by decreasing or eliminating costly software and hardware like servers and other physical equipment. Any business would do much better with less physical equipment and they would see less need for rack space, IT requirements, etc., which would help the owner to save money that can be used elsewhere.
By implementing cloud computing, you could reduce expenses and offer flexibility and your startup business idea would also see better collaboration and improve efficiency which makes it easy for employees as well.
#2. Machine Learning/Artificial Intelligence
Machine Learning or Artificial Intelligence may sound like a future or highly-adaptable technology, but they have created an impact on how we interact with tools on our computer. Technology in the realm of AI and ML is improving rapidly. What we can do as a business owner is to adopt the technologies to build predictive models that would show the right direction to the company for the growth with greater acumen.
Alexa and Google Assistant are the best examples which help you to place calls and access information on the web hands-free, as well as carry out specific business requests. In fact, Gmail has also integrated machine learning to identify spam messages. It uses a robust algorithm that identifies and filters messages based on their content. They understand human behavior and interact with other humans in the same manner. Therefore, machine learning keeps your inbox spam-free.
As per the Tech Crunch, many giant retailers use the same technology to improve their online customer experience. Over the next years, many businesses are expected to spend $3.5 trillion on IT services globally and a big portion of that is expected to fund machine learning technology.
Businesses that don't access these resources can keep an eye on what startups do with AI and ML and watch for improvements to software packages and analytics tools. With machine learning, you can come as a straight forwarded game player if you create strategies in individual marketing, customer management, or inventory management software.
#3. Chatbots
"Hey, there!
My name is Sophie.
How can I help you today?"
Sounds familiar, right? 24×7 customer service chatbots allow organizations to give their customers full-time support – without spending too much money on fully employed staff.
In this fast and one-day delivery era, customers would also expect to have quick and accurate customer support services from the business. Hence, businesses must add new technologies to satisfy their customers' thirst and engage them anywhere at any given time. A chatbot is an AI-enabled application that interacts with your customers to solve their queries or issues.
Well, chatbot just doesn't address the complex issues of customers, but it also gathers valuable customer information. Having a conversation with the customers, chatbots are able to utilize those data and promote the conversational ads to the customers in the future.
The report by Business Insider shows that more than 85% of customer interactions will be managed without human interaction by 2020. Moreover, it also indicates that people enjoy using bots to solve their problems – instantly.
Before integrating bots for your business, consider the following points:
Integrate bot service with human touchpoints.
Teach and train existing customer service representatives to pick up the thread of a bot interaction or monitor for accuracy.
Develop a bot that can handle common customer requests.
Learn the customer patter, engage with them and drive customers to make a final purchase.
#4. Internet of Thing – IoT

Internet of Things – IoT is used to encompass virtually connected devices. Businesses are able to connect with their customers in a variety of ways. IoT can help you collect data on a more detailed and can create effective advertising campaigns, targeted towards more specific demographics.
If an IoT can be integrated into small businesses, you will be able to expand new horizons of markets and reduce their operating costs. You can easily cater to your target audience and provide better customer service, fulfill customer needs and make business operations easier.
#5. Social Media
If you cannot afford to spread yourself across the world with traditional techniques, then you can surely win the world by leveraging the power of social media. It gives you the ability to attract new customers and retain existing ones with different social media strategies.
If you are not aware, let me tell you that about 2.5 billion people worldwide currently actively use social media and this ratio is expected to increase by 3 billion people by 2020. So, if you have not made your presence on social media, then create it to promote products and services, manage brands, provide promotional offers, and engage with customers outside of the traditional marketplace. You can also listen to your customers and come up with better solutions to satisfy them and grow your business.
Before creating a page on social media, remember one thing: Social media is about the soft sell. Aim to offer a seamless and smooth experience to your customers with the utmost support. Aggressive marketing is a turn-off.
#6. Smart Payment Methods
Majorly customers access any company's websites through their mobile devices only. They would want to purchase the products with convenient payment options. But if you don't come up with smart payment methods then that could lead to loss of businesses.
The popularity of in-store payment apps, which allow your customers to pay for purchases through their devices. That's where Microsoft Wallet, Android Pay, and Apple Pay are holding a strong relationship with customers by providing the apps.
By offering in-app payment options like credit cards or debit cards or internet banking or eWallets, you are convincing your customers to buy the products with online payment over any physical or cash on delivery options.
The more convenience you offer to your customers, the happier they will be and more likely to purchase from your website.
Wrapping Up
Technology is constantly changing and has changed the way businesses are conducted. If you cannot harness the power of technology, you will inevitably be left behind in their wake. Technology will make huge profits for your business irrespective of your business size. Most of the mentioned and given technological solutions can be implemented for your startup business fairly easily.
If you open the door to every business technology solution and digital opportunities, you will quickly see how simple it's to begin building new relationships and taking on new projects that improve your bottom line.
Investing in the right IT development center will help you grow your business and a long way in establishing a well-regarded and customer-oriented business.
About the Author!
Kiran Beladiya is the co-founder of The One Technologies Web Development Company. I am managing everything from discussing project ideas with clients to its release. Due to the hectic schedule, I could not get enough time to nurture and sharpen my writing skills but I am an avid writer.