Let's be honest, rendering the hard hitting efforts of millions of marketing hotshots in vain, we had all become more or less numb to the television ads we'd mute, and view as only a pesky interference to our shows. Billboards had become more or less of a background noise, and the print media had become a dying breed of art.
This was when digital marketing came into the picture to act as a buoy to a drowning practice, and revolutionised advertising for companies.
There is a common misconception that digital marketing involves putting tons of pennies down the drain, while the truth is that if smartly utilised, this can be a great tool for SME businesses without creating a hole in their pockets.
Top Digital Marketing Tools to Grow Your SME Business
The following article details 8 top digital marketing tools along with the strategy behind the same that are best suited for SME businesses. These include:
#1. Strategy – A strong social media presence
SME businesses can build a brawny social media presence organically without investing much. With users on social media increasing day by day, 88% of small businesses have invested in social media.

Sprout social is a social media management platform built for connection that helps in understanding audiences, reaching that audience, engaging with the community and measuring your performance all in one.
With a free trial, the tool allows for a great means to try the same out for SME businesses to help organically better the company's social media engagement.
#2. Strategy – Email Marketing
Email marketing is one of the most popular and effective means of digital marketing. According to SalesForce, for every 1$ invested in email marketing, the marketers are rewarded with a return of $44.25. This makes this means of digital marketing a great way of acquiring new leads for any SME business.
AeroLeads is an email finder tool that allows you to find emails online from various professional websites. This includes both professional and personal email addresses. Being a bulk email finder, this tool is a great way of helping businesses build and curate their mailing lists.
As a Chrome extension plugin, the tool integrates as a widget to platforms like LinkedIn, GitHub, AngelList, CrunchBox, Inbound.org, Xing etc., helps you extract email addresses and automatically save them to a CSV or xlsx file, from where the data is shown on the prospects page of one's AeroLeads account.
The tool also has an email verifier which can be used to verify the legitimacy of the found emails or other emails in your mailing list, to make sure your bounce rate is at its lowest and you maintain a high IP score, maximising your email deliverability.
#3. Strategy – Search Engine Optimization
SEO can be the best way of ensuring that your business stands out from amongst the crowd. But with the ever changing world of SEO, using a tool for the same can help you analyse how many keywords you rank for, along with how many backlinks you've earned.

One major edge that this tool gives your business is it allows you to gauge your competition. You can use the tools to pull your competitor's backlinks, monitor their fluctuations in ranking and conduct a full competitive analysis.
Apart from this, the tool also promises to offer services in areas of PPC, content, social media, and competitive research. It is also quite famous for site audit needs in B2B companies. Here is a serpfocus semrush review for more information.
#4. Strategy – Conversion centric Web Design
Your website is your best chance of making a good first impression on potential leads. This makes analyzing your website for maximising conversions an important step for any SME business.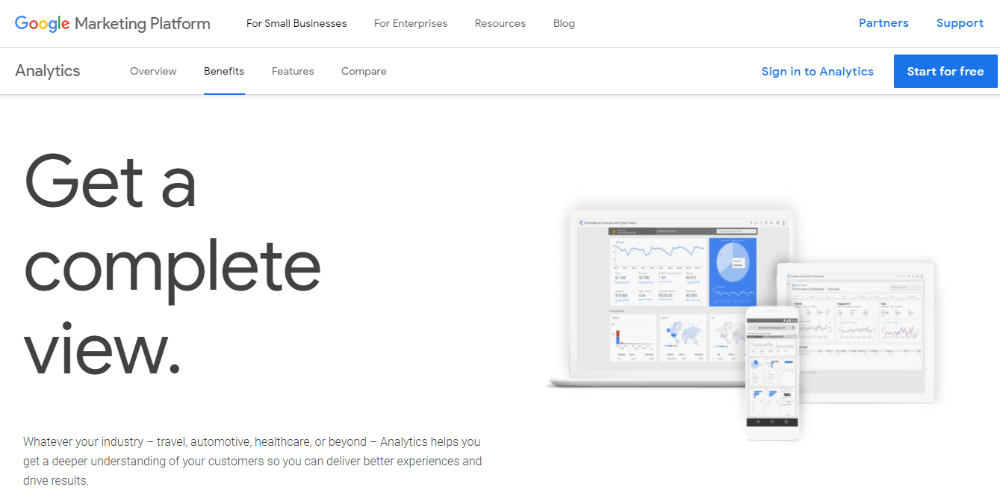 Google Analytics is the best known website analytics tools on the market. Armed with Google's smart machine learning capabilities and one of a kind insights, Google Analytics provides you the free tools you need to analyse your data, in order to get a better understanding of your customers.
This allows your business to better evaluate its performance in terms of marketing, content, products and more.
#5. Strategy – Video Marketing
It was earlier presumed that producing videos not only puts a dent in the pockets of businesses but is also simply an accompaniment to other more relevant means of marketing. However, with video content ready to take over 80% of web traffic by 2021, marketing by means of video content can be a great means of digital marketing for SME businesses.

Along with allowing live streaming which is a great means of interacting with the audience for any business, this tool simply hosts high quality, high definition videos to stream on their platform, driving potential leads.
The advanced analytics offered with this tool allows companies to track their users' engagements and see how their videos are being received.
#6. Strategy – Marketing Automation
Automation of marketing in the long run not only prove fruitful but also save you a lot of money and manpower, which makes it a great means of digital marketing for SME businesses.
Pardot is a marketing automation software that helps businesses create meaningful connections and empower sales to close more deals. A flexible builder allows companies to create the exact customer experience they wish to, while enabling them to create multifaceted campaigns and transfer the data to CRM.
#7. Strategy – Content Marketing
Content marketing is still going strong as one of the most effective digital marketing means for businesses in 2020. Requiring little to no investment and converting it into a good return in terms of conversions and lead generation, this can be a good way of marketing for SME businesses.

BuzzSumo provides you inquisitive insights to generate ideas and create high performing content, monitor your performances, and identify influencers to best market your content.
Trusted by 1000s of high end companies, this tool inculcates discovery, research, identification of influencers and tracking of comments and trends at one spot, making content marketing increasingly simple for companies.
#8. Strategy – Growth optimisation
One shortcut to quick growth hacking is using tools to analyse what works best and what doesn't.
From heatmaps that map out what parts of your website are best viewed and appreciated, to A/B split testing, Crazy Egg is a great tool to help optimise your website for growth optimization.
With features like Snapshots and Scrollmap, finding out what's working and what isn't has been made very simple.
Your Turn
You don't need to become a mobile phone expert or software developer to use technology to grow your business, be it a local grocery shop, a plumbing service or a toy manufacturer you can quickly and easily set up any of these tools to start managing your business operations.
That being said, just implementing a bunch of tools doesn't guarantee success. You need to be strategic about how you operate your business.
What's missing? What are your favorite small business tools and resources? Leave a comment below & let us know!
About the Author!
Anushka, having inculcated an interest in content writing, he dabble in tech, sales and digital marketing blogs.