The dedicated ecommerce features of Instagram have been around for about a year, but it's already becoming one of the fastest-growing online selling platforms for businesses of all sizes.
Instagram's emphasis on images and presentation has turned it into one of the most effective mediums for promoting new products. In fact, 83% of users say they discover new products on the site. In addition, 46% of these users say they have made a purchase after finding a product on the platform.
In other words, having a consistent presence on Instagram will yield great sales results. But you might be wondering how exactly you can sell products on Instagram. Read on to learn some of the best strategies.
How Instagram Can Be Used For eCommerce
Before 2019, Instagram was seen as little more as an extension of Facebook pages and sales websites. Brands would run campaigns that leveraged images to direct visitors to their ecommerce websites or to engage with a certain subsection of their market.
However, this method was severely limited by Instagram's restrictions on posting links to external content. Instagram does not allow clickable links in image or video captions. Many businesses have resolved this issue by using the "link in bio" workaround. Larger brands with over 10,000 followers can utilize the "swipe up" linking feature in their Instagram Stories.
In 2019, Instagram changed the game by introducing a "Checkout" function. This allowed visitors to browse through brand posts then make a purchase without leaving the app:

This function allowed businesses to sell products on Instagram directly, proving its long-term viability as a promotional platform. As a result, brands now spend an average of 23% more on Instagram ads than on Facebook.
8 Ways To Drive Product Sales Using Instagram
Now that we've established the importance of using Instagram as a platform for sales, let's look at some tips that will help increase your sales. I've put together 8 easy and proven methods to sell products on Instagram. Let's get started!
#1. Welcome Customers to your Instagram Account
Do you want to turn your followers into customers? Then you need to build a channel that catches their attention and makes them want to buy from you. Here's how you do it:
Start with your bio. Make it clear that your account is for a store, and summarize what you sell. You should also use a simple call to action (CTA), inviting your visitors to shop with you. Adding contact information or store hours (if you have a physical store) is a nice touch, too.
The @shopliv3 account, pictured above, lists business hours in its bio and invites customers to visit the online store. @shopliv3 assures its followers that they're "finally online" and ready to serve them. Presumably, this is a reference to the many physical stores that have been forced to pivot to an ecommerce model thanks to the COVID-19 pandemic.
The highlights reels (in circles below the bio) are also presented much like product categories on an ecommerce website. It looks and feels very much like a shop!
#2. Increase Recognition by Branding your Profile and Posts
Like most brands, you probably have a lot of competition in your niche. For this reason, your posts need to stand out and be clearly recognizable as yours. Therefore, make sure your brand is reflected in all your posts. For example, you may use a striking logo or a particular color scheme:

Adidas Running puts the recognizable "three stripes" motif front and center in its Instagram posts and profile. This adds to brand awareness, differentiating Adidas from all the other brands promoting sportswear out there.
#3. Post Personable Content to Engage Customers
If you want to increase your sales, you have to engage your customers. Posting great photos and videos is a start, but if that's all you do, you're missing out on a lot of potential business. You need to pay as much attention to your captions as you do to your images. Engaging copy paired with eye-catching visuals is how you'll drive engagement.
Your copy should use language that reflects your target audience. Who do you want to reach? Make sure your brand's voice speaks to those people. If you have specific products to sell online and are using Instagram to promote particular items, your copy should also be tailored for each product ad you post.
Here's an example of a memorable Instagram product ad:
At first glance, sci-fi franchise Star Wars and luxury jewelry brand Pandora might not seem like a match made in heaven. However, when Pandora used the above Instagram ad to promote its latest line of products inspired by the franchise, it was a runaway success. Pandora used references from the movies while retaining its unique brand voice to appeal to its core market (mostly women below 30 years old). It's a fantastic campaign that shatters stereotypes of the typical Star Wars fan.
#4. Manage the Shopping Experience through Instagram
Shopping through Instagram's sales platform doesn't vary much from shopping on a traditional ecommerce site. As a customer, you browse through posts, add products to your shopping cart, and use the checkout to pay for your purchases.
As a store owner, there are several things you can do to manage the shopping experience and make it easier to sell products on Instagram:
Tag products in your posts: When a customer sees a product they like in one of your posts, they expect to be able to go straight to a page where they can buy or learn more. If you have Instagram Shopping enabled, you can tag products in your posts. When the customer clicks on the tags, Instagram will bring up a catalog of products featured in the post, along with other suggested products.
Make the buyer imagine using it themselves: Your products might be amazing, but you won't reach your sales goals unless you focus on customer needs. The prospective buyer needs to be able to imagine using the product. For example, if you're selling shoes, you might showcase the different ways those shoes can be worn with various outfits. This plants the seed of "want" in their mind.
Add your contact details: Your customers might want to ask questions about a product or follow up on an order's delivery status. While Instagram already has a messaging function, providing a customer phone number or email address lets your customers know you're there to help them.
In other words, you must keep the customer experience front and center in your mind at all times while you promote your products on Instagram. Social media is a powerful tool for customer retention if you do it right.
#5. Use Promoted Posts to Boost Your Sales
Coming up with great content might not be enough to reach your goals by itself. You might still want to give your account a little push. That's where paid promotions come in. If you want to sell products on Instagram, you'll need to budget for advertising.

Promoting a post on Instagram is easy. If you have a business profile, simply look for the "Promotions" link, select the post you want to promote and select a duration, target audience, and budget. You can define your own audience targeting parameters, or automatically target people who are similar to your followers.
I recommend avoiding the automatic option. Though it's less time-consuming, the ROI is poor compared to that from targeted posts. Instagram will also show you approximately how many people your promoted post will reach.
#6. Get Influencers to Post Reviews of Your Products
Influencer marketing is a lot like word-of-mouth marketing but on a larger scale. An influencer is an individual who has the power to have an impact on the way their followers behave. In the context of ecommerce, it's someone who can influence buyer behavior.
When an influencer chooses to work with a brand, they provide valuable signal-boosting to that brand, as well as putting a trusted name behind the products. Here's an example of an influencer post:
When an influencer features your products, their followers get curious and are more likely to try out your offering for themselves. Here are my top tips for working with influencers:
Ensure their audience aligns with your needs. If your products are aimed at Gen Z women, there's no point in working with an influencer whose primary audience is middle-aged men!
Ensure their ethics align with yours. Remember that your brand reputation is on the line, so take your time to do your research.
Don't discount micro-influencers. Someone with a loyal following of 3,000 fans can be more influential than someone with 30,000 disengaged followers.
Influencer culture has come under fire recently. However, brands work with influencers for one reason: because it works. Choose the right person and create the right campaign, and you can see real results.
#7. Feature User-Generated Content in your Account
Customers rely on feedback from other customers just like them. Did you know that, according to Inc., 84% of consumers trust online reviews as much as recommendations from their friends? In some ways, customer feedback is even more credible than influencer marketing, since customers are not promoting products to earn a living.
Tapping into user-generated content helps you establish great relationships with your customers while giving other users an unfiltered look at your products. It also makes for fantastic content to post on your Instagram account. When used with hashtags as part of a campaign, you might even get your brand to trend (though I do not recommend focusing on trending as a KPI for your campaign).

Sephora's #RareRoutine user-generated content campaign, which promoted Selena Gomez's exclusive "Rare" cosmetics line, attracted close to 2,000 posts. Many of these received hundreds of thousands of views and likes. The campaign was also partly responsible for the brand gaining an additional 86,000 new followers in September 2020. This is just one of many hugely successful campaigns proving that featuring your customers prominently is a great way to sell products on Instagram.
#8. Run a Contest
Running Instagram giveaways and contests is a tried and tested way of boosting conversions, increasing your following, and growing engagement for your brand's Instagram account. People love free stuff. When you post about a contest, your followers will start watching out for your next posts, and those who do not already follow you will be more inclined to start: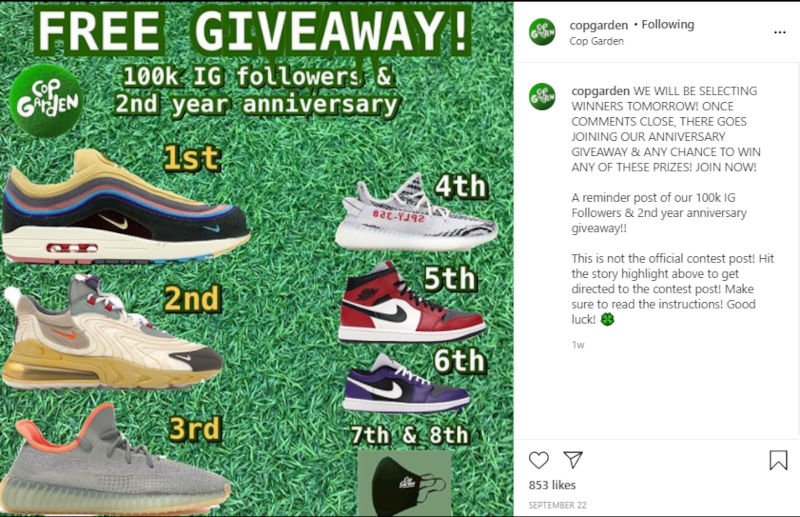 Online specialty sneaker store @copgarden (pictured above) gave away a few hard-to-find pairs of sneakers to celebrate reaching 100,000 followers on Instagram. The company also posted pictures of the lucky winners, who entered via one of the account's Instagram stories, with their prizes. As a result, the brand gainn=ed 1,590 new followers that month – a fantastic figure for a niche store.
Bottomline
There's no doubt about it: Instagram is on the rise as an advertising and selling platform. Instagram Shopping is proving itself a gamechanger, and you do not want to be left behind while your competitors make the most of it.
Now that you know how you can drive sales using your Instagram account, it's time to put these ideas into practice. You don't need to do everything all at once. I recommend choosing just one or two techniques at a tim, and trying them out to see which work best for your brand. Remember to monitor your results so you can keep experimenting with different methods, trying things out, and keeping track of what works.
Here's to making more sales than ever!
About the Author!
Jimmy Rodriguez is the COO and co-founder of Shift4Shop, an ecommerce software to build SEO-friendly online stores. He's dedicated to helping internet retailers succeed online by developing digital marketing strategies and optimized shopping experiences that drive conversions and improve business performance.